On Discovering Zimbabwean Literature as a Zimbabwean Writer
Siphiwe Ndlovu Charts the Path to Her Debut Novel
This is how I choose to remember it. It is late August, 1997. I am getting ready to leave home again—this time on my own. I am heading off to college to study Creative Writing. As I pack, I am filled with the familiar feelings that are always brought on by a new beginning—excitement, apprehension and curiosity. Because I am going to a school that is far, far away I am saddened by the knowledge that I will not see my family for almost a whole year. Even though I have no idea that seven years will pass before I see most of my family again, tears find their way onto the clothes that I pack with the help of my aunt who will die much too young and much too soon. Although we both do not know what the future holds we choose to share this moment the way that we do—not laughing or quarreling as we often have done, but quietly—already making homes within ourselves for future losses and regrets.
We do not know that her death, ten years later, will inspire me to start writing my first novel, The Theory of Flight, and dedicate it to her memory. What we do know is that the radio is on and we are listening to Zimbabwean novelist, Yvonne Vera (another person who will leave us much too young and much too soon) talk about her latest novel, Butterfly Burning. Although I have never read any of Vera's work (or even heard of her), in that moment I feel anointed because here she is this successful writer who was born and raised in the same city that I was—Bulawayo—and here I am setting off to become a writer myself.
Now when I look back at this moment in my life what strikes me most—apart from the bitter sweetness of it all—is the sheer audacity. When I left home to study Creative Writing at Emerson College, I had read only one Zimbabwean writer—Charles Mungoshi—and had done so perfunctorily as part of the high school Literature syllabus. While I loved Mungoshi's Coming of the Dry Season and would be forever haunted by his depiction of a character who is hit by a car and sent flying through the air (an image that would appear in my own novel many years later) the collection of short stories had done nothing to interest me in something that I did not even know to call Zimbabwean Literature. I knew of a few other titles, Shimmer Chinodya's Harvest of Thorns and Wilson Katiyo's A Son of the Soil because they were also part of the same curriculum. Until I heard Yvonne Vera on the radio, I probably thought these three men made up my country's entire literary output in English.
So what made me think I could become a Zimbabwean writer? What made me think I could be this rare and almost mystical thing? The hubris of youth explains some of it, but it cannot be stretched to explain all of it.
Although we both do not know what the future holds we choose to share this moment the way that we do, already making homes within ourselves for future losses and regrets.
Having been born into a middle class family, I was fortunate enough to be raised in a home that had a library. Having grown up in a postcolonial country that prided itself on its high literacy levels, I was fortunate enough to have many functioning libraries and bookshops in my city. Reading was seen to be such a necessary part of life that mobile libraries were dispatched across the country so that people who lived in remote areas could have access to books and literature. We lived in one such remote area—a smallholding in Rangemore—and one of my favorite childhood memories sees me climbing the creaking steps of the mobile library with my two aunts and breathing in the scent of books both new and old.
Another favorite childhood memory has me falling asleep to the sound of my grandfather reading to my grandmother. Books and stories were all around me—my grandmother was a gifted oral storyteller as well as a grade school teacher and my mother (who was in America at the time) would send me books to read—so I had no choice but to fall in love with stories, books, reading and writing. When you have such an embarrassment of riches you take the things you have for granted and so I never really thought of the libraries, the bookshops, the bed-time stories as a wealth that I was very privileged to have. It never occurred to me that it would all be gone one day—but I am getting ahead of myself for the sake of dramatic effect.
Because I was well read my ignorance was truly blissful until it was not. I was sitting in a classroom during my sophomore year and by that time I had stumbled across something called critical thinking, which had then led me to the Third World Literature class (it was the 90s) that I found myself in. The instructor, Wambui Githiora-Updike looked at me as she casually mentioned a book she believed to be a great example of postcolonial literature—Tsitsi Dangarembga's Nervous Conditions. "Did I pronounce her name correctly?" she asked me in front of the whole class. I had absolutely no idea what she was talking about. Why was she asking me? She repeated the name again—Tsitsi Dangarembga—probably convinced that my obvious confusion was the result of how she had pronounced the name. "Nervous Conditions," she said again, believing that that would help elucidate matters for me. Needless to say, it did not. When the full extent of my obliviousness made itself apparent to her she was stunned. How could I, a Zimbabwean student studying Creative Writing, not know who Tsitsi Dangarembga was? "You must read her!" she said with some urgency and to make sure I did, I believe she loaned me her personal copy of the book, which I read and was forever changed.
To say that I was mortified would not be to do it any justice at all. How could such a brilliant book exist, a book written by a fellow country woman and I not know about it? Where had it all gone wrong? The first books that I remember reading were a collection of beautifully illustrated Grimm's fairytales that were part of my grandparents' library, three books my mother had sent me (my favorite being The Country Mouse and the City Mouse) and Sally, Dick and Jane, which was required reading for early grade learners. As I grew older, my literary consumption grew with uncritical abandon as I read Sweet Valley High and Archie comics before graduating to Mills & Boons and, eventually, Danielle Steele, Sydney Sheldon and Jeffrey Archer. At school, for A Level Literature, I read Geoffrey Chaucer's "The Miller's Tale," William Shakespeare's Hamlet, Jane Austen's Emma and Charlotte Bronte's Jane Eyre and while my appreciation for literature vastly improved, my situation did not. I loved all these books and I completely lost myself in them. I never, not once, paused to think about why my world was not reflected back to me in the books that I read. None of these books had people who looked like me in them and it did not bother me at all.
I never, not once, paused to think about why my world was not reflected back to me in the books that I read.
But after reading Nervous Conditions I wondered why everything around me had not encouraged me to read more local fiction. I had lots of questions and luckily I was in college where answers could and would be found. The long and short of it was that our reading culture in Zimbabwe had been shaped by a settler colony's desire to stay in touch with the mother country and the larger western world. By the time I did my PhD, I felt it necessary to atone for all my past wrongs. My dissertation focused on Rhodesian and Zimbabwean Literature—on all those homegrown writers who had not been made visible by a reading culture that was always looking elsewhere—Doris Lessing, Charles Mungoshi, Dambudzo Marechera, Shimmer Chinodya, Wilson Katiyo, Stanley Nyamfukudza, Peter Godwin, Tsitsi Dangarembga and Yvonne Vera.
Once I had gone through the various stages of my heroine's journey and obtained my bona fides, it was time to return to the source. As soon as I arrived in Bulawayo—a city that I now knew Vera had so exquisitely and strikingly portrayed in Butterfly Burning—I was struck by many things all at once. The things that I had taken for granted—the bookshops and the libraries—were either no longer in existence or hanging on by a dear thread. Books, mostly second-hand, were being sold on pavements and very few were the works of Zimbabwean authors. The local book industry was dying because of the advent of the photocopying machine. The tariffs on book imports had become so exorbitant that most bookshops could no longer afford to buy books. To make all these matters even worse, the country was going through a prolonged economic downturn that made buying and reading books a luxury that very few people in the country could afford. And, like everywhere else in the world, the 21st century had arrived with the internet, social media and screens that have taken over people's lives.
And yet, against all odds, Zimbabwean literature is going through something of a renaissance and finding its way to readers all over the world, with works by NoViolet Bulawayo, Brian Chikwava, John Eppel, Pettina Gappah, Tendai Huchu, Christopher Mlalazi, Sue Nyathi, Bryony Rheam, Douglas Rogers, Emmanuel Sigauke, Novuyo Tshuma (to name but a few) having been published to great local, regional and international acclaim in the past decade. As it happily turns out, I was not the only audacious one who decided to be that rare and almost mystical thing—a Zimbabwean writer. Given the state of the country's publishing industry and reading culture, to say that what Zimbabwean writers are accomplishing is phenomenal would be an understatement. Any future writer packing for college and starting out on their journey will be in good company. This much I know is true.
__________________________________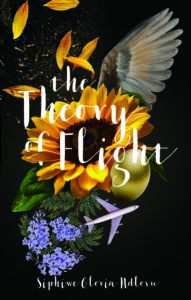 The Theory of Flight by Siphiwe Gloria Ndlovu is available now via Catalyst Press.
---