On Bob Dylan's Literary Influences
From William Blake to Jack Kerouac
We might say that the subject of "Like a Rolling Stone" is words themselves, the language used by this Bone-ay-part in rags. Dylan arrived in New York in January 1961, his head and repertoire so crammed full of Guthrie lyrics that he called himself a "Woody Guthrie jukebox." But there was still room to soak up more, words both sung and written. Robert Shelton depicts him "devouring everything he could lay his eyes on," from Kerouac, Burroughs, Blake, and Ginsberg (who became a close friend at around the time of Highway 61) to Cummings, Pound, Eliot, and Brecht (Dylan has cited "Pirate Jenny" from The Threepenny Opera as an important early influence on his songwriting). To varying degrees, all of these precursors make appearances—blatant or hidden, in starring roles or cameos—in Dylan's songs over the following years.
Prominent among these were the French Symbolists, particularly Arthur Rimbaud, whom Dylan has often cited as a favorite poet (alongside such literary lights as W. C. Fields, Smokey Robinson, Hank Williams, Marlon Brando, Captain Marvel, and Clark Kent). "When I read [Rimbaud's dictum, 'I is someone else'] the bells went off," he wrote in Chronicles. "It made perfect sense. I wished someone would have mentioned that to me earlier." Lyrically, Rimbaud's influence is palpable in what Dylan termed his "vision music," songs that defy conventional definition to create a powerfully suggestive ambient landscape, while the poet's famous "derangement of all the senses" is a fair description of Dylan's lifestyle at this time. But even more than this, Rimbaud (and, before him, the French vagabond poet François Villon) shows through the attitude underlying these songs: young, street-smart, arrogant, rebellious, and highly seductive.
Combined with this is the equally powerful homegrown strain (itself largely indebted to Rimbaud) of the Beat poets, to whom Dylan has paid repeated homage. Dave Van Ronk, in discussing both Dylan's literary filiations and his well-known intolerance of the sixties rock revolution, noted that "Bobby is very much a product of the beat generation.… You are not going to see any more like him." Dylan likened his songs of this period to the cut-ups of William Burroughs, and there are notable similarities between these songs and the writings of Jack Kerouac, especially the Neal Cassady-inspired Visions of Cody and On the Road—not only in their phrasings but also in Dylan's whole persona, which seemed almost to be modeled on Dean Moriarty, the "holy goof," the "burning shuddering frightful angel."
And coloring them all is the elemental poetry found in the eerily affectless parables by American "roots" singers like Dock Boggs, Uncle Dave Macon, and Clarence Ashley and in the works of blues artists like Blind Lemon Jefferson and Robert Johnson. "Johnson's words made my nerves quiver like piano wires," Dylan later wrote. "The free association that he used, the sparkling allegories, big-ass truths wrapped in the hard shell of nonsensical abstractions." Music historian Patrick Humphries sums it up this way: "Taken together it all falls into place, Hank Williams can stand next to Little Richard, lining up alongside Arthur Rimbaud, Lord Buckley, Herman Melville, Paul Verlaine, Paul Robeson, Lenny Bruce, Little Anthony & The Imperials…"
These influences had been crowding for years in Dylan's mind, his head full of ideas slowly driving him insane, but with few exceptions—notably the recent "Gates of Eden" and "It's Alright, Ma"—they had had little outlet in his songs. Instead, Dylan's derangement of all the sentences began surfacing in the liner notes he composed for his albums, beginning with "11 Outlined Epitaphs" in 1963 and continuing through the untitled stream-of-consciousness penned for Bringing It All Back Home.
The most extended such exercise, which one biographer aptly called "a hundred and thirty-seven pages of liner notes for a Dylan album that did not exist," was the book-length prose poem eventually published as Tarantula. A free-for-all of loosely connected visions, as "vomitific" in its approach as anything he'd yet written, Tarantula is notable in one regard for the many phrases that suggest lyrics from Highway 61. (It can also be quite funny, though most critics dismiss it as unreadable.) Dylan likes laboratories; for him, creative process far outweighs finished product. Tarantula is the crucible for a new lyrical style, in the same way that the Basement Tapes or the Never Ending Tour were venues for musical experiments. In retrospect, numerous lines jump out at the reader as rough drafts of lyrics to come: "the sun is still yellow. some people would say it's chicken" ("Tombstone Blues"), "now's not the time to act silly" ("Tom Thumb"), "it doesnt matter where it's at" and "the jugglers who call you by the wrong name" ("Rolling Stone"), "you cant buy a thrill with a dollar" ("It Takes a Lot to Laugh"), "people taking down puckered Jesus posters out there on 61 highway" ("Highway 61"), "Dracula smoking a cigarette & eating an angel" ("Desolation Row"), and so on. The text rushes forward with a full-throttle energy appropriately reminiscent of Kerouac and Ginsberg, bringing home just how controlled and constrained songs like "The Lonesome Death of Hattie Carroll" could sound by comparison. Contracted by Macmillan publishers in 1964 to capitalize on Dylan's growing fame, Tarantula eventually eluded both its publisher and its author, turning from the loose autobiography originally envisioned into a howl against the lyrical straightjacket Dylan had forced on himself.
"Like a Rolling Stone," however, ended not only Dylan's persona as a purveyor of acoustic folk songs, but also his need to use such side projects as Tarantula or album notes as an outlet for the increasingly surrealistic bent his writing was taking. By mid-1965, he was seeing the book as "just a nuisance," having found that similar flows of verbal lava, if boiled down and set to music, could crystallize into the mathematical excitement of songs like "Rolling Stone." Trapped by his publishing contract and by growing public expectation, Dylan continued to work fitfully on Tarantula, taking the galleys with him on his spring 1966 tour, and abandoning it only after his motorcycle accident that summer. (He eventually agreed to its publication in 1971, after numerous bootleg copies of the galleys had begun circulating.) But he was already distancing himself publicly from the unfinished book: "Music is the only thing that's in tune with what's happening," he told an interviewer that summer of '65, as he would tell others during those months. "It's not in book form, it's not on the stage." And to another the following year: "I'd never written anything like ['Rolling Stone'] before and it suddenly came to me that that was what I should do.… After writing that, I wasn't interested in writing a novel, or a play…I wanted to write songs.… I mean, nobody's ever really written songs before."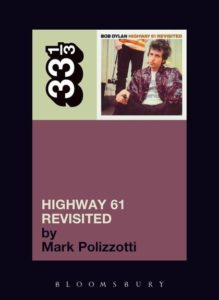 From Bob Dylan's Highway 61 Revisited. Used with permission of Continuum, an imprint of Bloomsbury USA. Copyright 2006 by Mark Polizzotti.
---