Off the Clock: What the Lit Hub Staff Loved This Week
Helen DeWitt, LeBron James, Climate Change Depression Spirals, and more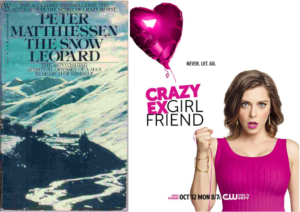 Have you ever started a book and felt, more or less instantly, that it was, and actually had always been, one of your favorites? This happens to me only rarely; the last time was with The Secret History, back in college. This week I got that very feeling when I started reading Peter Matthiessen's The Snow Leopard—I can't believe I'd never gotten around to reading it before. The writing, of course, is breathtaking, but more importantly, it is essentially concerned with many of the same things as I am—long journeys, Buddhism, the natural world, the dangers and joys of aesthetics, the dangers and joys of spiritual practice, repressing painful emotions, etc. As of this writing, I'm only 50 pages in, but I already know I love it.
On a wildly different tonal note, I've also been watching My Crazy Ex-Girlfriend, which I tried months ago when my dad recommended it to me, but couldn't get into because on-screen awkwardness gives me the full-body cringes. I gave it another shot this week after recognizing Santino Fontana from those amazing promos for the 2011 production of The Importance of Being Earnest on Broadway (don't @ me), and Rachel Bloom from "Fuck Me, Ray Bradbury" and I (mostly) love it now. This song makes me feel extremely seen. Ok, that's it. You're welcome for all the videos.
–Emily Temple, Senior Editor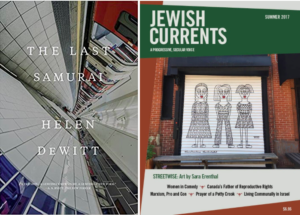 After a too-long hiatus, this week I finally resumed Helen DeWitt's The Last Samurai, reissued by New Directions two years ago and purchased by me at Greenlight Bookstore last fall. I'd paused my reading at just about the midway point, when the narration switches from eccentric polyglot and aesthete Sibylla to her even more linguistically gifted 11-year-old son Ludo, who's just discovered that his father—a secret Sibylla has long kept—is a celebrated but artistically middling bad boy travel writer. The Last Samurai, originally published in 2001, is so unlike any other piece of contemporary fiction that I've read in the last several years. Crammed with references to theories of aerodynamics and classics scholarship, passages in Japanese, Greek, and Icelandic, and scenes from Akira Kurosawa's Seven Samurai, reading this novel has crystallized at least one thing for me: Helen DeWitt is a genius and we all ought to be talking to her at least 3x more frequently—and perhaps we will be soon, when her story collection Some Trick comes out next month. Another thing I've loved this week: the re-launch of Jewish Currents, a 72-year-old magazine of the Jewish left, which included a great investigation into the fraught sexual dynamics—including stories of harassment and assault—of Birthright Israel trips.
–Jess Bergman, Features Editor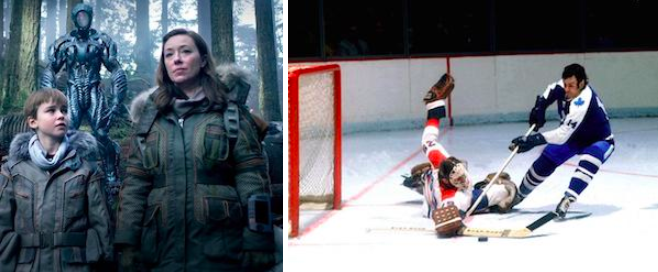 I've always been a big fan of both Molly Parker and Parker Posey, so I found myself this week undertaking an unlikely binge-watch of Lost in Space, on Netflix. I'm not normally a lover of spacey soap opera adventures but it's good, particularly Posey's terrifying turn as a sociopathic stowaway. I've also been watching the NHL playoffs, but won't get into detail about that because it would make me sad. To deal with this (superficial) melancholy I've turned to the poetry of Richard Siken, which reminds us to look at the world with wider eyes.
–Jonny Diamond, Editor in Chief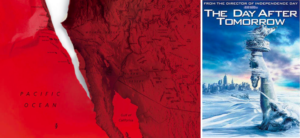 Last Saturday's glorious, full-on Spring day was quickly followed by low temperatures, cold rain, and nasty wind. So it's not a surprise that I've been thinking and reading a lot about climate change. Guernica Magazine is hosting a three part "Art & Activism in the Anthropocene" conversation series at the New York Society Library that brings together writers, journalists, and artists to discuss the issue. I missed the first one, with William T. Vollmann, Chantal Bilodeau, and David Wallace-Wells (you can read an excerpt from the first volume of Vollmann's behemoth No Immediate Danger here), but plan to watch it once it's up on Guernica's website. Yesterday, the discussion—with writer Jeff VanderMeer and Gleb Raygorodetsky, a conservation biologist studying the transitional state of indigenous communities, focused on how art and activism can bring greater awareness to communities and environs most vulnerable to the effects of climate change. I'm looking forward to the last of the series on May 9 on the role of art and novels in understanding climate change with Amitav Ghosh, Helen Phillips, and Nathan Kensinger. Continuing my climate-change depression-spiral, I'll probably reread Kathryn Schulz's brilliant New Yorker essay on what will happen when an earthquake hits the Pacific Northwest fault line ("The Really Big One," 6/20/15) before watching the greatest climate change movie of all time, The Day After Tomorrow.
–Emily Firetog, Managing Editor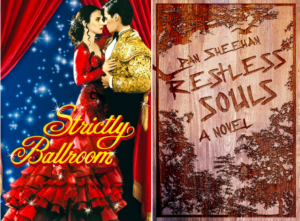 This past week, I've been enjoying Dan Sheehan's new road-trip novel Restless Souls as my subway reading, although I should probably finish reading it at home, since this book gives me all the feels and I don't want to start crying on the subway. Restless Souls takes place in the mid-90s as two friends take a traumatized buddy just returned from the Balkans to an experimental PTSD program. The high tragedy of the characters' experiences is complicated by their unwillingness to let themselves off the hook; the novel is full of kindness towards the suffering of characters, but also a condemnation (and acute understanding) of the voyeurism within us that draws us to conflicts, and that can be mitigated through the act of bearing witness. There's also plenty of hilarious razzing between friends, and speaking of comedy, I've also been rewatching favorite dance comedies this week, including the perfectly choreographed early Baz Lurhman film, Strictly Ballroom.
–Molly Odintz, Crime Reads Associate Editor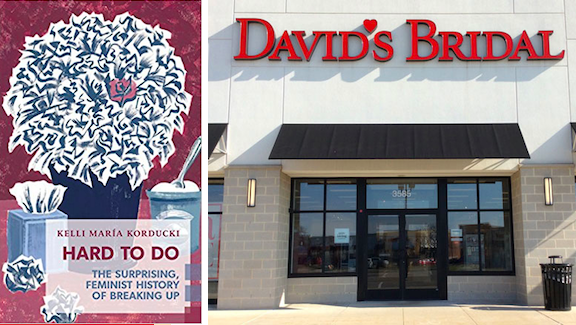 I've been reading Hard to Do, Kelli Maria Korducki's history of the capitalist scam that is marriage. I've always loved reading about how the value we place on monogamous romantic partnership is a literary construct; after I read The Rise of the Novel in college, my favorite hobby at frat parties was telling underclassmen that love isn't real and that they should dump their boyfriends. Korduck goes deeper into the social and economic forces that also play into our conception of marriage. It will pair very well with the bridesmaid's fitting I am going to this weekend.
–Blair Beusman, Associate Editor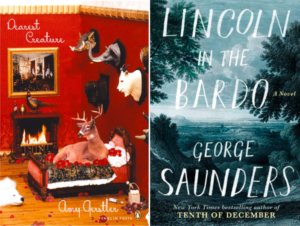 I'm headed to LA next week and I'll read poems with Amy Gerstler, so I've been diving back into her poetry. It feels like just what I need right now, as the world revolves ever more around a corrupt fixer and presidential warlust. Hard not to feel that madness outside can start to creep inside, right? Anyway, her work doesn't neglect these things, that barrier, but rather changes the question, through refraction—of are we bad?—into—what are we?—by painting and repainting the animal bestiary we're part of. You feel a cool kind of acceptance seeing that, realizing we are as we were made, perhaps. I just finished writing a profile of George Saunders, and his work has a very compelling…take…on being and suffering, too. Partly because of his Buddhism, also an acceptance of human nature, next to sadness over it. Like, is this all we got? I would argue Gerstler hasn't given up on redemption. Or maybe I just want to believe that's true.
–John Freeman, Contributing Editor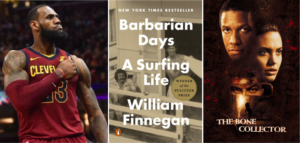 The NBA Playoffs began this week, so all is right with the world once more. I've mostly only been able to catch the highlights of games for the past few days, something I fully intend to rectify in the week ahead, but I did get to witness LeBron dropping 46 points on the Pacers last night, as LeBron is want to do. I took a brief but thoroughly enjoyable trip to a snow-blanketed Minneapolis on Tuesday, where I hung out with some friends at the wonderful Magers & Quinn bookstore. I also got my hands on a copy of William Finnegan's Pulitzer Prize-winning surfing memoir, Barbarian Days, which I am extremely excited about reading and, for some reason, I watched all of the 1999 psychological thriller The Bone Collector, in which quadriplegic former forensics expert Denzel Washington and grieving rookie cop Angelina Jolie team up to try and stop a serial killer.
–Dan Sheehan, Book Marks Editor
Just about all my free time this week was spent watching the NBA Playoffs, but for a brief while I was able to combine basketball with some reading as I dug into a new book from Taschen called Dark City: The Real L.A. Noir, 1920-1950, which is full of photographs of Los Angeles's underbelly in the years between World Wars, including crime scene photographs, tabloid spreads, street shots, and true crime magazine inserts. Jim Heimann is the book's editor and admits to doing an incredible amount of research in city morgues, but to my mind, his time was well spent, because this is one of the more impressive books I've had my hands on in a long while.
–Dwyer Murphy, CrimeReads Senior Editor
---