Off the Clock: What the Lit Hub Staff is Consuming This Weekend
Ingmar Bergman, Babylon Berlin, the Westminster Dog Show, and more

I plan on checking out the American Folk Art museum on a tip from my cousin, who, like me, enjoys a good wholesome Saturday morning activity, particularly when it is free. Having just finished Katie Kitamura's A Separation, which filled my morning commutes this week with a quiet dread much preferable to the unquiet dread of cascading MTA delays, I'm looking forward to digging into the charmingly '80s copy of Anita Brookner's The Misalliance I picked up from Unnameable Books a few weeks ago—if only because those two titles chime so nicely together. Film Forum is putting on an Ingmar Bergman retrospective, so I may also go see The Seventh Seal, because what does 2018 feel like if not an interminable chess match with death!
–Jess Bergman, Features Editor
When I was a teenager, I would sometimes get up at 5am to make buttermilk scones before getting on the school bus. I'd carry them in a big paper bag and hand them out to my friends. I don't really know why I did this. It seems a little ridiculous, but I did it so much that my parents' copy of Baking with Julia still opens naturally to the buttermilk scone recipe; the valley between the pages is crunchy with sugar. I haven't made them in a while—as an adult, I usually make spicier scones—but it's February, which is the month in which I most need nostalgic comfort, and so this weekend, I plan to make a batch and eat them all myself (or at least mostly). I imagine this will be the bulk of my consuming. Perhaps I will do it while reading Ali Smith's Autumn, which I've been long meaning to start so that I can then start reading Ali Smith's Winter—before it's spring.
–Emily Temple, Senior Editor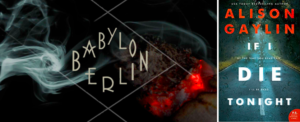 The first weekend after the football season is always bittersweet. Bitter, because my team has lost and the season's done. Sweet because my Sunday confessional will be just a little shorter now that I'm not cheering on a waking nightmare of Toradol, jingoism, and sub-concussive encounters. Instead I'll be watching Babylon Berlin, a dizzying mess of a historical crime that I can't seem to quit, and reading Alison Gaylin's excellent new thriller, If I Die Tonight.
–Dwyer Murphy, Crime Reads Editor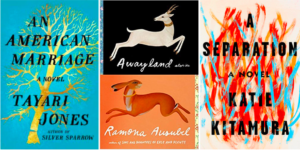 On my train ride home from work today I'll finish newly-selected Oprah Book Club pick Tayari Jones's An American Marriage which is excellent (in case you wanted another opinion besides Oprah's). Jess brought in the new paperback of Katie Kitamura's A Separation which I plan to borrow (Kitamura won my heart when she recommended a meatball sandwich in this interesting Lit Hub feature, even though she had never eaten one). I'm also excited to dip into Ramona Ausubel's new short story collection Awayland, forthcoming in March.
–Emily Firetog, Managing Editor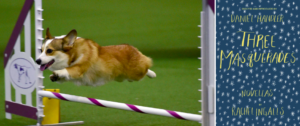 I'm reading Three Masquerades, a selection of Rachel Ingall's novellas, and either attending the Meet and Compete at the 142nd Annual Westminster Dog Show (in which laypeople are permitted to wander through a vast hall of good boys, arranged alphabetically by breed, while drinking beer) or a Korean bathhouse in New Jersey, because I believe in self-care.
–Blair Beusman, Associate Editor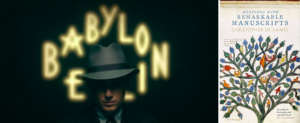 This weekend I'll continue to consume the excellent new show Babylon Berlin. So far, the show complements Volker Kutscher's series, the expensive production filling out the lean, mean prose of the show's source material. I'll also continue my attempt to read Meetings with Remarkable Manuscripts by Christopher de Hamel straight through, despite continually being distracted by the book's lavish illustrations. I'm resisting the temptation to treat this as an art book because the prose is so thoughtful and charming. It feels like the literary equivalent of a museum tour given by an eccentric British uncle who just happens to be a world expert in his field.
–Molly Odintz, Crime Reads Editor
I have a six hour flight back from Ireland on Sunday, so I intend to spend two hours finishing The Remains of the Day (here's hoping Mr. Stevens turns up outside Miss. Kenton's house with a boom box), two hours finishing The Maltese Falcon (here's hoping Sam Spade finds said falcon, sells it, and settles down to a quiet life on a houseboat somewhere), and two hours watching the stupidest movie I can find (here's hoping they made a straight-to-plane sequel to Police Academy 6: Mission to Moscow).
–Dan Sheehan, Book Marks Editor
The internet won't leave me alone about how good The Good Place is (I hear it's good), so I have a hot Friday night date with Netflix after I finish reading book two of John Flanagan's fantasy series, The Ranger's Apprentice, to my six-year-old. To keep the party going, I'll also spend some time with Archipelago's slim, bleak, deceptively titled Love, by Hanne Orstavik (trans. Martin Aitken), which by all accounts will take me to the bad place. And though it's technically not fantasy, I'll also be dipping into B. Allan Mackie's The Owner-Built Log House, in classic Sunday-dad fashion.
–Jonny Diamond, Editor-in-Chief
---