Odessa in Decay: Romantic, Tragic
Caroline Eden on the City's Rich Geopolitical History
Odessa is a young city by European standards, but what it lacks in historical gravitas it makes up for with its splendid architectural bones and worldliness. Cosmopolitan from its inception, its life began when Neapolitan officer General Don Jose de Ribas seized a Tatar-built fort, Hadji Bey, from the Turks in 1789. His conquest complete, de Ribas asked Catherine the Great if she liked the Grecian name Odessos. She did, but only once she'd feminized it to "Odessa."
Subpar roads connecting Odessa to Moscow played to the city's advantage, with the port offering easier access to Europe, the Mediterranean and Aegean Seas via the Bosphorus and the Dardanelles Strait. From the outset outward looking, Odessa refused to rely on the empire in the north, instead always looking to the sea for its fortune. This benefited its inhabitants greatly. De Ribas reveled in the world that began to open up, one that allowed small pleasures like drinking European wine and eating mastic-laced sweets.
*
Salt Beef and Furs
De Ribas wanted an upgraded version of his home city of Naples for Odessa but it wasn't until Armand-Emmanuel du Plessis (better known as the duc de Richelieu), a man born into French nobility, became governor of Odessa in 1803 that new roads, schools, theaters and city planning took hold. It took his successor, the Paris-born Count Alexandre de Langeron, to make Odessa the city it became. Under him, in 1817, the city gained free port status, allowing the stockpiling of imported goods without customs duties. Then the fun began.
Ships brought ashore goods as exotic as their origins: bulbous jars of Jamaica rum, oranges from Jerusalem, tins of sardines, bolts of Japanese silks, pots of cayenne pepper, bags of coffee and cocaine, boxes of cigars and tobacco from Virginia. Salt beef and furs left Odessa's docks, while from Constantinople (Istanbul) arrived cargoes of nuts and olives. Silk came from Florence and wine from Spain. Trade ships, from Newcastle, Port Said and Marseille, gathered in the harbor, sometimes three hundred at once. Contraband flooded in, paid for in all manner of currencies, lining the pockets of shipping brokers and filling the stomachs of porters. In Yiddish, "living like God in Odessa," became slang for having a good time. The city became a vast emporium.
Thriving, and no longer a remote outpost, the city was now a commercial centre full of promise, optimism and opportunity. As Europe's trading partner, Odessa became a Black Sea gateway to the world, attracting hundreds of smugglers and stevedores, netters, dockers and deckhands, all drawn by the sugar-rush of fast cash and the freedom that only a port city can offer. To the workers, the city was "Odessa mama," as she pleased, fed and provided. Anyone with two hands and the ability to work would be welcomed, no checks required. Everyone mixed.
Bloated with cash, the city's population swelled. French-speaking aristocrats, bohemian nobility and merchants shared dining rooms with Greeks (the first bakers in the city, initially welcomed for their maritime skills and making up 10 percent of the population by 1795), Bulgarians, Turks, Tatars and Jews. This colorful patchwork population contributed hugely to Odessa's psyche of shrewdness, style and humor. In well-heeled Cafe Fanconi waiters dressed in frock coats, serving pike caviar smeared on black bread, while in seedier subterranean bars, flagons of beer-like kvas poured from metal kegs in cellars serving as underground fridges. Lemon and orange scented the city in the late 1800s as citrus sellers pushed their carts through the streets. Most importantly of all, cargoes of wheat were shipped out in huge quantities from Odessa, making the Russian Empire—for a while at least—Europe's breadbasket.
I

t's unclear how, despite its abiding soul, a place like this can survive at all. Largely emptied out. Stranded. A ghost.
Journalist and author Aleksandr Kuprin, writing of going out with fishermen to catch mackerel in 1905, almost a century on after Odessa gained free port status, captured the industrious atmosphere:
Sailors of various nations, fishermen, stokers, merry ships' boys, harbor thieves, machinists, workers, boatmen, dockers, divers, smugglers—they were all young, healthy, and steeped in the strong odor of sea and fish; they understood hard work . . . and valued above all strength, prowess and the sting of strong language.
Today, decay—in equal measure romantic and tragic—fills the historic center that hugs Odessa's port. The neoclassical, pseudo-Gothic and Art Nouveau buildings are handsome but threadbare—the stuff of Russian novels—decorated with ornate moldings, fine arches and columns. Others are too sad for words, crumbling and abandoned, with boarded-up windows, their once grand balconies replaced with cheap plastic. Whatever the state of them, they are all the living history of Odessa. The same can be said of the cafés today that sell "Jewish food," like forshmak, to non-Jews, a reminder that this was once an intensely Jewish city. A hundred years after the city's formation, Odessa had the second-largest Jewish population in Europe after Warsaw, now much diminished, with Jews making up around a third of the city's population.
In Odessa, a city built on grain and trade, it became obvious that food was the perfect lens for understanding the city's history, psyche and longings. But there was something else here too, a collective sensitivity in the city, something more than nostalgia, more than melody, more than hurt. A self-awareness or melancholy, that stems from the fact that Odessa today somehow fails to live up to its own myths.
*
A Lesson in Satire
Jerusalem, St. Petersburg and Kolkata have in common a certain light, an almost celestial glow, an extra layer of luminosity, a brilliance permeated by the weight of history, environmental bearing and devoutness. Other cities, many more—Bukhara, Marrakech, Reykjavik—fall into the "atmosphere" camp, because they have weight and heart. But while Odessa has, at times, both radiance and a certain aura, it also has a third quality: imaginative grip. That is, a particularly arresting pull that encourages a craving for something unknown. This can be most keenly felt in the city's historic courtyards, or dvoriki. These communal spaces, more than a veranda but less than a terrace, are where the spirit of Odessa – the thing that feeds this "grip"—hangs most heavily. In the summer, families fill them, spreading out at long food-filled tables, gobbling down cutlets, pouring tea from enamel pots and vodka from decanters while ten-liter bottles of kompot rest with dogs in the shade. This is where the spicy smell of yellow acacia fills the air, tangling up into grape vines and traveling down into the dank, deep-sunk wells and old mazes of catacombs where the souls of long-gone partisans, smugglers and criminals live on.
This discombobulating and addictive grip can be felt in grander quarters too. The light-strewn Passage mall, one of the city's most glorious buildings, doesn't announce itself with window displays—there's no point, the majestic old shops have long gone—but it still dazzles in spirit, in the spaces in between, in what was once there. Golden sunlight floods in through the huge glass atrium. Circling the roof are dozens of baroque statues and sculptures, staring down. Up there, among the ornate plastering and finely chiseled busts, was once one of the finest hotels in the empire. Leagues of wealthy Russian tourists would check into the Passage hotel, then descend down to support a small Faberge retail store on the ground floor, one of only a handful of such shops worldwide. But this was in the 19th century, and just like the Faberge shop, now only the dream of what it once was survives. It's true that when old buildings are restored and become too shiny, too present-day, they lose something. But cutting through the usually deserted Passage, little more than a glitzy thoroughfare linking Deribasovskaya and Preobrazhenskaya streets, it's unclear how, despite its abiding soul, a place like this can survive at all. Largely emptied out. Stranded. A ghost.
The saying goes that this street is the longest of all, as "it starts in Odessa and ends in the gulag."
Getting to know the city, slowly peeling it back, other histories appear. A local magazine, The Odessa Review, pointed out that on Marazlievska Street there are two female carved faces decorating the facade of a building. They are eye catching not for their beauty but because a rope hangs around the neck of each girl. This is a remembrance, of sorts, to the alleged kidnappings of young Odessan women who, in the 19th century, were sold to Turkish harems across the Black Sea. The building that this woeful pair stare out from was allegedly a holding place for these women before they made their grim crossing, and it was here that this young duo chose to hang rather than sail. "Jewish Street," a typically elegant run-down road, is where the former—and deeply anti-semitic—KGB headquarters was once located. The saying goes that this street is the longest of all, as "it starts in Odessa and ends in the gulag." Then there's the myth of the "Mother-in-Law's" bridge by Vorontsov's Palace. Mihail Sinitsa, a Soviet Communist party official, apparently craved his mother-in-law's perfect pancakes so much he commissioned this narrow bridge so that he could reach her faster.
*
Sucking in the Smoke
Silence adds to Odessa's intensity. For a city, it is prize-winningly noiseless. The clamorous world of bigger cities simply doesn't exist. At daybreak, the stillness can feel enormous, with only the echoing foghorns of ships at sea breaking the muffled air. Pootling, rusty trams add a muted vibrational hum. In winter, when cold winds scud off the sea, turning the air to ice, these aged cartoonish streetcars, painted in childish yellows and blues, fill with women dressed in thick black fur coats. In summer, when the city sparkles with possibilities, like too-sweet Crimean champanski, the quavering cars swelter and seem to slow down, matching the pace of the city. Easing languidly around bends like slow-moving centipedes, through the heavily scented atmosphere. Dockside, the air smells of rust, tar, salt, brine and diesel. Inland, the fragrance is gentler, of dust, unaired teahouses and perfumy jam. Scents that catalogue memories, unchanged for decades.
Almost every conceivable smell permeates the air at Privoz Market, one of the largest food bazaars in the former Soviet Union, and it was there, in the shadow of giant murals of wheat fields and milk maidens, that I lost an afternoon. Squeezing past tables of curled smoked sausages, earth-rich and bulbous "Mikado" tomatoes, tables of barnacle-covered flounder and piles of dairy pots, I bartered for jars of adjika (a hot and spicy paste known to the Abkhaz as "salt") and tasted dozens of types of smoked cheese proffered on knife blades by women in frilly purple aprons. The atmosphere was that of a roaring shadow economy, and despite many stalls selling exactly the same meat, vegetable or cheese, everyone has a preferred vendor, with the savvy ringing ahead to get the best stuff put aside. Since 1827, Odessans have shopped here, and according to the historic Odessa Leaflet newspaper a thousand "pairs" of chicken were sold a day in the 1870s.
For lunch, first I'd suck in these smells, breathing in beet-red borscht and inhaling the smoke of fried fish, before following my nose to join office workers in kitsch cafés. Waitresses, dressed like catchpenny bridesmaids in their exaggerated Ukrainian flower-crowns, would bring chicken soup—a dill-heavy broth with matchstick noodles—and sour cherry vareniki, all criminally cheap, and usually enough to feed an Olympic team. I'd try to leave room for Odessan Napoleon cake, less dry than the Russian version, with at least ten layers of pastry and lots of custard cream, but usually, I lost.
At night, I'd slump into arty, worn-down cafés or bars that would put their tables outside in summer. And there I'd sit, under the melancholic chirps of caged birds, drinking heavy Cabernet, flicking through menus that offered "dishes for the company," meaning latkes and pike caviar. All around, heated discussions about music, art and the state of the economy would kick off, tame at first, then, as the dark wood tables topped with white lace filled up with cruets of apple moonshine and pickled herring, the pace would pick up. Politicians—Russian, Ukrainian and even Georgian—would be gossiped about, sending deep belly laughs rippling through the night. Then, usually towards the evening's end, a collective malady, a gloomy ache, would cruise in on the salty sea breeze, dislodging the ambrosial air. When this distemper comes, it absorbs everyone, and everything, slowly seeping in like seawater. It can be felt in cafés, seen on the crumpled faces of diners and in the furrowed brows of waiters. Then, a moment later, it would be gone. A symptom of the Odessa grip. In the morning, all-day dining cafés supply the city with impressive hangover breakfasts: a cup of hot broth, pickles, bruschetta with salt sprats and a shot of vodka.
Geopolitics courses through Odessa's veins. This is a city with a fiercely protected identity that is part of Ukraine, yet distinct of it. Just as some begrudge their dependence on the rest of the country, others resent their disconnection from Russia. Yet, the majority of locals are proud Ukrainians. A little world weary, but they know exactly who they are. Whatever their background, most will tell you that there is only one nationality in this city and that is "Odessan."
________________________________________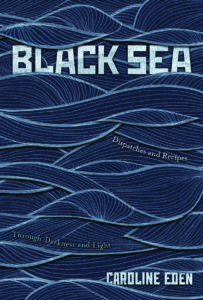 Excerpted from Black Sea. Used with permission of Quadrille. Copyright © 2019 by Caroline Eden.
---