The Togolese "Fixer" Who Helps Immigrants Play the U.S. Visa Lottery
Is the Path to Citizenship a Question of Trial and Error?
His office is a hole-in-the-wall on a sandy street in a ragged neighborhood of Lomé. His seesaw limp, from a road accident during a business trip to northern Togo, defines his gait—"a risk of the trade," he calls it. But his face bristles with intensity and warmth, and his imposing intellect trumps all. Inside that hole-in-the-wall—his "bureau," he calls it—Kodjo operates a global business that would make a venture capitalist proud.
His métier is helping compatriots get visas to live and work in the US by applying for the Diversity Visa (DV) Lottery. This visa system, created by Congress in the mid-1990s (and made infamous by President Donald Trump in January 2018), is available to those from underrepresented countries and annually distributes 50,000 visas to winners selected in a May raffle from up to 20 million applicants worldwide. More than 100,000 Togolese, sometimes up to a million, apply each year because they feel life at home is no longer tenable and the US, as a civil servant recently told me, is "le pays de nos rêves" (the country of our dreams). Kodjo's business is premised on that precarious condition and the fantasy of a dreamy elsewhere.
Clients drift in and out of his office all day—seeking advice about their documents, soliciting help in financing their global ventures, discussing strategy for the embassy interview. Since many are operating what the State Department considers a ruse—they marry to get the visa, not for love, but need to convince the embassy otherwise—Kodjo's work is also affective. He has to convince clients to inhabit an assumed identity with conviction and unblinkingly perform marital attachment during the embassy interview.
A young couple enters and the woman informs Kodjo that she's been sleeping with her confirmation number under her pillow at night. "I'm sure we won this time. I can feel it," she exudes. She leaves for the "cyber" next door, her partner in tow, to log on to the State Department website to see whether or not they've been selected this year. Thirty minutes later, they return, the woman in tears. "I was certain we'd won this time, I saw it in my prayers." Her partner is more sanguine, shrugging and adding, "There's always next year." Trademark Togolese hopefulness in the face of crushing defeat.
Throughout the day, TV-5, live from Paris and captured by satellite, chatters on a flat screen on the wall beside Kodjo's desk. He follows French news and talk shows with a passion, especially the debates, the hardball-style back-and-forth about politics and contemporary issues.
A boyhood friend of Kodjo's, just in from Germany, shakes hands all around. "When will your container arrive?" someone asks. "I didn't send one this time," Mawuli replies. "Go back to Germany then. What good are you here?" When the laughter subsides, Mawuli is quick with the comeback—repartee is the currency of the street—"The next one will be a double container, and you'll be eating your words—and left out of the spoils." Like many expats, Mawuli wishes he could return to Togo for good—he left for Germany ten years ago and misses the food, the camaraderie, the language—but how to make a living in Togo? By what means would he support his family? He contents himself for now with an annual month-long visit.
Another couple greets Kodjo in Ewe, asking to see him in private. When they finish, they file out quietly, seeming anxious. "They have their embassy interview tomorrow, and they had a few last-minute questions," Kodjo says. So many young couples, all in their early twenties. This because Kodjo primarily signs up university students—to meet the State Department requirement that successful DV applicants have a high school diploma (or a job on the US Labor Department's "Jobs Needed" list, which is virtually impossible for Togolese).
A young couple enters and the woman informs Kodjo that she's been sleeping with her confirmation number under her pillow at night. "I'm sure we won this time. I can feel it."
A poignant irony of Kodjo's trade is that while most of his clients get visas, he himself has repeatedly failed. He's applied for the lottery every year since the mid-1990s without being chosen, and he's married three female winners but each time something has gone awry during the embassy interview. His own failure, however, has produced dramatic business success. While apprenticing his first wife in a trade that was accepted by the State Department and grooming her for the embassy interview, he learned the ins and outs of the visa lottery system—not only how to fill out the required documents but also the art of self-presentation—and began to offer advice to lottery winners. As his reputation grew he decided to enter the business, first enlisting people for the lottery (now over a thousand a year), then shepherding the winners' files through the process. Having lived the fantasy himself, he was the perfect impresario, and today he is Lomé's gold standard among visa lottery brokers.
*
By World Bank standards, Togo is one of the poorest countries in the world, located at the heart of the world's poorest region. As much as 65 percent of the country remains in agriculture, which is sustainable during normal years but is all too vulnerable to poor rains and drought. Aside from a small but wealthy political elite, the rest of the country subsists on the informal or parallel economy, hustling to make ends meet by selling on the streets soap, matches, single cigarettes, used car parts, and a dizzying array of small food items. These ambulant vendors turn over the tiniest of margins, at best hoping for a small profit by the end of each day.
Salaried workers are only mildly better off. An acquaintance, a recent graduate of Lomé's national university, makes $120 a month as a personnel and accounting officer at a medical clinic. While his wage is considered passing, his work is constantly sand-bagged by superiors who pocket most of the earnings from each medical procedure they perform, leaving the clinic in the red—and this anxious accountant grasping for air. They cover their tracks by accusing him of having pocketed the missing money, a tactic that has so discouraged him that he's desperately been looking elsewhere for work but, months later, still hasn't found any.
Consider the pay scale of those fortunate enough to make a wage in Lomé. A low-level day laborer—a security guard or chauffeur— makes 25,000–30,000 CFA francs ($50–60) a month. A starting salary for a civil servant (who works in one of the ministries or in the small private sector or for an NGO) is 65,000 CFA francs ($130) per month. If all goes well—if he or she continues to climb, doesn't alienate people, and can stick it out for two decades—that same civil servant may top out at 230,000 CFA francs ($460) a month. Now consider the differences between Togo and the US: in the States, a scrub worker making minimum wage takes home in a single week what a midcareer Togolese civil servant makes in a month. No wonder many are tempted to dip into public monies—or to leave for greener pastures elsewhere.
People's sense of living precariously in Togo is not only economic. Five decades of single-family rule—whose raison d'être seems little other than pocketing the nation's meager resources for personal use—has deflated the hopes of all but those who profit therefrom. Reminders of this small but wealthy political elite are visible everywhere—in the expensive cars they drive, in the "villas" they build on the outskirts of Lomé. Every election gives momentary hope—that things might change, that the ruling party may finally be voted out—but when the status quo is restored (often due to massive fraud), disappointment and loss of hope set in all over again.
A poignant irony of Kodjo's trade is that while most of his clients get visas, he himself has repeatedly failed.
It is this precarious existence—loss of hope in the economy and in politics—that leads people to want to leave and to apply for the DV lottery. How, especially for young men, to achieve social adulthood at home—an adulthood predicated on having a job, on being able to marry and provide for a family? As one put it, "If I can't even afford la dot [the marriage gifts], how will I ever take care of a family?" For young women, because of the dearth of men their age with means, they often look for an older man, usually married, who will provide for them. This of course removes them from or delays their entry into the matrimonial market. In short, how to achieve, on both sides of the gender divide, one's social projects at home?
The visa lottery phenomenon is at once a response to the unending moment of crisis, providing an exit—and a reason why so many want to leave—while also mirroring all that typifies the moment itself: the identity plays and confidence tricks that the crisis brings into being.
*
On the streets of Lomé, he's called a traiteur, someone who "treats" files. In Ghana they refer to brokers like Kodjo as "connection men." The US embassy calls him a "fixer."
While his business (getting US visas for Togolese) may be unusual, he's nevertheless paradigmatic of a certain West African savoir faire in this postcolonial moment—of someone who can hustle, who has connections, who can obtain documents for any need, who can get done whatever has to get done in order to get by and make a living, and do it all quickly. Being in the business of fulfilling people's fantasies of travel, of course, gives him additional cachet on the street.
Much of Kodjo's work involves registering people for the DV through the online system, then helping winners meet the deadlines leading up to the embassy interview. The rub in the system is the cost: $330 for the embassy interview in 2017 (until 2012, it was $819), $220 for the medical exam, $200 to obtain the necessary documents (birth certificate, passport, high school transcript, criminal record), another $1,000 for the plane ticket. And this for only one person. If married with children, it's $2,000 per family member—with all this (except airfare) in hand before the interview and before an applicant knows whether he or she will get the visa.
If winners are not able to raise the money on their own—and few Togolese are, even salaried civil servants—they often choose to exploit a loophole in the DV system that allows winners to add a spouse after they've applied (but before the interview) by arranging a marriage with someone with means who is willing to bankroll the couple's interview costs and plane ticket, as well as Kodjo's service fee.
The embassy of course looks down on such marriages—which seem expedient, not "real"—and spends time during the visa interview trying to ferret out real from fake. In 2005, sensing that an inordinate amount of gaming was going on—adding to winners' files spouses and sometimes children who were not real—the consulate created a "fraud unit," hiring two Togolese to assist the consuls in deciding whether marriages were legitimate by combing the city's neighborhoods and marriage registers. These fraud officers made a habit of showing up at an applicant's apartment after hours, insisting on a supplementary meeting at a neighborhood drinking hole, or dropping by a workplace to interrogate the applicant's patron.
Because it is often fixers like Kodjo who arrange these marriages—with those with means in the diaspora who want to bring over a sister or a wife, or with wealthy douaniers (customs agents) or government ministers who want to send a son or daughter to the States—the embassy doesn't look kindly on them. Indeed, consuls often view fixers as the root of the problem, pushing others to engage in what they deem fraudulent activity for their own profit. Twice the US embassy has gone after Kodjo, the first time getting the police to raid his office and confiscate his files, the second sending him to prison in Ouagadougou for three months.
______________________________________________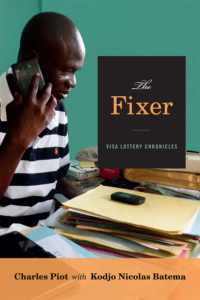 From The Fixer: Visa Lottery Chronicles. Used with the permission of the publisher, Duke University Press. Copyright © 2019 by Duke University Press.
---