October 12, 1967
From Uwe Johnson's Anniversaries
October 12, 1967
Thursday
The tellers' windows are closed for the holiday, but people are working on every floor of the bank above the lobby. The restaurant in the basement was so crowded at lunchtime that a line of people stood waiting, staring down at seated eaters' necks, while the waitresses whipped away empty plates so greedily that reading the paper was out of the question. We couldn't get our regular waitress either—the brisk, distracted, attentive one who complains so delightfully and says, as though to a comrade in suffering: Oh, Gesine . . .
The New York Times has received a report from La Paz that the guerilla Ernesto Che Guevara probably lived another 24 hours after his capture before being killed. Seven bullets, one fatal wound in each lung and a third straight through the heart.
The Soviet Union has replaced 80 percent of the planes, tanks, and artillery that the Arabs lost during the Six-Day War in June, according to the Israelis, who are seeking permits from the Western powers to buy more weapons.
And the mail today is delivered as usual too. The phonopost from Greece is already unpacked and ready to go in the tape player Marie has set up. She is sitting at the other end of the table, waiting to hear it, eager, brighteyed. She's already listened to it twice.
To phone number SIX-AUKS in New York. To the authorized personnel of apartment 204. Dear colleagues and friends, patriots and traitors, dear six razorbill auks, murrelet auks, Icelandic great auks, puffins, and dovekies. Greetings.
You have you're a bit you've labeled the tape can't I change it do I have to erase one of your words with every word of mine why. Why Gesine are you only lending me your voice not giving it why if you trusted my promises I could have recorded over it anyway oh yes. No.
Dear Mary, Mary, not contrary, I did it the way you guys told me to. When I got there everybody was there already and I went to your hotel in Copenhagen and had a room up so high where the rooms never stop flying out over the crooked red roofs it smelled like America in the halls not Hilton more like Sheraton Boston. The Danes were all mad that a West German a Defense Department engineer had called Jutland the ideal unsinkable aircraft carrier of the Bundesrepublik they should just sink themselves all right so much for state secrets. With my Danish I don't know something is rotten in it.
Raced a gate agent at Kastrup on the scooters they have there they do Marie airport scooters. Two East German planes standing there in the rain little tear-stained dogs seriously. On the contrary Communism is good for you get some today ask for it by name.
Not Germany. Already knew how to sink it in case of emergency totally perfect nothing but Swiss on the plane a big family on their way home with my French I don't know something is gamy in it. In the West German news magazine they actually without batting an eye printed our daft old Auntie Hallelujah what she calls memoirs no it's true phone-tapping scandal can West Berlin be saved now they've got enough of that. Lake Constance at the Überlingen end like rotting soup then Switzerland blue and white and green colors so pure you could run experiments on them.
Zürich stopover the snack bar was besieged by a group of traveling musicians from New Orleans if you ask me Birmingham two girls delicate as little birds dressed exactly like your great-grandmother as a child Henriette von Heintz did I get that right they wanted Sprite don't have any the men wanted hamburgers don't have any I translated what they wanted into close approximations the waitress asked And what would the Negro gentleman like and I gasped. The shit follows you everywhere I had just been feeling almost homesick.
Dear Mary I have obtained a passel of caran d'ache that's the word the Russians used when they invented the pencil. Karandasch. Svetlana A. Stalina s karandaschom.
You can have your Karsch. No answer to my first telegram a big article di Karsch in the paper an analysis of the German firm Quandt one of the bosses just died in a plane crash here near Turin Karsch is leading the Italian business world through the icons of the West German financial pages if you ask me after my second telegram he told me to meet him at a café at La Scala after waiting two hours I left and that's why I'm landing in Milan now. Milano.
In a letter from a reader in the West German news magazine thirtyseven labels for Düsseldorf including newspaper city city of academic publishing film city the writing desk of the Ruhr city of postmarks city of lakes city of US peace dollars city of rest and relaxation pearl of the world's airports is that where you two lived. Düsseldorf city of local newspapers.
Public outrage in Italy because the Coca-Cola Company is keeping its flavor a secret that breaks the local laws Coke requests a new law and in West Germany they already have one only two people know the recipe for Coke chief chemists in Atlanta they are never allowed to fly on the same plane otherwise not even Coke would know what it's made of anymore the Italian chemists are helpless they would really have liked one of the two special canisters of concentrate that are flown in from Atlanta. No state secrets other than that.
What you can now hear is the unmistakable unique sound of a DC-9 engine starting its descent to the Albanian coast now it's turning around after all I shouldn't say this I'm not saying it obviously I can live without you two but I don't want to many thanks for your nasty remarks about my beloved Boston Red Sox the day will come descending now into Athens.
Dear censor this communiqué is in clear not encrypted Missingsch my Greek I don't know needs brushing up there's nothing more to it everything's on it so kindly be careful when you rewind I demand compensation for any and every erased comma Missingsch is an impure alloy of Plattdeutsch pronunciation and High German linguistic development remember that Marie yours D. E.
I won't say it. End of message.
__________________________________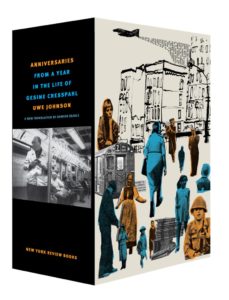 From Anniversaries. Courtesy of New York Review Books. Copyright © 2018 by Uwe Johnson. English translation copyright © 2018 by Damion Searls.
---