November's Best Sci-Fi and Fantasy Books
Featuring Magic and Queerness, a SFF Icon's Take on Climate Collapse, a Pioneering Work of Silkpunk, and More

You may have heard of this nebulous nemesis, Supply Chain Issues! (Cue startling old timey radio serial sound effect.) Unfortunately, it's not so much nebulous as absolutely real, and it, combined with the ongoing pandemic, has affected a number of publication dates. Because of that, this month's list might seem a little weird!
But in the interest of not allowing good books to slip through the cracks: here's a spooky story of haunted technology that just missed last month's list, an elegant and proper tale of magic and queerness, the culmination of a classic modern work of sci-fi, an all-time SFF icon taking on climate collapse, and a pioneering work of Silkpunk that's now on deck for the first week of December!
*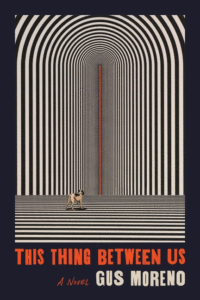 This Thing Between Us by Gus Moreno
(MCD x FSG Originals, Oct 12)
Itza seemed like a good idea at the time. Thiago's wife, Vera, suggested they buy the "world's most advanced smart speaker" to make their lives easier—maybe it would lighten the mood a little in their condo, which always seemed to feel a little eerie. Instead, Itza played unsettling music in the middle of the night. A technical glitch? Then their home began to host cold spots and inexplicable noises in the walls. Those had rational explanations, right? But why were weird packages showing up at their door, with no record of who ordered them?
Even so, anything could be turned into an amusing anecdote, until Vera was killed.
Lost in a haze of grief, Thiago has to deal with people politicizing his wife's death, the messages from friends who want to help, but can't understand…and then one night he realizes he can hear Itza talking to someone in the empty living room. He packs and leaves for a remote cabin, a haven to hide in and mourn, but he soon understands that whatever made life back home increasingly unbearable has no intention of letting him go so easily.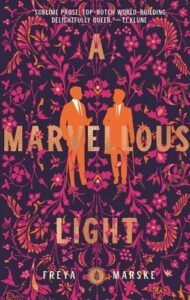 A Marvelous Light (The Last Binding #1) by Freya Marske
(Tordotcom Publishing, Nov 2)
Robin Blyth lives in reality. He tries to uphold his roles in society: elder brother, upstanding citizen, baronet-who-will-repair-the-damage-done by-his-profligate-parents. It's a rather banal reality, but it's all Robin knows.
Until.
Because of a clerical error, Robin is appointed civil service liaison to magical society. Which means: 1. magic is real; 2. Robin has to liaise with it; 3. The last man in this job disappeared under mysterious circumstances. There's also a curse, and horrific prophecies, and—worst of all!—Edwin Courcey, Robin's stuffy coworker, who openly loathes him. But before you can say "magical meet cute" the two men discover a deadly plot that they can only thwart together…and they might just find a few hidden depths in each other along the way.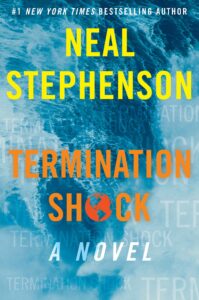 Termination Shock by Neal Stephenson
(William Morrow & Custom House, Nov 16)
Sci-fi icon Neal Stephenson has already outlined a terrifyingly accurate vision of the future in Snow Crash, given us a meditation on far-future math monks in Anathem, introduced a whole swathe of SFF nerds to Alan Turing in Cryptonomicon, and provided literature's greatest all-time character name: Hiro Protagonist. And now, he's tackling climate collapse in his usual restrained, Carverian fashion.
Kidding, kidding. In Termination Shock, a Texas oil billionaire has cooked up a plan to shoot sulfur into the sky to slam the brakes on the Earth's rising temperatures—and that's just the opener. In order to put his plan in motion, T.R. gathers allies from around the globe, including the Queen of the Netherlands, Frederika Mathilde Lousia Saskia… who is soon entangled with a complicated cowboy, Rufus "Red" Grant. As these three larger-than-life people orbit each other, the world's governments and tech giants desperately jockey for influence, inter-state secrets, and anything else that might ensure that the sulfur launch sites work in their favor, rather than dooming their countries and allies to even worse effects of the collapse. And behind all of them, an Indian social media star named Laks concocts a plant to sabotage T.R., convinced that human meddling can only make things worse…but will his schemes trigger the termination shock that could doom humanity?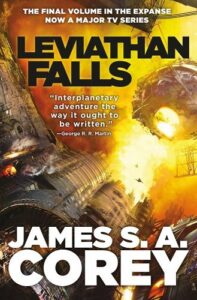 Leviathan Falls by James S. A. Corey
(Orbit, Nov 30)
The Expanse is one of the biggest sci-fi series of the modern era. It inspired an (excellent) series on Amazon Prime, and has added a complex and multifaceted view of far future humanity colonizing the far reaches of our solar system. Now, after eight novels and eight novellas and short stories, the series is coming to an end with Leviathan Falls.
After the fall of the Laconian Empire, Elvi Okoye is continuing her mission to study the "dead systems"—the systems that humans can reach by interstellar ring gates, but which, for mysterious reasons, are devoid of life, silent and abandoned—while Colonel Aliana Tanaka is trying to track down the former Emperor's missing daughter. But soon, a far more dangerous threat appears—an alien force that threatens to sweep in and destroy humanity as we know it. The crew of the Rocinante may have found a way to fight, but it will mean uniting people from every corner of the system… and that may prove even more impossible than fighting aliens.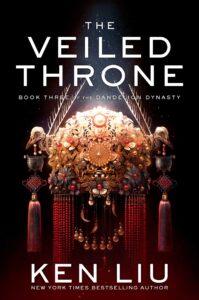 The Veiled Throne by Ken Liu 

(Gallery / Saga Press, Dec 7)
In the third book of his award-winning Dandelion Dynasty series, Nebula, Hugo, and World Fantasy Award-winning author Ken Liu shows us three paths to power. Princess Théra has chosen battle. She's left the throne to her brother, and begun a journey to the land of Ukyu-Gondé to wage war with the Lyucu. Her warships are mighty, her army counts ten thousand soldiers, and she defeated the mythic Wall of Storms, all in a bid to win her people historic strength. But can her ingenuity help her slip the past and gain a new future?
Meanwhile the heads of the Lyucu and the remnants of the Dandelion Court fight it out in a subtler fashion, forging alliances and rivalries in an unending jockeying for status. And far from the blaze of the court, the common people begin to make their own plans. If their leaders are going to forget them, it will come down to them to unite and build their own future—whether the royalty of the Empire approve or not.
*
Leah Schnelbach is a staff writer for Tor.com, a fiction editor for No Tokens, and an associate prose editor for Fairy Tale Review. Her fiction appears in Joyland, Volume 1 Brooklyn, Madcap Review, and The Boiler, and her criticism appears in Tin House Online, the Geek's Guide to the Galaxy podcast, and Electric Literature. Her work has been anthologized in Speculative Fiction 2015 and Rocket Fuel: Some of the Best of Tor.com Non-Fiction. You can find her on twitter @cloudy_vision
*
---