Not Just Sex: An Oral History of Grey's Anatomy Trickiest Medical Scenes
"You can sit in the writers' room and be like, 'Oh, we're going do a craniotomy...'"
Fans may like to spend hours opining over who should sleep with whom when the characters are off rounds—but that doesn't mean the medical cases took a back seat to all that great sex and romance. Nothing has been more entertaining than watching the cast cut, carve, and chisel their way into prosthetic bodies over the last two decades. And keeping that up was a monumental task for the cast and crew.
*
Justin Chambers: Real doctors do not have this many amazing cases. But we need to be appointment television every week.
Mark Sau: l I would go through The Seattle Times and look for interesting Seattle-related medical issues or emergency situations. I would look at medical journals, too. They wanted it to be realistic and all based on something that really happened.
Matt Mania: When we [the crew] would make a comment about something, it would be something more like, "Wow, that could never happen," as far as the medical situation. I remember [medical adviser technician] Linda Klein and how she would just be rolling her eyes and pulling her hair out because some of the stuff they would have them do medically just was so out of the norm and not realistic sometimes. She would desperately try to make sure there was some medical integrity about the whole thing. I think she would end up getting her way quite a bit. There was a Siamese twin one where they separated them in, like, a day.
Harry Werksman: ABC said, "You can tell whatever medical story you want, but there has to have been at least one recorded case of it." I was the one who gave the staff syphilis. I just happened to have read, prior to writing the episode, about an outbreak of syphilis among the staff at a hospital in New Hampshire. It happened exactly the way we did it on the show, where there was a nurse who was sleeping with doctors. It sort of spoke to the whole thing how there's a lot of sex happening in the hospital, in the on-call rooms, in empty patient rooms, in stairwells. They're working 80, 90, 100 hours a week. They have no time off to do these kinds of shenanigans.
Eric Buchman: In a weird way, a show that was a thorn in our heels was House, because that had just premiered on Fox and was a huge hit medical show that really played up the medical mystery. It was considered a serious medical show, and my job, of course, was to watch every House episode to make sure we weren't doing what they're doing. But I remember on a network level, them saying our show wasn't House-y enough. So we were getting notes saying, "Do more of a medical mystery." But of course, Shonda being Shonda, she knew what the tone of her show was.
ABC said, "You can tell whatever medical story you want, but there has to have been at least one recorded case of it."
Rob Corn: I'm always one to push the envelope toward more gore, especially in our surgical scenes. I went too far a bunch of times but always provided a way to cut away if necessary. I loved showing the details of surgeries, much to a lot of people's chagrin.
Robert Baker: When we would get the scripts for the table reads, all the medical stuff would just be the word "medical." So you'd be reading the script and it would be like, "We've got to medical the medical until medical happens to medical." Like, that would be the table read. The surgery scenes were just like Mad Libs but inserting the word "medical" in everything. Eventually one of the drafts would have all the medical terminology in it.
Patrick Dempsey: There was this one word, something to do with a blood clot in the spine, and I just could not figure out how to say it. I kept going, "Can I just say, 'It's not looking so good,' and then cut to a commercial?"
Giacomo Gianniotti: (Dr. Andrew DeLuca) My first surgery was a nightmare. There were so many things, general rules that I didn't know about sterilization, keeping everything clean. I was constantly dropping my hands in surgery and Linda Klein would be like, "Cut, cut, cut! Giacomo, what are you doing? You're dropping your hands! You're not sterile!"
Kelly McCreary: People study a long time to be surgeons. We get ten minutes.
Tina Majorino: Surgery scenes were always my favorite. I'm someone who absolutely loves to work with fake blood and fake injuries and all that fun gore stuff. I am not squeamish. However, one day we had to shoot a scene where we were operating on a patient who had trichotillomania. She had eaten her hair and it formed a tumorlike ball in her stomach. I didn't think anything of it until we went to shoot. They used an animal stomach and made this hair ball and it's covered in all the fake goop and blood. It was awesome. While I'm not squeamish, I do have a weird thing with hair. Clumps of hair freak me out. Like, drain hair? Forget it.
So the more takes we're doing, the more I feel like I'm going to pass out. I just went white. I remember Ellen looked at me at one point, and I don't know how she knew with most of my face covered, but she just grabbed both my hands and said, "Okay, and we're breathing. We're breathing. Deep breaths through the nose. Let it out. You got this." It makes me laugh my ass off now, thinking about all of the other textbook stomach-turning stuff I saw during my time on that show that I had no issue with. But the hair ball did me in a little.
Brooke Smith: I was so into it when we were doing surgeries. Whenever my husband and I would see a car accident I'd be like, "Maybe we should stop and I can help someone." He was like, "No, you've been playing a doctor on TV for like two weeks. Calm down."
*
Choreographing the surgeries was left to a terrific group of experts who became celebrities in their own right, thanks to the show. Besides Klein, who also played Nurse Linda in the OR, there was Tom and Bari Burman on prosthetics and special effects and Norman T. Leavitt on the wound makeup. Dr. Zoanne Clack has served as a long-term consultant and writer on the show. 
Harry Werksman: There's a steep learning curve. You can sit in the writers' room and be like, "Oh, we're going do a craniotomy," but now we have to build a fake skull to pop off. We have to be accurate about the instrumentation that we're using and how they do it. There was a lot of prep that went into stuff that would maybe be a minute, two minutes, on-screen. As time went on, we just got better at it, but it's like the first time after Addison showed up, and we started to need babies on the show because that was her specialty. You can get small children, but sometimes you need them even smaller. There was an episode with quintuplets or sextuplets, a whole conveyor belt delivery scene that we did. Those were animatronic, those babies. They had to be small. That took forever to shoot that scene. It's four minutes at the end of the episode that took two days to shoot. That was a real example of what a ballet it had to be in terms of getting the surgeries right.
Tom Burman: Babies are the hardest thing that we've ever made. The problem is they don't generally have any character. They're kind of a nebulous form and pudgy, and they don't have muscle structure, bone structure, or anything. Because they're so brand new in this world, they don't have all the flaws and things that allow you to use sometimes as cover or identification. And you can't use regular human hair because babies have real fine hair. You have to use animal hair or a type of wool. Angora, so it's real fine. Otherwise, the follicles of hair coming out of the skin in a big close-up look like they were punched in. Each one of those hairs are put in individually and they have to be really fine and wispy.
Norman Leavitt: Linda Klein would have this great morgue of bones . . . arm bones, face bones. She could make up a bone sticking out of a shirt. They would cut a shirt away and she would rig this broken bone with meat around it and blood and paste, and it would make you want to throw up. It looked so real. For a long time, she used real flank steak for things. For close-ups, it had to show a horrible wound, a bone sticking through meat.
People study a long time to be surgeons. We get ten minutes.
Jason George (Dr. Ben Warren):  Scott Foley was on the show years ago [as Henry Burton], so there's a molding of his head that is often used to sub in when they don't have an actor on the operating table.
Zoanne Clack: It's a total puzzle. There are so many things where I just want to say, "No, that can't work." The writers don't know medicine, necessarily. I mean, they know a lot about it now. But they don't know the boundaries, whereas I immediately know the boundaries, so it's always me having to let go of them. We go to experts who are immediately like, "No, that cannot happen." Then we're like, "What if this and this happened?" Then we can have a conversation and a lot of times, they're like, "I guess it could, but it would be extremely rare." We're like, "Yes! That's what we're looking for!" We are the one percent hospital.
*
And those one percent cases will remain forever ingrained in the heads of fans—if not the guest actors who participated in them. Take James Immekus, for example, who thought he was joining the season four finale to play a dumb kid who jumps off the roof of his house in hopes of hitting the pool— but doesn't. Turns out the producers had something much more heavy in mind for him for "Freedom" parts one and two—his character jumps into a tub of cement.
James Immekus (Andrew Langston): I think it was probably for NDA purposes that the audition was for a kid who jumps off the roof and misses the pool. It kind of had the same intentions, like he did it to impress a girl. Once I booked it, they were like, "Well, that's not what's happening to you. And you have a makeup session coming up and you're going to be fitted for this rock." I had no idea whatsoever.
Zoanne Clack: That came from the mind of Shonda Rhimes. That was one that actually took a long time to research, because it doesn't really happen. We were trying to figure out the effect cement has on the body. The main point of that was to get all of our characters together. We're like, "What about something like 'Cement Boy,' where we can get everyone together?" There were different stories that came off of it, but that was the main story of the episode.
James Immekus: When I got to the Burman Studio for the first time, they had this chair that was already encased in a rock. I guess it was all plaster and, just like you see in the show, they wanted to be able to pull it off in pieces. It would take about an hour to seal me in. I got there at four in the morning for two weeks straight. It's like I lost a bet or something. I was legitimately sealed in the rock. People would offer me water and I was like, "No. No water." There was no catheter. I just made sure I didn't take anything until it was lunchtime [since] I would be in it for a couple of hours. It wasn't the worst thing. But there were some situations where I could feel my legs falling asleep. The cast was really wonderful to work with. Sandra Oh, Sara Ramirez, they would massage my hands and legs for me between takes. It was pretty nice of them. The experience in and of itself was not bad. It was just, obviously, having to sit in one place for quite a while.
*
Breaking the character out of his cement tomb also gave the writers a chance to show off a lovable side of Bailey. After Cement Boy starts to feels sorry for himself and calls himself a loser, Bailey gives a speech about how Han Solo, who was encased in carbonite in Star Wars: Episode V—The Empire Strikes Back, is remembered for making "the Kessel run in less than twelve parsecs and who braved the subzero temperatures of the ice planet Hoth in order to save someone he cared about from the big ugly wampa. He's remembered as the guy who swooped down at the last minute, blasted Darth Vader out of the sky so that Luke could use the Force and destroy the damn Death Star. Princess Leia saved him from the carbonite. They fell in love, they saved the universe, and had twin Jedi babies that went on to save the universe again, right? That's the whole picture. The carbonite was just a piece."
Zoanne Clack: It was fun because we found out facts about Bailey and her sci-fi nerdiness. There were certain things we were able to learn from them working together that was strictly from the minds of the writers and trying to make it work within the realm of reality.
But just as Star Wars fans will never forget how Darth Vader encased Han Solo in carbonite, Grey's fans will never forget Cement Boy.
James Immekus: I was at a wedding in Georgia once and I had some server at the wedding say, "This girl is losing her mind. Would you go over and say hi to her?" So I went over and she said, "It's crazy to meet Cement Boy!" I guess it got circulated on the internet that I'm Cement Boy. So, yeah.
*
In the season two episode titled "Something to Talk About," Joseph Sikora played a sensitive father-to-be named Shane who's treated like a circus attraction because of his "hysterical pregnancy." In reality, Shane is carrying a teratoma, a rare (and pretty heinous) tumor that develops tissue, hair, and teeth. Sikora went on to play drug dealer Tommy Egan on Starz's hit crime drama Power.
Zoanne Clack: I was really excited about that one. One of the big learning curves I had to make was trying to open up my mind and not say no all the time in the first couple of seasons. This was one of the ones where my initial thought was, Are you kidding me? We can't do this. But then I realized that a teratoma puts out hormones that you make during pregnancy. Things like liver disease will make your belly really bloated, because it's filled with fluid, but there's nothing that would give the positive pregnancy test. When I found that, I was ecstatic. That was a major coup, a major feature in my hat to figure out how to actually make it work medically.
Joseph Sikora (Shane Herman): I did read for the role. I was very grateful that Linda Lowry cast me. She made me very comfortable—I'm a nervous wreck at auditions—and even explained that the sides were written in a bit of code because they didn't want the gag of the man mistakenly thinking he was pregnant to get out. Instead of saying, "I'm pregnant," in the audition they had the character saying, "I'm a duck." I just tried to play the truth of the situation as best I could. Alie Ward, who played my wife, was fantastic. I really appreciated her. She made it easy to pretend I had a loving partner. The prosthetics weren't too bad during the course of the shoot, but getting the belly and chest piece made was an interesting process. They made a body cast of me from shoulders to hips, and from what I remember I lost some skin from my nipple when they pulled off the plaster cast. But they very wisely made a kind of shirt that I just had to slip on every day. It was incredibly hot! But not too uncomfortable. And even if it was, I was just happy to be working. I'm not big into complaining.
*
Complaining was the furthest thing from Sunkrish Bala's mind when he scored a guest gig in the season two episode "Much Too Much." He was still in college and had done only "two tiny gigs" before that and was "brand new to the business." Like Immekus and Sikora, Bala didn't get the full story when he was hired. Initially, he thought he was playing a man with brain cancer. Instead, he got the role of a man who has a one-night stand with Meredith and never loses his erection, a condition known as priapism.
Sunkrish Bala (Steve Murphy): The note from the casting director was to "lean into the comedy." It was confusing. I remember the designer asking me to put a hairbrush in my pants during a wardrobe fitting because I think the wardrobe department wasn't sure how much they were going to show on-screen. But I think that idea was quickly nixed.
Harry Werksman: I was inspired by the Viagra ads that said, "If you have an erection lasting longer than four hours, seek immediate medical attention." So I was like, "Well, what if he didn't take Viagra and this was happening. What would the problem be?" And it turned out to be a spinal tumor that put pressure on certain nerves. There was Meredith having to deal with her one-night stand who had this problem, and of course it ended up that it was Derek's case, so he had to perform the surgery on the tumor that Meredith scrubbed in on. So there were Derek and Meredith, having broken up and her having a one-night stand with the permanent boner.
Sunkrish Bala: I had no idea what walking into a hit show would be like. I distinctly remember walking into the makeup trailer and everyone was raucously passing around an interview Katherine had done with a big magazine and discussing it animatedly. At lunch, Ellen told a couple of us how she had gotten Punk'd by Ashton Kutcher the previous weekend. I had arrived on another planet. I was so unprepared for the attention broken penis guy would receive. It was before cable exploded, and Grey's was just one of those shows that everyone watched. It aired over Thanksgiving weekend that year, and on my South- west flight back to college that Sunday, people kept coming by my seat to take photos. To this day it is the role I'm probably most called out on the street for. Sometimes it's, "Hey, were you on Grey's Anatomy a long time ago?" And sometimes it's, "Hey, you're the broken penis guy!"
*
Leave it to Shonda Rhimes to make porn viewing a medical necessity. In the episode "Bring the Pain" from season two, Henry Lamott (the late Brent Briscoe) uses an X-rated flick called Nasty Naughty Nurses 4 to help ease the pain from a herniated disk, since he's allergic to all pain medication. But when power goes out in the hospital, Cristina has to step in and talk dirty to Henry to help keep his endorphins flowing.
Zoanne Clack: That one was kind of a last-minute inclusion, if I remember correctly. We were talking about how we really wanted Derek to be a pain management doctor, which is so apropos. We realized that there are certain hormones and things that are released when you watch porn. Cristina's so wrapped up in it, it gave her this moment to be [present and think], I can see how this works scientifically, so now I'm going to try and work with it.
Mark Tinker We all sort of got our laughs and any discomfiture out during rehearsal and when we were shooting. Both Sandra and [Brent] were very professional. And I behaved well for a change. Sometimes those scenes can head south where everyone gets the giggles, but as I recall we all did fine and shot it without incident.
*
Oh, doll: Why do you like to swallow doll heads? In "Enough Is Enough," from the same season, Meredith thought Mr. Hubble (Scott Michael Campbell) was acting as a mule for a drug dealer. In reality, he was just a disturbed young man who swallowed the heads of ten Judy dolls.
Zoanne Clack: We thought about a guy swallowing something, and then we really wanted something that would stand out on X-ray. I want to say there was a case where someone swallowed Barbie doll heads, but we couldn't use the name "Barbie," so we named them Judy dolls. Basically, we were just researching all different kinds of ingestions  that  people  did and we wanted it to be something that wouldn't kill them right away. A lot of people swallow paper clips and knives, which we did later with the prisoner, because they do that a lot.
Faith Prince and Arye Gross were cast as a divorced couple who couldn't pull themselves apart—quite literally. In the season three episode titled "Oh, the Guilt," Prince's character has an IUD that got caught on her ex's pierced penis.
Zoanne Clack: That was literally like, "Are we able to do that theoretically?" I had to go figure out how that could be possible, even if it didn't actually happen. It's like, "How do we make this work for the story we want to tell?"
I don't think they do it anymore, but to help train doctors in the field, they would go and stab pigs. I mentioned that idea and Shonda loved the idea.
Faith Prince (Sonya Cowlman): When I first got the call from my agent, he goes, "Are you sitting down?" That's the way it started. I said, "No, should I be?" And he goes, "Yes, go find somewhere to sit." And then he told me they wanted me to do this episode, and then I thought, Oh my God, they've seen me on Huff, because I did this weird, bizarre role on it for Show- time. It was all sex and drugs; they had me in a leopard G-string. I'm guessing they saw me in that and thought, This is our girl. I was going be the weird person doing all of these weird situations! I said to my agent, "Well, okay, it sounds kind of bizarre and funny. I'm in." They made [Arye and me] put this weird pillow between the two of us, and after a while he and I were just like, "Fuck it." It was so uncomfortable, and it was the weirdest angle. I remember thinking how it was sort of Olympic in a way, getting through it. I don't think I've ever seen the episode. My son was going to Laurel Hall in the San Fernando Valley at the time, and I thought, God, I hope the mothers don't see this. It might be the talk of the PTA. I don't think my son has ever seen it. He's 25 now. He probably never has to.
*
Mitch Pileggi (Lawrence Jennings) may have played the chairman of the hospital board at Seattle Grace, but even he got a turn playing a patient in the season three episode titled "Desire." While skinny-dipping in the Amazon River, a parasite made its way into Larry's urethra. Ewwww.
Zoanne Clack: We can't make that up! It happens. The fish will follow the stream of urine into the penis, and this was a case I think we read about in season one or two and literally tried to put it in three or four episodes. It would always fall out or it didn't work in the episode or we had too much story and we had to let go of one. We finally accomplished it. It was Mark Wilding who put it in the episode and made it work.
Dr. Owen Hunt introduces a novel way for the residents to practice their surgical techniques—cutting up pigs in the season five episode dubbed "Life During Wartime."
Mark Wilding I don't know that they do it anymore, but to help train doctors in the field, they would go and stab pigs. I mentioned that idea and Shonda loved it the idea that Dr. Owen Hunt walked everybody through how to kill pigs and how it would make you a better surgeon. We didn't use real pigs. We got some pigs that were made. We just showed a bunch of pigs being stabbed. It was very interesting, because ABC approved the story. But when they actually saw it, which was only two days before it was supposed to air, they decided it was too gory, so we had to go back in and essentially redo it to make it look much less gory. We took out some of the blood spurts. I thought I was going to catch holy hell from People for the Ethical Treatment of Animals, but there was a speech in the episode by Izzie, who said how appalled she was by what they were doing. PETA ended up sending me a bunch of flowers and then I won something called the Genesis Award from some pro-animal organization. It was by default that I won that, because I didn't really necessarily agree with the message.
*
Lexie Grey reacted like all of us (with a bloodcurdling scream) when Jerry Adams (Art Chudabala) stepped out of a car with tree branches for hands in this season seven episode titled "Superfreak." Mark Sloan (Eric Dane) took the lead on the case, while Lexie was ordered by Bailey to stay with Jerry, who had contracted a rare HPV virus that gave him grotesque warts and, well, tree hands. Like the real case in India, he was dubbed "the Tree Man."
Zoanne Clack: It was based on a little boy from somewhere in Central America. There are videos about him going to get it treated in India or something, and then he went back home and his [tree hands] grew back again. We talked to a bunch of experts about it. It was really interesting because I was like, "I don't even understand how warts turn into that." There was a lot of research, but we also were trying to figure out how this could happen in America because the little boy it happened to was from this little remote village on some island or something. So we had to base our premise on a backstory.
Art Chudabala: One advantage I had was that I had auditioned for a similar role for an episode of Nip/Tuck. I guess I had some past experience to draw from! I had an idea of what this man would feel based on other cases that I found in Indonesia. I saw a lot of pictures. You wouldn't think it would be like what you saw on Grey's. Like, you would think, Wow, there's no such thing. But it's actually much worse. The feet, the nails would grow into little tree trunks. My makeup was a two-step process. We did the mask and all the latex stuff so they could make actual prosthetics. The makeup took maybe six hours to apply.
They did all those warts by hand. It had taken so long that I remember after the first day of shooting, I decided that I was just going to leave it on for the night. I went home all warted up. It kind of helped with the acting, the sense of discomfort. I had done a bunch of play readings with Sandra Oh before, with the East West Players. I walked up to her in full makeup and was like, "Hey, what's up, Sandra?" She did a full-on gasp and didn't recognize me. Another funny thing I remember was Shonda Rhimes just walking down the hall. She spotted me as I came up and said, "Oh my God, you look great," and walked away. I was like, "Okay, here we go."
_______________________________________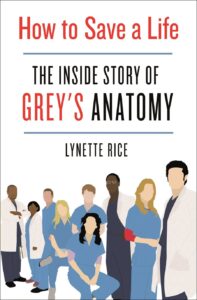 From How to Save a Life: The Inside Story of Grey's Anatomy by Lynette Rice. Copyright © 2021 by Lynette Rice and reprinted with permission of St. Martin's Press, a division of Macmillan Publishing Group, LLC.
---