Not Just Lyrics and Melodies: How Producers Conceive of Music
Susan Rogers and Ogi Ogas on the Intersections of Musical Form and Functionality
Often the first question a producer considers when working on a new record is: What is this record's function?
There is a crucial relationship between the form of a creation and the role it plays in the lives of its consumers. I think of this relationship as "the beanbag dilemma." A beanbag chair is a perfect example of a timeless creation of limited functionality. With its unusual form (no legs or back and a bendable seat), a beanbag won't be found in offices or dining rooms, though it's commonplace in children's bedrooms and family dens. The classic aluminum Navy Chair provides a sharp contrast. A Navy Chair has four legs, a stiff back, and a flat seat, and is used in a wide variety of settings from academic conferences to battleships.
The more unusual the form, the more limited the function. A record with a classic form like Taylor Swift's "All Too Well" can usefully function throughout a listener's day, from the morning commute to the after-​work cocktail hour, and even the final hour of winding down before bed. Converge's magnificent if unconventional "Fault and Fracture" has a narrower utility. The more limited the function, the less the commercial appeal, though a record with an unorthodox form can sometimes become well regarded or even iconic, such as Queen's "Bohemian Rhapsody."
The lion's share of responsibility for a record's form is borne by the artists and songwriters who create the raw materials for the product: the songs themselves. Most of the responsibility for a record's function is borne by the producer. The producer must consider how the artist's songs are likely to be used, weighing ideas about the ideal audience, the ideal context, and the ideal listener response. Because musicians are artists, even among pros there is often a strong pull to make "art for art's sake"—​and, often, we do—​but the professional survival of both musician and producer ultimately depends on achieving some degree of commercial success.
There is a crucial relationship between the form of a creation and the role it plays in the lives of its consumers.
When we work in avant-​garde styles (such as noise pop or free jazz), we are well aware that, like a beanbag chair, our record has limited functionality. If we opt for a more classic form, then—​as the novelty-​popularity curve reminds us—​the record will be easier to market because it will appeal to many more listener profiles and can be used in many more musical contexts. Nevertheless, highly functional forms present their own set of challenges, including the biggest challenge of all: the competition.
The top commercial producers make records with familiar forms. Consequently, the consumer always has a plentiful supply of such records to choose from. Competing in a small arena with fewer peers is easier than competing in a vast marketplace of highly similar objects, but most of the rewards in the music business are commensurate with the size of the market.
When a producer considers the functionality of a record, she weighs the ideal context in which it might shine. D'Angelo's "Untitled (How Does It Feel)" hews to the timeless form of make-​out records: moderate tempo, uniform dynamics, crooning vocal, legato performances. Kool & the Gang's "Celebration" lets you know straight up that they want it blasted at any and all festivities: "There's a party goin' on right here …." Queen designed the famous stomp-​stomp-​CLAP rhythm for "We Will Rock You" not so consumers could listen to it alone in the dark but to engage the massive audiences at their arena concerts, where only a simple, slow beat lets eighty thousand fans perform in unison.
As we learned in the Rhythm chapter, moving and singing as a group generates communal feeling and creates a memorable social event. (This is the function of "arena rock": allowing thousands of fans to bond with one another, as well as with the band.) Many songs by the Grateful Dead, such as "Playing in the Band" on the 1971 Grateful Dead album, were written to function as live concert performances that supported their fans' psychedelic drug trips. Consequently, some Grateful Dead songs are less appealing on records. As one critic put it, "[Even] the band's live albums don't come close to capturing the band's concert experience."
Changing how a record is consumed changes how it's made.
In my lifetime, I've witnessed more than one major shift in the functionality of records, but perhaps the most momentous was the broad-​based cultural transition from active listening to passive listening. As with any product, changing how a record is consumed changes how it's made. In the early days of radio and turntables, most music consumers engaged in active listening by sitting at the radio or in the room where music was playing and giving it their full attention.
In my own generation, kids would go to a friend's house to listen to records, usually toting along a few of our own. We'd spread them out in front of the stereo and troll through the front and back covers as though searching for clues to another world, sharing thoughts on what a lyric meant or what the artist might have felt or been doing when the song was written.
The halcyon world of active, communal listening was rocked by the arrival of the Sony Walkman in 1979. It signaled the beginning of a new era of portable, personalized record listening. For the first time, listeners could privately enjoy their favorite records in a broader variety of everyday settings, such as the office, the park, and even the library—​contexts where we perform non-​musical activities that demand our attention. This required passive listening: when you don't focus your attention exclusively on the music but simply want a background soundtrack to keep you motivated, relaxed, or connected while you do something else. Most music in the twenty-​first century is consumed passively.
Record producers are aware that, more than ever before, their most vehement creative efforts may fall upon ears that are only "half-​listening." Thus, contemporary producers must consider how much cognitive effort their record will require to be fully enjoyed. Highly novel or complex records are best appreciated through active listening, so that the small gems of harmonic layering or poetic lyrics don't escape notice. On the flip side, a record suitable for passive listening—​and, therefore, targeting a broader audience—​should employ familiar forms and fewer musical surprises.
__________________________________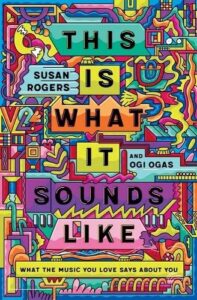 Excerpted from This Is What It Sounds Like: What the Music You Love Says About You by Susan Rogers and Ogi Ogas. Copyright © 2022. Available from W. W. Norton & Company.
---