On the Radical Possibilities of Queer Friendship
Ramzi Fawaz Describes the Meaning of "Queer Forms"
In the penultimate sequence of Thelma & Louise, before our heroines fly headlong into the Grand Canyon, the pair manage to dodge a swarm of police cars in a harrowing chase across the Arizona desert. Suddenly alone along a barren stretch of highway, the women share a final quiet moment in Louise's Ford Thunderbird. With a mix of breathless terror and exhilaration at their bare escape, Thelma looks to her companion and says: "You're a good friend." Without hesitation, Louise replies: "You too, sweetie, the best." Seconds later, Thelma adds: "Good drivin'."
In this electric exchange, Thelma and Louise spontaneously recognize that something in each has fundamentally changed as a result of their journey (what Thelma at one point calls having "crossed over" into a new state of being). And they acknowledge that transformation by declaring each other "good friends" and "good drivers." In the light of their mutual recognition, the two women quite literally form into new kinds of subjects: they exchange wardrobes, adopt each other's mannerisms, borrow the style of cowboys and outlaws, and inhabit new spaces like the driver's seat of a Ford Thunderbird convertible.
That either or both women would, in the face of extraordinary danger, the threat of incarceration and even death, end up evolving into "good friends" and "good drivers" was never guaranteed, but rather the unpredictable outcome of countless instances of acting together for their mutual survival and flourishing. In shooting the attempted rapist Harlan, Louise's impulsive act of feminist rage sets off a chain of unforeseeable events that endanger the friends' lives but also creates countless possibilities for their shared evolution—on the road, the two discover what they are capable of in terms of sheer ingenuity, resolve conflicts of temperament and judgment, speak truthfully about their dreams, and make and keep promises.
This was in microcosm the structural logic of 1970s movements for women's and gay liberation, which could trace their origins to multiple spontaneous acts of public, sometimes even violent, rebellion against male domination, homophobia, sexism, and transphobia (as in the explosive episodes of the Compton's Cafeteria and Stonewall riots). These events inspired a cascade of individual and collective responses—from interpersonal acts of coming out of the closet to the formation of radical political organizations—drawing women and queers of all stripes into their radiant horizon of change.
When, near the end of their journey, Thelma fears that Louise might make a pact with the sympathetic detective Hal Slocumb, Louise laughs at the thought: "Thelma, I'm not making any deals." Louise's promises, she reconfirms, are already sealed to her friend. And so too, the women and queers who animated projects for gender and sexual freedom in the 1970s turned away from the seductive lure of a "normal" life toward making mutual promises to one another. In the figure of two women repeatedly "taking the wheel" of their shared fate into their own hands, Thelma & Louise offered a potent visual metaphor for feminist and queer freedom as a process of indefinitely taking shape in the company of one's friends.
In the early 1990s, Thelma & Louise's bold depiction of feminist and queer friendship was no minor representational achievement. After all, this was an era that saw a national backlash against feminism, a catastrophic HIV/AIDS epidemic, and a vicious conflict between feminist activists over pornography and censorship dubbed the "feminist sex wars." Amid these accumulating shared traumas, friendship remained the most local and intimate "island of certainty in an ocean of uncertainty" for women and queers everywhere.
This was a type of relationship founded in mutual dialogue, the ability to negotiate differences, and the possibility of being seen and heard, not simply as you are but as what you might be or become. Such a bond could provide resources for thriving amid the natural evolution and decline of once-thought-permanent social and political identities, ideals, communities, and shared contexts for action. In their final decision to "keep going," Thelma and Louise register how friendship remained the most enduring social bond of 1970s movements for women's and gay liberation, a connection that could withstand the unpredictable fate of projects for gender and sexual freedom, which inspired hopes for a better future but alone could not shield their participants from the ongoing harms of a sexist and homophobic world.
It is the continual practice of forming that leads to the constitution of new kinds of collectivity, the inhabitation of novel styles of self-expression.
In this way, we can identify Thelma & Louise as one powerful example of the numerous contemporary queer forms that proliferate in US popular culture. These are creative images, figures, or icons of divergent gender and sexuality that circulate widely in our cultural imagination and can be recalled in the mind's eye. I define a queer form simply as any shape, any construct, any outline or structure that comes to be inhabited by surprising or rebellious expressions of gender and sexuality, which reject the pursuit of so-called normal heterosexual life trajectories.
This could be a classic geometric circle formed by a group of feminists sitting in a consciousness-raising session, where women pool their experiences of sexism in order to develop a plan to free themselves from patriarchal oppression; or an erotic comic strip, where each square panel offers a visual frame for a thrilling and pleasurable gay sex act that can arouse, excite, or surprise any potential reader. When Thelma and Louise drive into the sky above the Grand Canyon, the outline of their hands clasped in solidarity and the shape of their majestic vehicle suspended in air become distinctly queer forms, iconic figures for feminist and queer freedom from a heterosexist society.
Rather than landing on a single version of what it means to be transgender, gay or lesbian, bisexual, a woman of color, or intersex, queer forms relentlessly display different aspects of gender and sexual experience, thereby making them available to our imagination and encouraging collective attempts to produce multiple interpretations of gender and sexuality's many dimensions.
Thus, the great gift of queer forms is their potential to teach us how to receive, negotiate, and meaningfully respond to the world's fundamental diversity. With this in mind, I want to suggest that friendship can offer a potent model for better understanding, relating to, and studying queer forms in all their variety—both those transmitted to us from the feminist and queer past and those still being invented—while helping to enrich and refine our commitments to contemporary gender and sexual freedom movements. Friendship is the kind of social relation that comes closest to modeling the world-opening aspect of forms, for its unique brand of solidarity is the most local, intimate, and intense site for the negotiation of differences between two people.
If queer forms allow us to imagine categories like gender and sexuality as something different than we have ever understood before, it is in the back and forth dialogue between friends, where competing interpretations of these same categories can be freely shared, that we have the opportunity to cultivate meaningful ways of responding to our newfound imagination in daily life. The question for social justice movements today is how to maximize the possibilities for this kind of free exchange in the manner of friendship.
That is, how to produce culture under conditions that facilitate sustained, mutually transformative public dialogue, rather than merely attempting to educate populations in politically correct language and behavior. Take for example Armistead Maupin's wildly popular gay serial fiction Tales of the City, which appeared in daily installments in the San Francisco Chronicle between 1976-1978. Over the course of two years, Tales following the sexual and social misadventures of a group of queer and straight friends living on Russian Hill; by openly celebrating friendship between gay, lesbian, straight, bisexual, and transgender characters, the series successfully promoted a positive conception of queer ways of life that had significant psychological and behavioral effects on its audience.
This was possible because of the combination of Tales' depiction of queerness, as a pleasurable and desirable form of daily public disclosure, and the unique contexts of its reception, which encouraged constant conversation between local readers in the Bay Area. Over time, these dialogues influenced many to change or evolve their views about homosexuality, expand their definitions of family, learn to support queer friends, or else come out of the closet themselves.
Although the original historical conditions of Tales of the City's production and circulation can never be replicated exactly, the general principles that enabled its cultural and interpersonal impacts are completely transferable to other creative projects. This included the idea of a locally distributed literary production; printed in a medium made for mass circulation and consumption; written in a worldly yet accessible and entertaining style accessible to a specific but wide-reaching community; while offering readers alternative ways of understanding their own lives.
It was precisely because of Maupin's ability to become, even temporarily, like one of his readers' close friends, that his unfolding story reached them in the spirit of loving exchange. Instead of condescendingly instructing his audience on the correct way to be gay, the proper language to use around all LGBTQ people, or the most progressive view to hold on queer life, Maupin generously shared his own version of that life with them, over and over.
By choosing to give shape to 1970s gay urban cultures one way, then another, then another, on a daily basis, Maupin continually took a position on the nature and meaning of modern-day queerness that could then be embraced, adapted, dismissed, or argued against by any of his readers. Without artists' willingness to publicly give shape to their own fantasies of contemporary feminist and queer life, and consequently solicit the views of others, no sense of a shared reality between gender and sexual outlaws and their allies could possibly have emerged in the radical 1970s.
Friendship, then, might allow us to see social movements for what they really are—politically and interpersonally messy laboratories of collective action and cross-identification—without fetishizing their political demands, assuming they can explain or end all forms of oppression, or expecting any movement to eternally live on intact from its inception.
This in turn can facilitate an understanding of queer forms as cultural "friends" to our present-day visions for queer and feminist freedom, provisional and adaptable tools for "getting the shared world in view" between gender and sexual outlaws of all stripes. The extraordinary number of queer and feminist friendships in popular media since the 1970s discloses the continued desire among women and queers for a type of relationship that can provide equipment for living past the moment when our most cherished movements for gender and sexual freedom evolve, decline, disperse, or altogether disappear.
Thus, another outcome of treating queer forms with the open-heartedness and energetic engagement central to friendship might simply be that our cultural forms would become one place we practice and learn to be better friends to each other.
If the world unfolds before us as a seemingly boundless horizon of sensory data and appearances, forms allow us to differentiate what will come to matter to us in this infinitely diverse landscape—this includes all the distinct molds, identities, or appearances we take in the course of a life, but also all the figures, icons, images, and constructs we craft to share our worldly reality, our sense of things, to others. When we choose to give shape to our highly particular, idiosyncratic, yet meaningful experiences of gender and sexuality, we make a judgment about, or develop our own interpretation of, some aspect of embodied, erotic, intimate life.
And we make our viewpoint public. This is what queer artist David Wojnarowicz once described as the act of creating an image based on his most private queer desires and "putting it on the wall," in the hopes of soliciting the reaction of countless potential viewers whose perspectives might make life less lonely. That is the meaning of queer form.
It is the continual practice of forming that leads to the constitution of new kinds of collectivity, the inhabitation of novel styles of self-expression, the adoption of unexpected political views, or perhaps simply finding out that "maybe it wasn't you" who was always right, or morally superior, or the most politically progressive, or the queerest of them all. But how would you know, if you didn't risk taking shape?
When we seek a false freedom in the fantasy of endless gender and sexual fluidity, or cling fast to our most rigid predetermined gender and sexual identities, we give up the responsibility to articulate and share our distinct perspective about what it means to be queer, femme, gay, trans*, non-binary, feminist, bisexual, or something else entirely. People do change from one form to another. People do inhabit their skin in new and unexpected ways across time. People can and do become less or altogether anti-racist, sexist, homophobic, and transphobic.
Yet these transformations are not effortlessly achieved by approximating an idealized fluid state or waiting for an absolute and unshakeable set of rules on how to properly pursue a progressive life. Instead, they commonly take place through clumsy, difficult social and emotional processes of testing out new identities and desires, incorporating foreign experiences, and creatively inventing other ways of inhabiting the world. Such transformations require the presence of countless queer forms to provide formerly unimaginable possibilities for what we could be or become, but always our own version of it.
The movements for women's and gay liberation were imperfect mentors, but they taught us to imagine gender and sexuality differently, to conceive of more generous and adaptable forms that might give solid shape, even provisionally, to our wildest dreams of alternative erotic and intimate bonds, gender expressions, and chosen kinships.
The ease with which we disavow a feminist and queer past, the withering condescension that accompanies our dismissal of women's and gay liberation as a shared history of misguided failures, tells us nothing about those social movements and everything about the impoverishment of our contemporary political imaginations. No doubt, the political promises of movements for women's and gay liberation have often (and necessarily) failed us, since no social movement could ever predict in advance the unexpected outcomes of its political actions nor adequately heal the magnitude of injury inflicted by a heterosexist society.
But their imaginative promises, figured in the repository of forms they bequeath to us across time, continue to make good on their commitment to expand what we can think, feel, or conceive of our genders and sexualities, if only we have the "courage to try them out," interpret and reinvent them.
__________________________________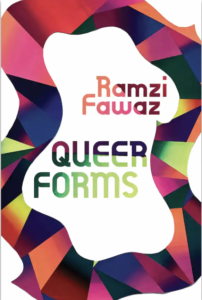 Adapted from Queer Forms by Ramzi Fawaz, available via NYU Press.
---