New Growth: Life in a
Pandemic Spring
Kerri Arsenault With the View From the Orchard
Brigadier General Ephraim Hinman was an extraordinarily tall, eccentric, and dignified Revolutionary War veteran, who, at one time, owned around 1,000 acres and a tall-ceilinged house on Church Street in Roxbury, Connecticut. He built his home there in 1784, four years after the territory ratified the Constitution and became the fifth US state. He was an impractical farmer—for he didn't know how to farm—and slowly lost his holdings as he aged, which also furnished him with an attritional shame, according to William Cothren's History of Ancient Woodbury, Connecticut. Hinman died poor and embarrassed that his son, Royal Ralph Hinman, who became Connecticut's secretary of state, had to manage the meager assets of his collapsed legacy.
I live on the remaining five acres of Hinman's land that wasn't subsumed by his overwhelming debt, a rambunctious tract of wetlands, grassy fields, and open woods dotted with crumbling, dry stone walls. Gardens and groves also colonize the landscape, including the apple tree in which I sit. I prune this tree every March to stimulate new growth and apples of a variety I don't know, because this tree is so old there's not a fancy name for its fruit, like "gala," the most popular apple in America today. Gala: the name suggests parties like the ones Hinman held in his "ballroom," (now partitioned into my office and guest room), humble by today's ballroom standards, and humble like the apples my tree produces, which are small and a bit sour and pink-fleshed, not softball-sized like the ones in supermarkets or gala-sized or ballroom-sized. I feel defensive of my apples. Things back then were human-sized and grown to scale, even for a man like Hinman whose powdered wig must have brushed the top of the door frames of his house.
The bells of the three churches on Church Street are silent today, even though it's Sunday, because a pandemic is advancing, but the apple tree at Hinman's old estate doesn't care: if I leave it unpruned, it will not produce fruit. Apple trees, they demand attention to prosper. Hinman's apple trees out-survived the defenseless chestnut trees that all died after his house was built, from another kind of pandemic—Cryphonectria parasitica.
I balance: one toe on my apple ladder and one wedged on a branch. I shape the tree using clean, narrow v-shaped cuts so the wounds I produce will heal and prevent disease. I amputate branches that grow toward the center of the tree or ones that grown downward. I remove weak branches, dead branches, sick branches, forked branches, water sprouts, suckers, all to allow light and air and keep the canopy open and clear—clear enough, someone once told me, to toss a cat into its berth.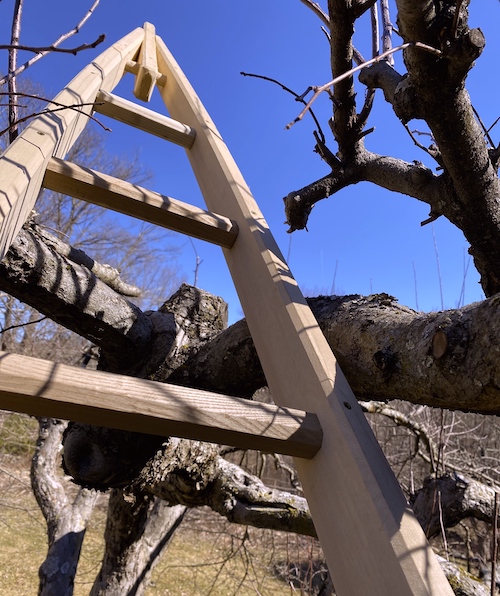 It's fifty degrees, sunny, a bluebird day with no bluebirds because it's too early yet. Although once common in New England, bluebird numbers plummeted in the early 1900s because their rural, natural nesting cavities were destroyed by humans and overtaken by more aggressive birds like starlings. I look up and see two hawks negotiating the light wind. Animals know when to appear and to hide, like the coyote I caught eating birdseed at 3:00 am last night. It fled over the hill as soon as I moved the curtain aside. Recently, I've heard rumors of deer roaming the streets of a Polish city, peacocks landing on homes in Madrid, swans swimming in Venice's canals. It didn't take them long to figure out that we humans are hiding from something that frightens us. Animals use their instincts. Humans ignore theirs. I wonder why this pandemic surprises us? We have seen it before, the large loss of life wrought by disease, from flu, the plague, yellow fever, zika virus, Ebola, polio… A friend of mine suggested we are being punished not by mother nature but by our own shortsightedness… by pretending pandemics are not the norm, and that it's easy to ignore public health if the public is healthy.
When trimming apple trees, dependable tools make a difference: hand pruners, loppers, a sharp-toothed folding saw, this apple ladder with its pointed top made of other trees—aspen and ash—and my own dexterity. Up here, it's about competition. If one branch crosses another, I keep the stronger one. I eliminate the weaker. A young hawk lands on a nearby white pine, eyeballing me out of curiosity and lets out a complaint. He is too young to know human harm, too naive to know he has to hunt by surprise, that I should not be able to see him. The fire whistle blows, as it does every day, at noon, reminding me it is lunchtime, because I have lost track of time. Time is something my husband and I bought when we purchased Hinman's house. Time enough to paint and then eventually wash the twenty-two, single-paned, double-hung, twelve-over-twelve windows. Time to trim this apple tree once a year. Will time go as slow as these tasks or will it match its pace to the clematis that has tripled in size after one season under a balanced amount of rain and sun?
Animals use their instincts. Humans ignore theirs. I wonder why this pandemic surprises us?
The weather forecast this week slips from mild to cool, with a smattering of rain, just enough to lure the tips of irises and peonies out from their winter nap. It is a balanced weather report for this time of year. My husband loves to watch the weather, as much as I do not, but he was a prevention specialist in the US Coast Guard for twenty-four years, so he had to know the forecast. He needed to watch the weather so he could predict and plan in order to act instead of react. One thing he and his colleagues couldn't prevent was having to defend their mission every year to Congress, to leadership, because it's hard to measure and defend and justify something that didn't happen.
I know someone in southern Connecticut who bragged about buying 720 rolls of toilet paper, in light of the pandemic, as a means of prevention, as a way to be prepared for the months ahead. Then this morning, a New York Times headline read: "A 1% Solution: Escape from New York." As pandemic lock-down rumors hurtled through the prewar apartments of New York City, people with second homes in Connecticut where I live, began packing their reusable canvas bags and headed to our small towns and local markets—places that don't stock anywhere near 720 rolls of toilet paper. Did they think the countryside was immune? Or were they thinking they could outrun a pandemic? (And in the process spread it as quickly as the chestnut tree blight spread.) The chestnut tree existed for 40 million years until 1900. In forty years, nearly four billion American chestnuts were dead. Chestnut boards line the floors of Hinman's house and hold up the interior walls. The wood, in its rarity, is now more valuable than it was when alive, as are the hospital beds in our country towns.
Clip. My foot falls off the ladder and I drop my pruners. They stab the ground below. I'm momentarily unbalanced, ten feet up, my foot chewing on the bark to gain purchase. The branches hammock me. It's enough to be here in the arms of this tree, with the proper balance and tools, with sky and hawks. After a few minutes I climb down to inspect my work, get a better perspective from the ground. Down here, I see shrubs to shore up, weeds to pull, other trees to trim, poison ivy to mitigate, bittersweet to destroy… (this last an invasive species whose vines can become four inches thick and choke off trees bigger than the one I survey). Hinman, I read in Cothren's book, was an insomniac (like me these days) walking around his gardens and looking up into the sky, a sky filled with birds not the contrails of planes. "The night to him was sometimes long," Cothren wrote, "…and he abhorred hypocrisy in every form," which is what keeps me awake at night too.
One New York City family, I hear, rented a nearby house for $250,000 for three months, to decrease their exposure to the virus. I wonder if they brought 720 rolls of toilet paper or more apples than they can possibly eat while the rest of us care for their yards and gardens as I used to do a few summers back. I remember one client housed thousands of gallons of bottled water in their garage as they planted tree after tree in their front yard, trees that used up all their water so they had to drill a new well.
I step back. The apple tree, I surmise, has been trimmed just enough. I've done what I can to prevent harm, to strike a balance in the overall design, to shore up what Hinman left behind. Come fall, I will have fruit, pending any pests that will eat through the crop in their greed or in their need for survival.
---