Every week, a new crop of great new books hit the shelves. If we could read them all, we would, but since time is finite and so is the human capacity for page-turning, here are a few of the ones we'll be starting with. What are you reading this week?
FICTION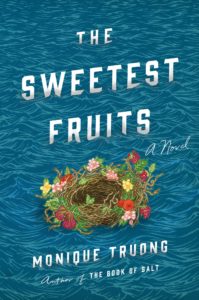 Monique Truong, The Sweetest Fruits
(Viking)
From the acclaimed author of The Book of Salt, the diaries of Gertrude Stein's fictional queer Vietnamese-French personal chef, comes another novelization of a famous writer's life. Three of Lafcadio Hearn's lovers narrate The Sweetest Fruits, each from a different country—Greece, the US, and Japan—and each wielding a distinctive voice and talent for storytelling. In The Sweetest Fruits, Monique Truong does what she does best, painting a vivid portrait of privilege, restlessness, and tenacity through the conflicting experiences of characters grappling with their senses of love, family, and home.
–Kevin Chau, Editorial Fellow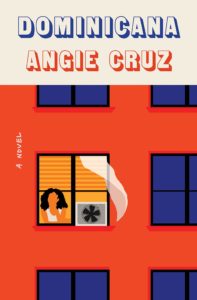 Angie Cruz, Dominicana
Flatiron, September 3
Ana Cancion comes to the US as the wife of Juan Ruiz—but theirs soon becomes an unhappy marriage that leaves her lonely in a city where she knows no one. After her husband leaves, his younger brother shows her a glimpse of what her life could be in New York.
–Corinne Segal, Senior Editor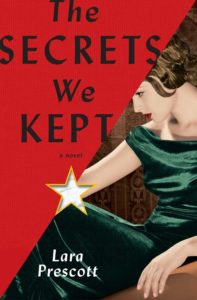 Lara Prescott, The Secrets We Kept
(Knopf)
Prescott's debut is an epic of passion, daring, and art. Part spy thriller, part intimate drama, The Secrets We Kept is the story of two women working for the government during tense days in the Cold War, enlisted for an audacious plot: smuggling Pasternak's Dr. Zhivago out of the Soviet Union and into worldwide publication.
–Dwyer Murphy, CrimeReads Managing Editor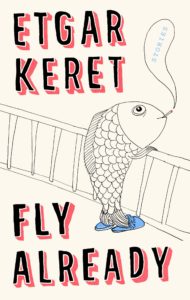 Etgar Keret, tr. Sondra Silverston, Nathan Englander, Jessica Cohen, Miriam Shlesinger, Yardenne Greenspan, Fly Already
(Riverhead)
Like Lydia Davis, Etgar Keret has written stories of such singular diminutive style it took the culture a few years to realize: this is not a novelty act. This is the work of a genius, and he can pack more comedy and heartache into a single tale than just about any writer alive. A new book is cause for celebration.
–John Freeman, Executive Editor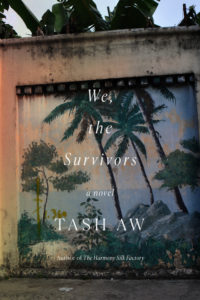 Tash Aw, We, the Survivors
(FSG)
In We, the Survivors, a man named Ah Hock recounts his life to a well-off American-educated journalist, from his childhood in a small Malaysian village, to his various jobs in restaurants and fish farms, to the murder of a Bangladeshi immigrant that landed him in prison. Navigating the tumultuous political landscape of Malaysia through the experiences of an impoverished laborer who nevertheless benefits from the combination of racial privilege and sheer luck, Tash Aw has crafted a complex, tense story of power, violence, loss, and hope.
–Kevin Chau, Editorial Fellow
NONFICTION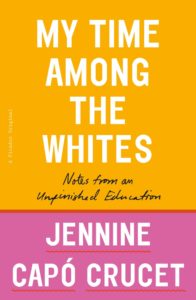 Jennine Capó Crucet, My Time Among the Whites
(Picador)
Aside from being smart and fearless when it comes to writing about her experience (or lack thereof) of the so-called American Dream, Jennine Capó Crucet is also… funny. Of course, a sense of humor is a necessary survival mechanism when navigating America's hypocritical self-mythologizing, as you quickly discover that laudatory boot-strap immigrant narratives are generally reserved for the lily white Irish ancestor. Capó Crucet's essays of her Cuban-American experience—as it occurs across the country, from Disney World to Nebraska—assert new narratives of what it means to come to this country, at once hopeful and dispiriting, infuriating and comic.
–Jonny Diamond, Editor in Chief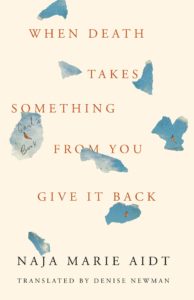 Naja Marie Aidt, tr. Denise Newman, When Death Takes Something from You Give it Back
(Coffee House)
This beautiful, exquisitely made memoir is Didion 4.0: a shattering recounting of how the death of Aidt's son in a freak accident knocked the author sideways, compelling a whole-scale reorganization of what she once knew. This is a book about more than shock, grief and mourning, though. Drawing on the work of poets Anne Carson, Inger Chirstensen and others, it's a meditation on time and the way our narration of what happens during life sieves through a slippery gear—our selves—how consciousness is the sound of trying to get it turning again.
–John Freeman, Executive Editor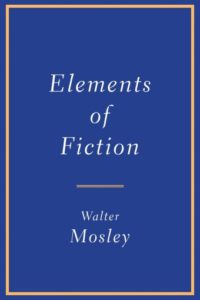 Walter Mosley, Elements of Fiction
(Grove Press)
Mosley, an icon of contemporary crime fiction, brings his many insights on craft and storytelling to bear in this instructive and illuminating new guide. Elements of Fiction is clearly the work of an artist who has spent a lifetime thinking about what makes a story powerful, how to tell it, and how to hone and improve your craft.
–Dwyer Murphy, CrimeReads Managing Editor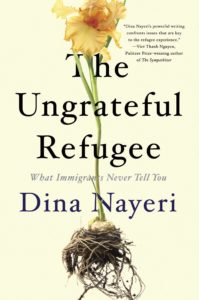 Dina Nayeri, The Ungrateful Refugee
(Catapult)
What is it like to be a refugee? Expanding on her fantastic Guardian article, Nayeri describes fleeing Iran as a child and living in an Italian hotel before being granted asylum in America. Weaved together with the stories of more recent asylum seekers Nayeri confronts notions like "the swarm," and, on the other hand, "good" immigrants. An incredibly timely book.
–Emily Firetog, Deputy Editor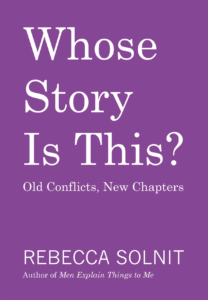 Rebecca Solnit, Whose Story Is This?: Old Conflicts, New Chapters
(Haymarket)
In her latest book of essays, some of which appeared in this space, Rebecca Solnit continues to question the terms of public debate, highlighting broken narratives and reinstating context in the culture of no context. As ever, the range of forms Solnit calls upon, let alone her varieties of tone and language, is simply awesome. Also, as in her books A Paradise Built in Hell and Hope in the Dark, she can be surprisingly, comfortingly sanguine in what can seem like times of flagrant corruption, revitalized hatreds, sexism, and climate suicide. There are no dirges here, no tone-poems to the apocalypse: here, she shows, in one essay after another, is how you unpick the tangle unreason has made for us. For a long time, some of us feared that the torch-light of Solnit's voluminous mind would only be recognized in the future. That gap no longer exists, and it has happily closed just when she's at the height of her powers and needed most.
–John Freeman, Executive Editor