Myla Goldberg on How to Describe Photographs without Being Boring
With Drew Broussard and Christopher Hermelin on So Many Damn Books
This week on So Many Damn Books, we talk to Myla Goldberg about, among other things, her new novel Feast Your Eyes and its museum catalog form, where she got the photographs, how geniuses shouldn't be assholes, and the photographer as a subject for fiction. Plus, she brought along Jesse Ball's novel Census, which leads to a discussion about what it's like to go door to door…
From the episode
Myla Goldberg: Another big challenge is, so, yeah, it's catalog entries and each one starts with the description of a photo, mostly. And so to do that in a way that felt germane to the story being told at that particular moment—because the story is moving along and then I have to keep bringing you back to a photo, so how do I do that in a way that is 1) not boring, 2) doesn't feel forced, and 3) just feels organic to where we're going with the story.
Drew Broussard: Did you ever think about presenting the photographs in some way in the book?
MG: Never.
DB: Yeah?!
MG: Never.
DB: Wow!
MG: Yeah, no, that is, no, I did not want to do that.
DB: Do you see them in your head?
MG: Very much so. Almost all of them—number one, if I wanted to, it would've been impossible. I already mentioned theft once this podcast . . . most of those photographs are actual photographs. I immersed myselves—myselves, now I've got more than one person going on. I immersed myself in the work of eight or nine different street photographers.
Christopher Hermelin: You list them in the back.
MG: I do, because I do steal—or well I guess it's only theft if you don't list, so I'm borrowing or I'm inspired by, but that's all art, that's what we do, that's our job.
*
CH: What is it about a photographer that makes such a good fictional character?
MG: For me, street photography specifically, although also portraiture, there's always a story there. I'm a narrative addict, I'm a junkie for narrative, so the reason I'm drawn to photography is: there's always a story in those photographs, and I get to look at that photo and the story comes alive and my imagination can just run wild with it. And also, it's immediate. I mean, oh my god, I have to spend ten years writing a book and then you have to spend weeks or a month reading to get the story I want to tell you—you look at a photo and shazam, it's instantaneous in your mind, it just happens, like spontaneous combustion. So I think there's a bit of jealousy there.
*
MG: I feel like the philosophizing, the characters in Jesse Ball's Census embody the philosophy more so than—I actually just finished The Magic Mountain, talk about philosophizing, you've just got these men going on and on and on (which, you know, I enjoyed)—but with Census, the boy's mother, when we learn about her life, the kind of person she was embodies a certain approach to life that I think Census is enjoying talking about. And because it's embodied in this character and the choices she made in her life, it just feels like a part of the narrative tapestry than like being lectured at by an author who just wants to talk to you about the ideas they think they are important.
*
This week's drink: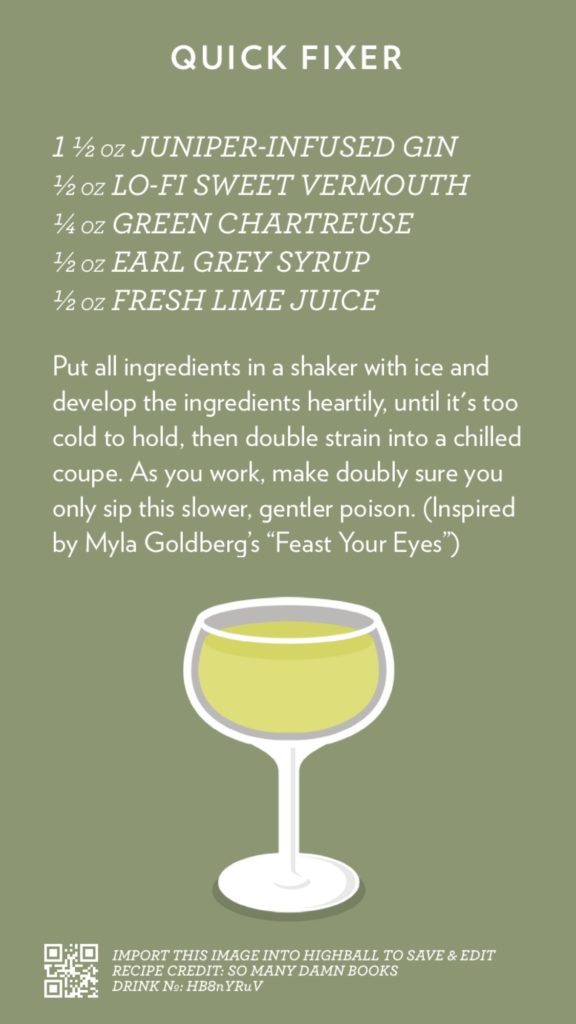 ---