If you've been paying attention to local news in the past year, you've likely noticed the alarming wave of school book bans sweeping the country: "educational gag orders" that effectively ban books about history, race, and sexuality. Just last month, a Tennessee school board voted unanimously to ban Art Spiegelman's Pulitzer-winning Maus. From the uptick in book bans, it may seem like there's been a sea change in terms of what Americans want education to do—but a new poll shows that the book bans are actually opposite of most Americans' beliefs.
A recent CBS News/YouGov poll found that a sweeping majority of Americans don't think books that discuss race, depict slavery, criticize U.S. history, or represent political ideas they disagree with should be banned from schools. In each category, over 80% of the people polled said those books should still be taught.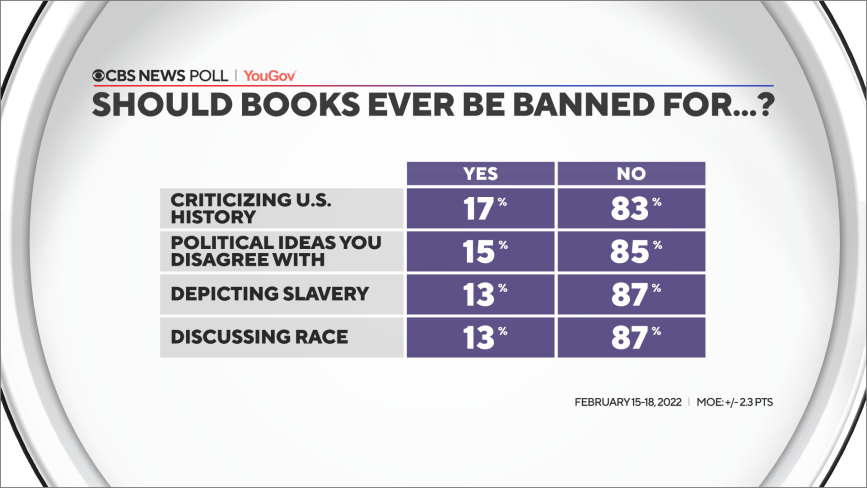 The CBS News/YouGov survey was conducted with a "nationally representative sample" of 2,494 U.S. adult residents interviewed between February 15-18, and "the final sample as reported was weighted to be representative of adults nationwide according to gender, age, race, and education based on the U.S. Census American Community Survey and Current Population Survey, as well as to 2020 presidential vote."
So, when you see a news story about a book ban, remember: that's not what America wants. And, if you'd like to help stop book bans, the Authors Guild has a toolkit for you to contact your representatives and your school board.