Mina Seçkin on Ferrante, Nabokov, and The Phantom Tollbooth
Rapid-fire book recs from the author of The Four Humors


Welcome to the Book Marks Questionnaire, where we ask authors questions about the books that have shaped them.
This week, we spoke to the author of The Four Humors, Mina Seçkin.
*
Book Marks: A book that blew your mind?
Mina Seçkin: How Much These Hills Is Gold by C Pam Zhang and The Meursault Investigation by Kamel Daoud, which retells the events of Camus' The Stranger from the perspective of the murdered, nameless "Arab" (or rather, his brother Harun's perspective). Also The Land of Green Plums by Herta Müller and The Vegetarian by Han Kang. Oh! One more… We Need New Names by NoViolet Bulawayo.
BM: A book that made you cry?
MS: A Tale for the Time Being by Ruth Ozeki and All My Puny Sorrows by Miriam Toews.
BM: What book from the past year would you like to give a shout-out to?
MS: The Inland Sea by Madeleine Watts—a modern Jean Rhys meets Helen Garner facing the anthropocene. Also A Touch of Jen by Beth Morgan—a wild and surprising ride!
BM: A book that actually made you laugh out loud?
MS: After Claude by Iris Owens and Cassandra at the Wedding by Dorothy Baker.
BM: What's one book you wish you had read during your teenage years?
MS: The Idiot by Elif Batuman.
BM: Favorite book to give as a gift?
MS: Claudia Rankine's Don't Let Me Be Lonely. 
BM: Classic book on your To Be Read pile?
MS: Dostoyevsky's The Brothers Karamazov. When I first read the last 100 or so pages of Crime and Punishment in college, I was at a coffee shop and tears were streaming down my face the whole time. Maybe I'm procrastinating on experiencing a similar feeling—or maybe I know I'll never feel that way again!
BM: What's a book with a really great sex scene?
MS: Susan Choi's My Education—the writing is alive and unbidden. The sex in this novel is not exactly sexy, but it captures the visceral, obsessive, and subversive elements of desire very well—and with humor, too.
BM: Favorite book no one has heard of?
MS: Women Without Men by Shahrnush Parsipur and A Strange Woman by Leyla Erbil—which is at long last coming out in English from Deep Vellum in 2022 (!) and is translated by Nermin Menemencioğlu.
BM: Favorite book of the 21st century?
MS: Days of Abandonment by Elena Ferrante and Look by Solmaz Sharif.
BM: Favorite book you were assigned in high school?
MS: Pnin by Vladimir Nabokov.
BM: Book(s) you're reading right now?
MS: In the Shadow of the Yalı by Suat Dervis, Chouette by Claire Oshetsky, and The Parisian by Isabella Hammad.
BM: Favorite children's book?
BM: Book you wish would be adapted for a film/tv show?
MS: The Shadow of the Wind by Carlos Ruiz Zafon. Also The Secret History. Why so cursed?
*
Mina Seçkin is a writer from Brooklyn. Her work has been published in McSweeney's Quarterly Concern, The Rumpus, and elsewhere. She serves as managing editor of Apogee Journal, and The Four Humors is her first novel.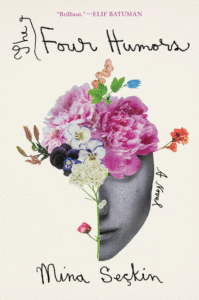 Mina Seçkin's The Four Humors is out now from Catapult
*
---