Micro, Sudden, Flash, Short-Shorts: A Brief Survey of Even Briefer Fiction
Gary Lippman Explores Condensed Storytelling
On the morning of his execution, a condemned man watches the sun rise "for the last, and the first, time." After reading about that man in a one-sentence-long story in Linh Dinh's fiction collection Blood and Soap, I wondered if I too could write a satisfying tale in a single sentence.
The result was: "I woke with the full moon on my left cheek, perfectly balanced as if it belonged there, but I mistook it for a pimple and I popped it." This line led to my own just-published book of one-sentencers, We Loved the World But Could Not Stay, whose subtitle is "Stories For People With A Limited Attention Span."
I've always been seriously passionate about extremely short fiction—what you might call "micro," "flash," or "sudden." No one has come up with a definitive name for this genre, much less a proper length, but I prefer the term "short-shorts" and a cap of, say, fifteen hundred words.
George Saunders has observed that a story "asks of the merely anecdotal, 'Yeah, but so what?'" But I believe that the "merely anecdotal," if told efficiently, can mean plenty.
Get in fast, get out faster, and make every word pop—that's how Hemingway did it with the deathless six-worder "For sale: baby shoes, never used." And that's what Charles Baxter was referring to when he stated, "If you don't know the whole truth, you might as well keep what you have to say short. You might as well puncture the pretense of sheer size."
Which raises some questions.
Should a short-short story "mean" more than its cousins-in-compression, the anecdote, vignette, fragment, joke, insult, parable, and fable? George Saunders has observed that a story "asks of the merely anecdotal, 'Yeah, but so what?'" But I believe that the "merely anecdotal," if told efficiently, can mean plenty.
Should writers give a title to their short-short? Many do, no matter how brief a tale is, for that extra bit of content. "I kept myself alive" is an entire story penned by Joyce Carol Oates, a story whose title—utterly essential to the project—is "Widow's First Year."
Finally, if a short-short consists of only one sentence, is there a limit to how long this sentence should be? Not according to Donald Barthelme, whose story "Sentence" is a whopper, as are the single-sentence chapters in Gabriel Garcia Marquez's The Autumn of the Patriarch and Bohumil Hrabel's single-sentence novel Dancing Lessons for the Advanced in Age. I will admit, though, that my face reddened when my friend MG heard about my one-sentence stories and snapped, "So you've just used commas instead of periods, right?"
Get in fast, get out faster, and make every word pop—that's how Hemingway did it.
Anyone's pantheon of fine short-short fictioneers would include Isaac Babel, Lydia Davis, Barry Yourgrau, Diane Williams, Thomas Bernhard in The Voice Imitator, Robert Walser, Mary Robison, and Czeslaw Milosz in Road Side Dog. To that, I'd add Jayne Anne Phillips, Yasunari Kawabata in his Palm-of-the-Hand tales, Kathy Fish, Etgar Keret, Sherrie Flick, Jamaica Kincaid with her luminescent "Girl," Spencer Holst in The Zebra Storyteller (which features "On Hope," one of the most enchanting stories I know), Pamela Painter, the Baudelaire of Paris Spleen, and Richard Brautigan, whose winsome Revenge of the Lawn is my most cherished short-short collection.
The most comprehensive way to sample short-shorts is by dipping into multi-author anthologies. Among the best of these are the Sudden Fiction series (Robert Shapard and James Thomas, editors), Flash Fiction (James Thomas, Denise Thomas, and Tom Hazuka, editors) Micro Fiction (Jerome Stern, editor), and Short Shorts (Irving Howe and Ilana Wiener Howe, editors), which features the first very short story I fell in love with, Tolstoy's profound "Three Hermits."
I could go on, but for this list, I'll keep my criteria short: these are works that show the diversity of the short-short form while also striking my personal fancy.
*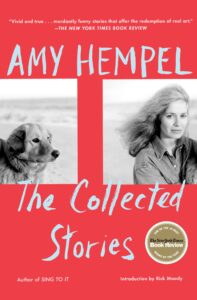 Amy Hempel, The Collected Stories
Hempel specializes in cogent zingers, including the one-sentence "Housewife": "She would always sleep with her husband and with another man in the course of the same day, and then the rest of the day, for whatever was left to her of that day, she would exploit by incanting, 'French film, French film.'" The repetition of "day," the emphasis on "French"—Hempel never disappoints. And how piquant is this line from "Going": "Once I had food poisoning and realized I was trapped inside my body"?
Lev Ozerov, Portraits Without Frames
A prose poem can make for a fine short-short. Hailing from Ukraine, the Jewish writer Ozerov (original name: Goldberg) brings Anna Akhmatova, Shoshtakovich, Pasternak, Prokofiev, and lesser-known Soviet artistic luminaries back to life in these lovely concentrated word-portraits.
(For more mastery of the short prose poem form, read Russell Edson and C. K. Williams.)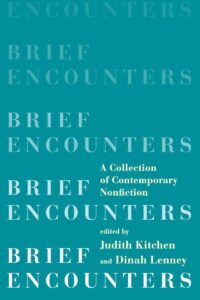 Judith Kitchen and Dinah Lenney (ed.), Brief Encounters
Who says a short-short needs to be a work of fiction? Pico Iyer, Leslie Jamison, Hilton Als, Julian Barnes, Wayne Koestenbaum, Claudia Rankine, Roxane Gay, and Sven Birkerts all shine in this gathering of brief essays. James Richardson's aphorisms raise the excellent question of whether pithy quotations, if flavorful enough, can qualify as short-shorts. (I'd argue that they can. Think of G. K. Chesterton's quip that a would-be patriot who says, "My country, right or wrong" might as well be saying "My mother, drunk or sober." Can't you picture that mother and her progeny?)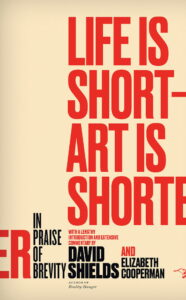 David Shields and Elizabeth Cooperman (ed.), Life Is Short, Art Is Shorter
My vote for the best recent anthology of mostly contemporary short-shorts goes to this inspiring one-stop shop of prose, prose poems, brief essays, and ephemera. Some of these shorties run a bit long for sudden/flash/micro status, but Shields' prefaces to the pieces are incisive, and many choice fiction names are here, along with Anne Lamott, Annie Dillard, and two bighearted Barrys, Hannah and Lopez.
(For a wider temporal net—five centuries wide—read Lee Ziegler's ambitious anthology, Short, which invites to the party Montaigne, Kate Chopin, James Thurber, Aimee Bender, and Peter Altenberg, an underrated 19th century Viennese short-short charmer.)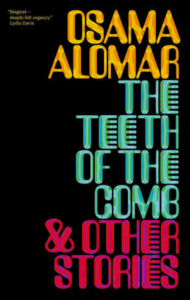 Osama Alomar, The Teeth of the Comb
Praised by Lydia Davis for his "magical imaginative creations" powered by "philosophical, moral, and political convictions," Alomar is a Syrian living in Pittsburgh who specializes in extremely short tales with protagonists who are garbage bags, horses, garlic, ears of wheat, feathers, and occasionally, people.
(Mining a similar surrealistic vein of gold is the Hungarian Istvan Orkeny, who says of his One Minute Stories and its sequel, "While the egg is boiling or the number you are dialing answers (provided it is not engaged, of course), you have ample time to read one of these stories.")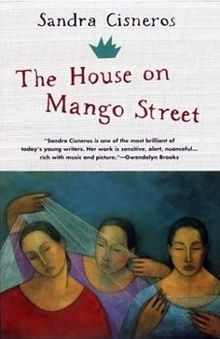 Sandra Cisneros, The House on Mango Street
Here, a series of linked short-shorts adds up to a sensitive autobiographical novel. Cisneros evokes the twelfth year of her female protagonist in a lyrical pointillistic style which encompasses the girl's burgeoning self, her family, friends, and neighborhood in 1960s Chicago.
(For some serious frisson, contrast Cisneros's classic bildungsroman with the microscopic tales that build upon one another in Renata Adler's chic urban opera of a novel Speedboat.)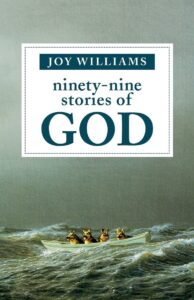 Joy Williams, Ninety-Nine Stories of God
Here's another mosaic of linked short-shorts, though the connections between stories is thematic: Williams constructs a loosey-goosey theology with a cast of characters that boasts O.J. Simpson, Philip K. Dick, a rabbit named "Actually," and the deity itself, which shows up at a hot dog-eating contest and elsewhere. Despite those appearances, "we can only know what God is not, not what God is," writes Williams.
(A more earthly, thematically linked short-short jamboree is Dan Rhodes' funny Anthropology, in which lovers and exes of the protagonist are each described in exactly one-hundred-and-one words.)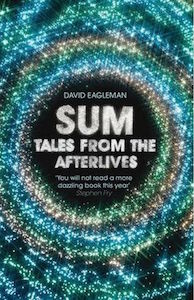 David Eagelman, Sum
Like Williams' collection, this slender yet magnificent book shoots for the spiritual, describing a few dozen different possible afterlives. In one, a female god shuts down Hell and gathers all dead souls in Heaven, where "there is no longer fire for some and harp music for others." Trouble ensues. In another story, a pantheon of gods features some who specialize in such small concerns as chrome, flags, bacteria, bubblegum and spoons. Again, trouble ensues. Eagleman calls himself a "Possibiliarian," and makes that moniker make sense.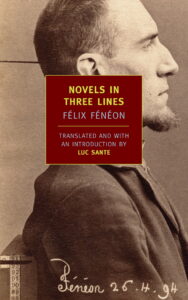 Felix Feneon, Novels in Three Lines
An anarchist man of letters and the arts in fin de siècle Paris, Feneon worked for six months at a newspaper penning these faits divers about the victims and perpetrators of strange crimes and accidents. Come for the sensationalism, stay for the crisp stylistic elan.
(For a similar reliance on crisp facts to conjure a galaxy, might I suggest David Markson's This Is Not a Novel?)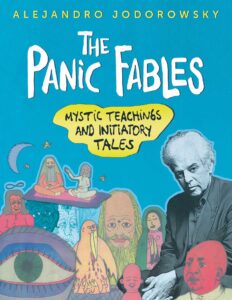 Alejandro Jodorowsky, The Panic Fables
Graphic novels can be literature, of course, and so can the gnomic and vividly colored graphic short-shorts that fill this jumbo compendium by the nonagenarian Chilean filmmaker. Originally published sixty years ago in a Mexico City periodical, Jodorowsky's "mystic teachings and initiatory tales" run on playful and occasionally cruel paradox, as do his macro books.
(Also of interest for people, age six and up, is short-short wizard Barry Yourgrau's jubilant first collection for children, Nasty Stories.)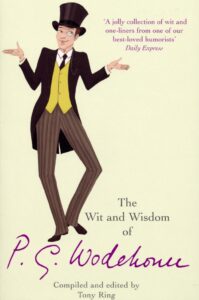 Tony Ring (ed.), The Wit and Wisdom of P.G. Wodehouse
Strictly speaking, this collection of uproarious excerpts from the fiction of lauded English humorist Wodehouse does not contain stories—but if readers can forego contexts of character and setting, they can enjoy these fragments in their own right. Call them "found tales," or "stories embedded within larger stories," or don't label them at all! Just savor such golden material as: "Aunt Dahlia looked like a tomato struggling for self-expression." Here's another: "He had just enough intelligence to open his mouth when he wanted to eat, but certainly no more." One more, sticking with the food theme: "The silence was broken by a crackling sound like a forest fire, as Mr. Steptoe champed his toast. This gorilla-jawed man could get a certain amount of noise-response even out of mashed potatoes, but it was when eating toast that you caught him at his best."
In short, a story can be a story, no matter where you find it, or how it's shaped, or how short it is. That's my story—and I'm sticking to it.
*
Dedicated to the memory of Bob Neuwirth (1939-2022), who used painting, music, film, and camaraderie to tell us his tales—and who avidly listened to ours. Adios, amigo.
---