L-O-V-E: A Reading List For Lovers, Love-Seekers and the Loved
Zibby Owens Recommends Leslie Gray Streeter, Brit Bennett And More
At first, I wanted to call it Forty Love. My memoir, Bookends: A Memoir of Love, Loss, & Literature, is a deeply personal account of the unexpected plot twists in my own life highlighted by the books I was reading at the time. In my current career as publishing CEO at Zibby Books and host of the daily (really: 365 days a year!) literary podcast Moms Don't Have Time to Read Books and now in Bookends, I extol the virtues of reading. I explain how books have been the vines on which I've swung while traversing the jungle of life. They've taught me how to live, love, think, feel, cook, grieve, and parent. They've been there for me, constants, no matter how much everything else has changed around us both.
My life today is all about authors. Propping them up. Helping them with discoverability. Learning who they really are in intimate conversations. Hosting them for book club. Publishing their books and essays. Not surprisingly, perhaps, my "recommended reading list" at the end of Bookends (and online here) is almost 200 titles long.
But "love" is in the subtitle because really, at its heart, Bookends is a love story. A love story between books and me, yes, but also between Kyle and me. A love that hit me over the head when I was almost forty years old and a mother of four, a love when I was least expecting it. A great love that has changed every part of my life. And yes, there's tennis involved. Love all.
I've learned a lot about love from books over the years. Here are a few books on my required reading list for love-seekers, in the order in which I read them.
*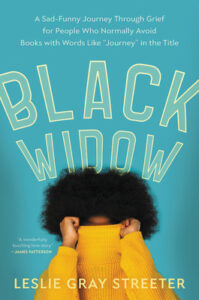 Leslie Gray Streeter, Black Widow: A Sad-Funny Journey Through Grief for People Who Normally Avoid Books with Words Like "journey" in the Title
When I was going through the horrific loss of my late mother-in-law to Covid, I read Leslie's book about losing her husband and how she navigated grief and parenting at the same time. It's part of what inspired me to launch Moms Don't Have Time to Grieve, an Instagram community and a podcast. She was so open, real, funny, honest and just so authentic. I absolutely loved it. And her.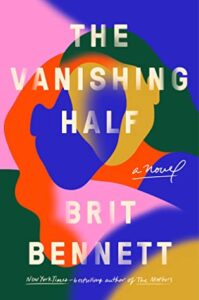 Brit Bennett, The Vanishing Half
I read this book in one sitting on a weekend when I didn't have my kids. (Custody schedule.) I got cozy on the couch in the late morning and didn't move until after the sun had gone down, my husband turning on all the lights so I could keep going. I was obsessed. It was riveting, well-written and so captivating. It really spoke to how you can live a thousand lives in any one book without moving an inch.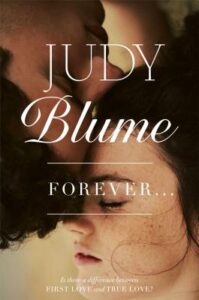 Judy Blume, Forever
I remember reading this teenage love story after a summer at sleepaway camp. My wonderful Irish counselor was passing through New York afterwards and came to visit me at home in New York City. But I was a little confused. I didn't know who to ask about the hot 'n heavy relationship in Judy Blume's novel about a couple starting to, well, you know. What exactly did these terms mean? Should I? I did. I cornered the counselor and timidly asked her for clarification, shoving the book under her nose. I remember her blushing when I asked about one concept before replying, "Well, it's like the best part." It took me years to really understand what she meant. My highlighted copy of Forever is tucked away somewhere at my childhood home, my first primer in physical love.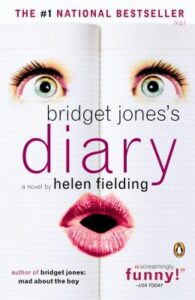 Helen Fielding, Bridget Jones's Diary
Crushes. Weight gain. Career stress. Kooky friendships. Constant interior monologue. This all sounds familiar. When I first read Bridget's entries, I felt like I'd discovered a long-lost, very witty friend. It's Bridget herself who the reader falls in love with, a frazzled British singleton, but along the way she teaches us about smug marrieds, workplace love, and many other unforgettable moments on the way to true love.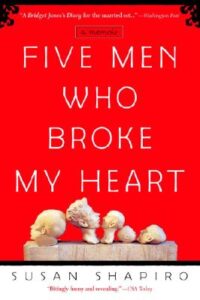 Susan Shapiro, Five Men Who Broke My Heart
Revered New York writing teacher Susan Shapiro decided to go back in time and visit all the exes in her past. Why had they broken up with her? Were they really that great? How had she changed through it all? A poignant, at times surprising, and always intelligent, funny read, Five Men Who Broke My Heart stands the test of time as one woman's quest to understand herself.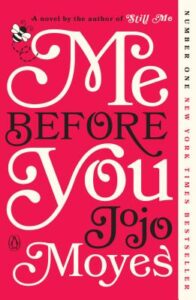 Jojo Moyes, Me Before You
I cry just thinking about this book. Imagine: A paralyzed man whose mother hires someone to look after him. The caretaker. The drama! Me Before You, now a feature film, is one of those stories about timing and how love takes many shapes and sizes. After all, love requires both parties to truly see each other, not just on the surface.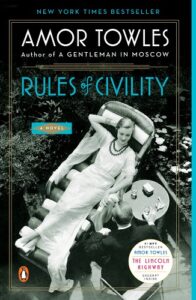 Amor Towles, Rules of Civility
Set in 1937, Amor Towles's novel Rules of Civility follows esteemed banker Tinker Grey and his new girlfriend Katey Kontent, as they travel in the rarefied strata of posh Manhattan. A love story, a coming-of-age, and a search for self, Rules of Civility has stayed with me. I read this in book club during a summer long ago when I only had twins (only!) and sat on the lawn at dusk around a fire pit, trading ideas back and forth, celebrating this beautiful read.
Dani Shapiro, Hourglass: Time, Memory, Marriage
Dani Shapiro is one of my favorite authors of all-time. In fact, Slow Motion was one of the first memoirs I ever read. I've been hooked on her writing ever since. In Hourglass, Dani turns the magnifying glass on her marriage to Michael, their honeymoon, their prior years together, and how they've made it work so well all this time. It's also a good reminder to save your journals; who knows what will come out of them?!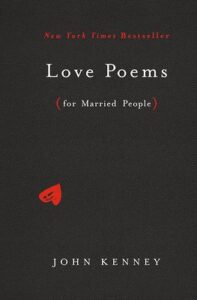 John Kenney, Love Poems for Married People
Kyle and I laughed out loud reading this together until we cried. John Kenney, a Brooklyn-based author and winner of the Thurber Prize for American Humor, put together a satirical poetry book series based on all the ridiculousness of life, marriage, and caregiving. It won't take long to read and is a perfect gift.
__________________________________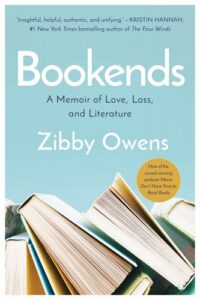 Bookends: A Memoir of Love, Loss, and Literature by Zibby Owens is available from Little A.
---