Michael Arceneaux on the Value of Exposure and Living
Gig to Gig
When the Spotlight Is On You, You'd Better Milk It
With the few friends to whom I mentioned the prospect, I always introduced it with the following caveat: "There is no fucking way that I am actually going to do this." I just could not envision myself throwing house tequila and soda at some man I met through a casting director's imagination at some hookah spot in Harlem in the middle of the afternoon. Or crying inside of a church that looked as if it were roughly two more months of poor tithing away from turning into a chic fusion restaurant/lounge, one that only the new white neighbors and their Black friends who needed Black friends to tell them to fix their hair would frequent.
My mama would never agree to appear on camera, so at least I wouldn't have to worry about the production capturing images of her swatting me with the New Testament as my dad poured more Paul Masson or Jack Daniel's into a water bottle. My hateful-ass friends would boo and hiss at such an assertion, but I'm kind of a classy-ass bitch now.
Not a total class act (I used to love the 1992 movie entitled Class Act starring hip-hop duo Kid 'n Play), but someone that can sing Countess Luann de Lesseps's "Money Can't Buy You Class" and confidently bop to the line "elegance is learned, my friend." 
A reality show would threaten that, among other things. 
I love reality television as a viewer. And as a culture writer, I have written a lot about it. (Yeah, yeah, I'm fond of some of the "deeper" reality-centered pieces, but I'm proudest of my Love & Hip Hop: Atlanta recaps.) My appreciation for the genre notwithstanding, I knew there was a difference between being a proud consumer of the content and being an ideal candidate to help create it. 
Yet here I was in a conference room for a meeting with a network, technically presenting myself as a cast member for a reality show. It had been a long year. The kind of year that makes you reevaluate your life and the choices you've been making. I may have kept consistently working as a freelance writer, but as many have come to learn or will learn in due time, one of the perils about the growing gig economy is that it can take you longer than it ever should for you to get paid for services rendered. 
Increasingly irritated, I was at the point where I asked myself whether or not it was time to sincerely consider taking an unexpected detour.
Years before EBONY magazine was sued by writers for unpaid work, I was stalking its accounts payable offices in Chicago. (I had warned some writers of the magazine's problems, but some choose to go where the work is even if there is a great risk attached—mainly because there is no work to be found elsewhere.) I was writing multiple times a week on the site, but not receiving regular checks. I had a pop culture and sex column in the magazine, too, but my check for that wasn't around either. 
I wrote for other outlets, but sometimes they, too, had problems. Whereas some Black-owned publications struggled with capital, the white-owned outlets had been pumped with a lot of venture capitalist money that was often mismanaged—resulting in many a once highly trafficked outlet abruptly folding, and later being sold for far less than the overstated value it had coasted on. Already tired of not only this volume of work, but having to chase people for compensation, I was looking for something different. Something bigger, better, and less taxing. More than anything, something consistent. 
Some opportunities were dangled in front of me, the sort that could help me ascend quickly, but none panned out fully, for various reasons—incompetence, gross mismanagement, small-mindedness, hater shit, what have you. Increasingly irritated, I was at the point where I asked myself whether or not it was time to sincerely consider taking an unexpected detour. Maybe it wouldn't take me exactly where I wanted to be, but if nothing else, perhaps it would take me out of this sad and sorry state that I felt stuck in. 
I told myself from the very first conversation that I was just going to humor the process, maybe take notes for the future. That's not untrue, but it wasn't the curiosity alone that kept me around. It was also the rising fear that some of my goals might end up too far out of reach. If I don't make any real headway soon. 
With my old dream of becoming Katie-Couric-with-a-dick long over, and my current setting of freelancer-who-wished-he-had-hoed-in-college-so-he-wouldn't-have-had-to-keep-taking- out-private-student-loans, I was now entertaining whether or not I ought to jump on the opportunity to become a more ambitious version of Shereé Whitfield. 
Consider all of the athleisure clothes designed to wear at the club Shereé Whitfield could've moved on Instagram had she gotten She by Shereé off the ground while she still had a peach. If you are going to submit yourself to a medium that will lead to loss of anonymity (well, depending on the network, because some are more viewed than others) and likely doom you to encounter at least some nominal level of national embarrassment, you should do as much as possible to generate a profit from it with some business venture.
In theory, I'd be in the confessionals sipping Casamigos with a metal straw (I'm so green), wearing a T-shirt with my book cover printed on it.
If my storyline on The Real Housewives of Atlanta was centered on me becoming the Donatella Versace of Buckhead, as was the case for the self-described "Bone Collector," best believe my maxi dresses, tights, and denim designed for big asses (both natural and cosmetically enhanced to comedic levels of jiggle) would end up available for purchase. Not to take away from her accomplishments—getting Chateau Shereé up and running no matter whose name the utilities were in, Kenya Moore—but the time she had on the show could have been better spent hawking forever.
In theory, I'd be in the confessionals sipping Casamigos with a metal straw (I'm so green), wearing a T-shirt with my book cover printed on it, commenting on a scene where I talked about designing organic thot briefs and notebooks bearing faux inspirational messages such as "My Heart Score > Credit Score." 
If I did this, I would push harder than Shereé, which actually might make me more like Porsha Williams—but like if Porsha joined a good book club. I know that I'm not Nene Leakes because there is no way I could say "bridemaid" that many times on television without my tongue attempting to run away from home at least once. Regardless of which Real Housewives cast member was my true equivalent, the overall point is if you ever dare to do reality, you'd best have a plan on how to maximize the moment. 
__________________________________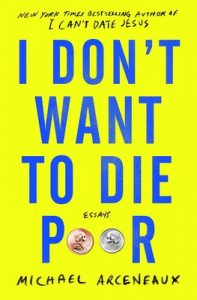 Excerpted from I Don't Want to Die Poor published by Atria Books, a division of Simon & Schuster, Inc. Copyright © 2020 by Michael Arceneaux.
---