Metaliterary Worlds: On Fictional Books Within Books
Elizabeth Knox Recommends George Elliot, Mikhail Bulgakov, and More
I set out to remind myself about fictional books within books and, researching, discovered how much has been said already about the cursed and forbidden ones. The characters of my novel, The Absolute Book, think about some of these in the course of the story—Lovecraft's Necronomicon or, in Robert Chambers' short story collection The King in Yellow, the eponymous play said to drive all who encounter it insane. I wanted to suggest that the Firestarter of The Absolute Book—an ancient scroll box which has survived so many library fires that scholars have begun to imagine it starts them—is cursed in some way. I also wanted to suggest the possibility that the Firestarter might in fact be blessed and revelatory.
Taryn, my scholarly hero, doesn't believe in cursed books and keeps pointing out that any examples people offer her are fictional, the books inside books. (Or at least she remains skeptical until events occur to change her mind on how things are that are deemed to be "only stories" might in fact be fact.)
My exercise in refreshing my memory steered me away from the often discussed cursed fictional books. Instead I looked at those that pose more of a threat to their writers than their readers. There are parties trying to prevent them being written at all. Or maybe they drive their authors into asylums for the insane, or simply dispirit them to the point of death. Or maybe they are destroyed by their authors as a way of choosing life over the story of a life.
I love these fictional books, the failed, prevented and resisted. Books of too much responsibility; of too many threads so the web becomes a cobweb; or too strong a feeling of having involved those nearest us in our delusions, followed by a the desire to burn the work because we can't burn ourselves.
*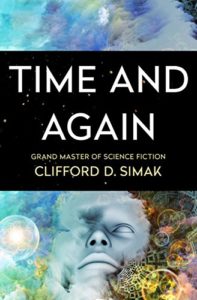 Clifford D. Simak, Time and Again
(Open Road Media Science and Fantasy)
In Time and Again, Asher Sutton finds a copy of a book that he has apparently written (one he does have notes for and thoughts about). His book is, he discovers, the founding document and sacred text of a future civilization. The future Sutton's book has brought about isn't very rosy for humans (but is for androids). Sutton is appalled. He tries to resist being the person he is, and thinking the thoughts he has, so that he'll never write the book. Humans from the future try to kill him. Androids from the future protect him—with great tenderness. The great tenderness is a deciding factor. Ultimately Sutton becomes resigned to his fate and, as a serene and philosophical old man, sits down and writes his book.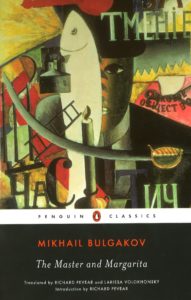 Mikhail Bulgakov, The Master and Margarita
(Penguin Group)
The novel in Mikhail Bulgakov's The Master and Margarita is about Pontius Pilate, the procurator of Judaea, and his encounter with a wise and unworldly rebel. The Master writes his novel in a joyous fever of invention, over a summer in Moscow in the 1920s, in a little room at the level of the street—a little room with the treasures of running water and a good woodstove. His novel casts a spell over his lover Margarita; it is possible she loves the book more than she loves him—if man and book are to be separated. And they are to be separated.
When his novel is finished, the Master takes it to an editor at a state run publishing house. "Oh yes, he read it," says the Master to the man in the cell adjacent to his own, in an asylum for dangerously deluded and broken-hearted artists. "He looked at me as if I had a swollen face, avoided my eyes, and even giggled with embarrassment."
The novel is soon returned to the Master, food-stained, and he thinks that is the end of that. But of course it isn't. Despite being unpublished, the book becomes the subject of a series of purse-lipped articles of criticism, and is cited as a pernicious example of religiosity by "an Old Believer."
"The joyless autumn days… The appalling fate of my novel seemed to have withered part of my soul," the Master tells his fellow inmate. And, that when Margarita left him for only a day in order to pack her clothes and say goodbye to her husband, he, in a fit of despair, burned his novel. Then he fled his lover, losing his mind, and his name.
All these events, related by the Master to his fellow inmate, take place before the beginning of the novel. The reader already knows that things are afoot in Moscow. Some of those critics and Writers' Union bigwigs are being taken down a peg or two, some brutally, others with good humour, by no less a person than the devil himself who has appeared in Moscow in the guise of an urbane foreigner, Professor Woland. What does Woland want? For Margarita to preside as hostess at his annual ball, and— for some reason the reader can intuit that isn't explained as such—to negotiate with heaven for something to be done about that unhappy procurator of Judaea, Pontius Pilate.
When the Master is freed from the asylum and Woland asks him for his manuscript the Master says, "Unfortunately I cannot show it to you, because I burned it in my stove." "I'm sorry, but I don't believe you," says Woland. "You can't have done. Manuscripts don't burn." Woland's henchman then produces the manuscript, pulling it out of past time, unburned. The novel is restored to the Master, and to Margarita, who loves it as well as she loves him. The parasitical Muscovite who has taken over the little flat below the level of the street is evicted. And the lovers are once again able to enjoy each other's bodies, and the body of the novel. But this doesn't last either. They can't just be left. They're under the protection of the devil, and must go to the devil. They die, the manuscript is burned again but this time, being burned, it's reunited with its author as if it is part of his soul. The Master now remembers his book perfectly and knows he will never lose it again.
There is no straightforward interpretation to be made of all the suggestive theology in The Master and Margarita, or its thoughts about where people might go looking for justice. But the proposition that manuscripts don't burn was certainly seared into my imagination.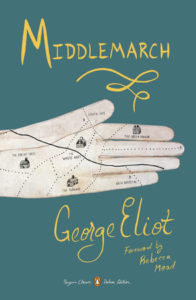 George Eliot, Middlemarch
(Penguin Group)
There isn't a writer in the world, and certainly not a scholarly one, who can read Middlemarch and encounter Casaubon without a feeling of dark dread. Poor man of straw, of dust, of the library as a retreat for the insufficiently vital bridegroom, the domestic tyrant who demands quiet in the house because his work is so difficult, so important.
If George Eliot is cruel to Casaubon it's because she knows herself very well, the person who needs the tides of life to stop doing what tides do when she is at the crucial part in a book—and of course all of a novel's parts are crucial. Or when she can't stop reading and start writing because she can never know enough and her ideas are as fleeting as the patch of lovely summer sunlight swinging across a book-lined room on a day spent up and down ladders looking for the correct quote and having the youth sucked out of her fingertips by turning many dry pages.
Casaubon's magnum opus is called The Key To All Mythologies. It's a wrongheaded version of The Golden Bough, James George Frazer's great work of comparative religion and mythology. Casaubon is looking for the one thing that will show the stories have the same Father, or First Cause. His sickness might be Protestant Christianity or Western philosophy, and George Eliot is interested in that—in the ways Casaubon's ideas might be mistaken, and that he might be barking up the wrong tree—the Tree of Knowledge rather than the Tree of Life. But mostly she scorns him and fears for him and pities him—as her readers do—because he is frightened of life and his life needs him. And, while he is standing on his threadbare intellectual dignity, he is also standing on his young wife's neck.
Any writer reading Middlemarch will have a moment when they imagine themselves locked in a library with the scattered papers of A Key To All Mythologies. Either that, or coming back from a forced walk to find the library door open and that someone has been reading what we've written, and has discovered we've built all our claims to respect, and insistence on allowances being made for our special selves, on some dull, wittering work that no one will ever read.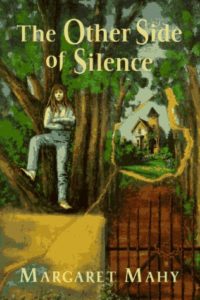 Margaret Mahy, The Other Side of Silence
(Penguin Group)
In Margaret Mahy's novel, Hero, the protagonist, is an elective mute. She's stopped talking because her family argues all the time, and because her mother, Annie, an educational psychologist and author of a famous book, Average/Wonderful, has used her elder two children as exemplars of all children, driving off her daughter and causing her twenty-something son to lapse into blobby inertia. Hero might have to continue to hear what her mother says about her—but she's not going to open her mouth and give her mother her story for another book.
Average/Wonderful is one book within the this novel—the other is the memoir Hero is writing.
Hero's speechlessness is a gut reaction to her sense of the monstrous power of story. She listens to the story that forms around her silence, in her family and at her special school. Over the course of the novel, things happen that push her back into speech. She has to summon help. The runaway sister returns, the lumpen brother reveals what he's been up to—writing a screenplay out of family talk—and the mother is chastened, but not too much.
But then the novel does an extraordinary thing—it silences itself. We are told that Hero has written her story down, for therapeutic purposes, and that is what we've been reading all along. The narration switches from first person to third—Hero has been talking to us—but now we see her close her "I," and consign the book she's written to "the old stove in the corner." She chooses to talk to her family, but not the world. No one will draw any life lessons from her life! She's too suspicious of any claims on the world's attention. Of her mother she thinks, "Perhaps there's only just enough light and warmth to go around, and people like Annie, whether they mean to or not, are using up someone else's share." So into the wood-burner Hero's book must go. There is life for Hero and no afterlife for her book.
But, then again, we've read it already. It has spoken to us, and if we turn back the pages of The Other Side of Silence, it speaks to us again.
__________________________________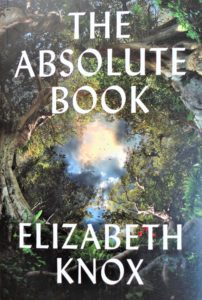 The Absolute Book by Elizabeth Knox is available now via Viking.
---