Writing the What-If: The Aftermath of a Daughter's Grief
Rebecca Handler on Exploring Alternate Narrative Paths
Don't sing "You Are My Sunshine" to your father on his deathbed. Trust me, looking back now, it was a poor choice. I just didn't consider how ubiquitous it is; in fact, yesterday, a group of preschool children were singing it right outside my office window. On their way to the park in single file, wearing fluorescent orange vests over their t-shirts and overalls, holding onto a rope, they sang, "You make me happy when skies are grey." I resisted the urge to call out the window, "My dad died to that song. Have fun on the slide!"
I don't know why I decided to serenade my father in his last hour. With the exception of singing in the car during family road trips, and watching my brother perform in the San Francisco Boys Chorus, we weren't a particularly sing-songy family. My dad was an opera buff, so if I had planned ahead, the Tosca score would have been more his style. At the time, though, sitting at his bedside with my mother and brother, You Are My Sunshine just popped into my head. If it annoyed them, they didn't say anything, which I find generous.
My mother has described those last few weeks as watching Dad slowly power down. He finally stopped eating, then drinking. I always thought there would be one final deep sigh. But instead there were five or six last breaths, with ample silence between them. Besides, of course, my singing. "Was that it?" my brother asked me quietly after the second or third breath. I shrugged and sang quietly, "Please don't take my sunshine away." We waited. I sang some more. And then sure enough, Dad's skinny chest rose and fell again. He would have appreciated the preposterousness of that Mel Brooks scene. For heaven's sake, is he dead yet?
After the final, final breath, the living family members in the room stood up. My mom cried and, pulling her two adult children into her arms, she said, "Now it's just the three of us. This is all we have." Thinking of my husband and two young children back at home, I didn't agree with her, but it wasn't the time to bring that up. My brother attempted to close Dad's eyes with his thumb and index finger, the way television detectives do. But the eyes wouldn't shut, so Dad just stared into space. His eyes had always been hazel, like mine, until the last month when they turned gray and foggy, like San Francisco.
My debut novel, Edie Richter Is Not Alone, is inspired by my experience of watching my father die from Alzheimer's, an unfair and messy disease. It is the story of aftermath, grief, and the rigmarole of keeping, then finally liberating, secrets. Edie, the protagonist, is also with her father when he dies, but the circumstances are very different—instead of singing to her dad, she kills him. But her grief is my grief, and her ability to see the absurdity in the act of dying is something I tried hard to capture.
I don't know why I decided to serenade my father in his last hour.
I studied anthropology in college, led by an interest in learning about different cultures and norms. Years later, when I began writing fiction in my forties, I created scenarios in an effort to insert myself into other possible lives. How would I feel if a parent killed themselves? What if I had been bullied by the violin section in a middle school orchestra? Or attacked by a bear? My curiosities became stories.
People write for all sorts of reasons: to win someone over, to get out of something, to ask for money, to explain why they don't love you anymore. The very act of writing is to create a new world. Even if one is writing about "reality," it is never an accurate account of a life. As I learned in college, the first rule of ethnographic research is to remember you are always an outsider looking in. Always. Even if (perhaps especially when) you are writing about your own life.
If we write to explore alternate realities, then writing during a pandemic is essential. Perhaps we can only understand the road we're on when we invent imaginary detours. What if our policies were based on science, not politics? What if we didn't argue about masks? What if schools had remained open? What if I still lived in Australia? Our minds wander when our lives are on hold. Just as dreaming helps us process our days, daydreaming helps us process our anxious nights. I write to try and make sense of things and to explore what might have been.
In the last year of my father's life, I thought about ending his life. Would he have wanted that? Did I want that? But I didn't have the chutzpah, or the foolishness, or whatever you want to call it, so I continued to spoon-feed him applesauce and wipe the crust from his eyes. Edie, on the other hand, takes the plunge and pays the price. She is, as the book flap reads, "not a people person." Empathy does not come naturally to her, and she says what she thinks. She loves her father however, and her reasons for killing him are left to the reader. One reader asked me if it was a mercy killing. I replied, "Isn't that an oxymoron?" By avoiding the question with a snarky answer, perhaps I was becoming Edie after all.
During the years I spent writing this book, I told people, "I'm writing a novel about grief. And some of it is funny." I thought no one would want to read about grief unless they were promised some moments of levity. I knew I wouldn't. Few things in the world are all terrible, or all wonderful. Most things are layered, and complicated, and frankly, laughable. Because the funniest thing about life is also the saddest thing. It's that it ends.
__________________________________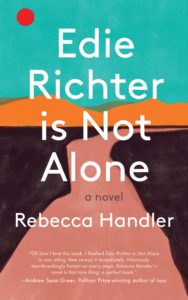 Edie Richter Is Not Alone by Rebecca Handler is available now via Unnamed Press.
---