Memorializing History's Dark Corners With Absurdity
Keith Lowe Visits Lithuania's Grutas Park
No matter how much we might wish to, there is no escaping the monsters of our past. We might try to ignore them, or bury them, but sooner or later they always burrow their way back up to the surface. We might be tempted to rehabilitate them or excuse them; but that only makes us complicit in their crimes. Or we might try to annihilate them; but then their absence itself becomes a sort of presence. Monsters will always remain, whether we like it or not.
There is one final course open to us: ridicule. If we cannot escape our history, perhaps we can thumb our noses at it.
I recently attended a conference on public memorials, and one of the questions that came up was about the name of a lecture hall in London dedicated to Francis Galton. Some delegates insisted that, since Galton is the father of eugenics, the name of the hall should be changed immediately. Others insisted that Galton should not be judged by today's standards, and that the name should be retained. Others still sought a compromise: the name might stay, but some plaque or display should be added outlining the toxic side of Galton's legacy. The debate was quite heated, and very earnest on all sides.
Afterwards, in private, one delegate told me about a piece of graffiti that she had once seen scrawled beneath a statue of Galton: it read, simply, "What a nob." She suggested, somewhat tongue-in-cheek, that the building be renamed the Francis Galton 'What a Nob' Lecture Hall.
This is not the place to debate whether or not Francis Galton deserves to be vilified. My point is that there are all kinds of ways to protest against those we regard as monsters without tearing down their memorials. Ridicule is perhaps our most important weapon.
Before I move on to some of the more apocalyptic visions bequeathed us by the Second World War, I want to describe a place that has become one of my favorite memorial sites in all of Europe. Grūtas Park in Lithuania contains a collection of monuments dedicated to some of the greatest monsters of the 20th century, including a statue of Joseph Stalin. It is a bizarre place, which breaks almost all the rules followed by conventional museums and monuments. What makes it work—perhaps the only thing that makes it work—is the way that it ridicules its subjects. Somehow this memorial park has stumbled upon an innovative way to acknowledge some of the darkest corners of our history.
*
Lithuania has had a very troubled past. Like several of its Baltic neighbors, it began the 20th century as part of Russia, and only gained its independence in the chaotic aftermath of the First World War. Twenty years later, at the beginning of the Second World War, it was invaded by Soviet troops all over again. Then came the Nazis, followed once more by the Soviets three years later; and with each new invasion came new brutality.
In 1945 the country was swallowed whole into the Soviet Union. Anyone who refused to accept the nation's new Stalinist rulers was arrested, deported to Siberia, imprisoned or executed. Lithuania suffered terribly over the coming years. According to the Museum of Genocide Victims in Vilnius, around 300,000 Lithuanians were sent to Soviet gulags in the 1940s and 1950s. Between a third and a half of these people never came back.
There is one final course open to us: ridicule. If we cannot escape our history, perhaps we can thumb our noses at it.
Given such a history, it is not surprising that the symbols of Soviet power are regarded with universal horror in Lithuania. When the country finally regained its independence in 1990, almost all the monuments to Lenin and other Communist figures were torn down. Countless statues were decapitated, cut into pieces with blow-torches or crushed into rubble. Some were even dynamited. In an attempt to save some of these sculptures for posterity, the new Lithuanian government carted many of them away for storage in state-owned warehouses and salvage yards; but since no one had much love for them they simply sat there, for years, gathering dust.
Storing monuments costs money. In 1998, the government decided to spare itself the expense by loaning out forty or so of the best-known statues. A competition was announced, and proposals started to come in from municipal museums, such as the KGB Museum in Vilnius. But it was not clear that the government would save much money this way: most of the proposals insisted that they would require state funding to put the monuments on display.
There was one bid, however, that did not ask for any state funding at all. An entrepreneur named Viliumas Malinauskas offered to display the monuments in a specially constructed sculpture park, which he promised to build on his own land near Druskininkai, in the south of the country. He would pay all the transport and maintenance costs out of his own pocket. He would even pay the restoration costs. He asked for nothing but the statues. He was duly awarded the contract.
This was where the controversy began. Malinauskas was not a historian, an art critic or a museum professional—or indeed anyone who had any background in this kind of work. In fact he was a former wrestling champion who made his living as a mushroom farmer: he now has a multi-million-dollar business exporting his mushrooms all over the world. Some of his proposals for the sculpture park were quite bizarre. He wanted to build a special railway line, so that tourists from Vilnius could be brought here on cattle trucks, as if they were being deported to a Soviet-era gulag. He wanted to hire actors who would pretend to be soldiers, herding the tourists onto the trains. For the full gulag experience, Grūtas Park itself would be surrounded by barbed wire and guard towers, and the monuments would be displayed as if they were part of a Siberian prison camp. Unsurprisingly, critics began to call Malinauskas's project a "Stalin theme park."
It did not take long for the complaints to come rolling in. Local politicians opposed the building of the park. National politicians opposed the building of the rail line. A petition drawn up denouncing the whole idea of his sculpture park was signed by Catholic Church officials, national NGOs, prominent academics, art professors and over a million other people around the world. "This part of history is full of suffering," said one member of parliament Juozas Galdikas in 2000. "It should not be used for show business."
There were other controversies too. One of the statues due to go on display was that of a schoolteacher called Ona Sukackienė, a local martyr said to have been killed by Lithuanian "bandits" (the term that the Soviets always used to describe partisans and freedom fighters). In 1975 a statue had been erected in her honor in the nearby town of Lazdijai. After independence, however, the newly opened archives revealed that she had actually been killed in a staged attack by the KGB. Her two sons wanted the monument to be destroyed, and were appalled that it was going to be displayed in Grūtas Park as a tourist attraction. In a letter to parliament they wrote, "Nobody asked our permission when they created the monument. Nobody asked us when it was taken down. And now nobody is asking our permission for it to be re-established."
Some of Malinauskas' proposals for the sculpture park were quite bizarre. He wanted to build a special railway line, so that tourists from Vilnius could be brought here on cattle trucks, as if they were being deported to a Soviet-era gulag.
Perhaps the strongest voice of opposition came from former victims of the regime. More than thirty groups of former partisans and political prisoners banded together to protest about the sculptures going on display. They accused Malinauskas of trying to profit from their misery, and described the statues as "monsters from a horror film'. Some of them even went on hunger strike. "Imagine yourself as a resident in a small village," said one former independence fighter named Leonas Kerosierius. "And someone came and attacked your village, killed your brother and raped your daughter. Would you allow your neighbor to build a park for these executioners and rapists, or make money off these crimes?"
MPs pushed for a vote in parliament to take back the statues and keep them in state hands, and the resolution was accepted by a majority. But their victory was short-lived, because it was overturned by the constitutional court: Malinauskas had won the government contract fair and square, and parliament had no right to take it away from him simply on a matter of taste.
The most they could do was create a government watchdog to oversee the construction of the sculpture park. The controversy quickly became international news. It featured not only in newspapers throughout the Baltic countries, but also in other parts of Europe. It even made the newspapers in America, parts of Asia and Australia. "Miss the Soviet Era? Come to Stalin World" ran the headline in the Sydney Morning Herald.
*
Grūtas Park officially opened to the public in 2001, and immediately proved a hit with visitors from all over Lithuania and beyond. Even before the official opening it had already seen around 100,000 visitors. Since then it has added to its collection and become a well-established tourist destination.
I first came here on a sunny September afternoon in 2018. From the moment I arrived, it was plain to me that this was unlike any of the other memorial sites I've visited. Malinauskas's original vision of a bespoke railway line with cattle trucks for tourists was never given the go-ahead, but he has still placed a train carriage at the entrance of the park, as if it is just arriving at a gulag. Beyond the train carriage is a barbed-wire enclosure overlooked by guard towers. The towers are manned by mannequins in Soviet army uniforms, but there is no attempt to make the soldiers look realistic: they are obviously shop dummies. And what are they guarding? Beneath them, in the enclosure, is a row of plinths, displaying several huge busts of Lenin and other prominent Communists. The message is fairly clear: today it is not Lithuanian dissidents who have been sent to the gulag, but the architects of the gulag themselves. To add to their humiliation, they share this enclosure with half a dozen llamas.
The atmosphere only gets weirder once you enter the park. One of the first places you come to after paying your entrance fee is a children's play area with brightly painted swings and slides. It is surrounded by engines, armored cars, pieces of artillery and a huge monument to the Soviet wartime partisans. On the day I was there, the children did not seem to discriminate much between the sculptures, the guns and the slides—they were happy to climb on everything. The jolly atmosphere was enhanced by rousing Soviet-era anthems, blaring from nearby loudspeakers.
Grūtas Park officially opened to the public in 2001, and immediately proved a hit with visitors from all over Lithuania and beyond.
This place can't seem to make up its mind whether it is a museum or a toddlers' day out. On one side is a handful of huts, built in the style of gulag barracks, housing a nostalgic array of Soviet posters, flags and copies of Tiesa, the old Communist Party newspaper. On another side is a zoo, containing baboons, emus and a rather shabby, depressed-looking brown bear. Dozens of species of birds sing to you from aviaries as you pass by.
However, the real attraction lies beyond, in the forest. A wooden walkway takes you on a journey through pines and birch trees to a procession of socialist realist art. There are allegorical representations of Mother Russia, and stained-glass windows depicting soldiers and workers and farmers. There are statues of Lenin, busts of Felix Dzerzhinsky, and depictions of Lithuanian Communist leaders like Vincas Mickievičius-Kapsukas and Karolis Didžiulis, all displayed among the trees as if they had sprouted here like one of the proprietor's mushrooms.
At the time I visited there were eighty-six monuments in the park, some of them enormous. There was a bronze bust of Marx 4 metres in height (13 feet), and a statue of Lenin 6 meters high (19 feet) that once stood in the main square of Vilnius. There was a representation of a Lithuanian"Mother" 8 meters high (26 feet) and weighing around 12 metric tonnes: she used to stand beside a highway until someone tried to blow her up shortly after independence. While visitors contemplate the sculptures they are never far away from one of the Disney-style guard towers, an ominous stretch of barbed wire, or a loudspeaker blaring out Soviet propaganda.
__________________________________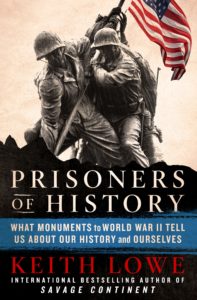 Excerpted from Prisoners of History by Keith Lowe. Copyright © 2020 by Keith Lowe. Reprinted by permission of St. Martin's Publishing Group.
---