Meet National Book Award Finalist Rita Williams-Garcia
The author of Clayton Byrd Goes Underground on music in life and writing
The 2017 National Book Awards (also known as the Oscars of the literary world), will be held on November 15th in New York City. In preparation for the ceremony, and to celebrate all of the wonderful books and authors nominated for the awards this year, Literary Hub will be sharing short interviews with each of the finalists in all four categories: Young People's Literature, Poetry, Nonfiction, and Fiction.
Rita Williams-Garcia's Clayton Byrd Goes Underground (Amistad / HarperCollins Publishers) is a finalist for the 2017 National Book Award in Young People's Literature. In the book, young Clayton learns about the blues from his grandfather, but when his grandfather dies and his mother forbids him to play, Clayton must head out on his own to seek the Bluesmen. Literary Hub asked Rita a few questions about her book, her process, and her life as a writer.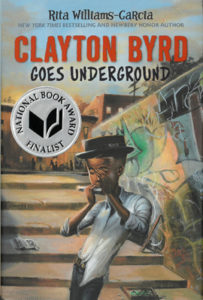 Who do you most wish would read your book?
Doug E. Fresh for sure! His beatboxing and harp playing kicked off the adventure. If blues legend Big Mama Willie Mae Thornton was still with us, it would be a tie between the two.
What's the best book you read this year?
That's easy! Sing, Unburied, Sing by Jesmyn Ward.
What do you always want to talk about in interviews but never get to?
Believe it or not, it's the writing! The journey and discovery of writing versus sociological questions.
Who was the first person you told about making this list?
My husband Fred. I had to wake him, but he goes back to sleep easily.
What time of day do you write (and why)?
I wrote Clayton Byrd when I first awaken. I go to bed dreaming about my book. I wake up still dreaming. My current project I type when I get up and read. The generative writing happens more in the evening. I haven't written in the evening since I was thirteen.
How do you tackle writer's block?
I box, knit, write, and read. Physicality helps to jar me out of my mental state. It shakes things free.
Which book do you return to again and again?
I have a few. But right now it's Madame Bovary by Gustave Flaubert.
Which non-literary piece of culture—film, tv show, painting, song—could you not imagine your life without?
I'm going to differentiate music from song and say music. I score in my head when I write. When I box or walk there is always music. Music is color, emotion, mood, motion.
If you have a day job, what is it? How do you negotiate writing and working?
I've had two day jobs. One in software/data analysis and the other, on faculty at VCFA in the Writing for Children's MFA program. I wrote during my commute and lunch hour for 25 years with my day job. I set non-negotiable terms with my students about contacting me as a faculty advisor. It was the only way to keep up with my schedule. I also took less students.
What's the best writing advice you've ever received?
Richard Price told me to ease up on the sentimentality. Okay, it was a lot more humiliating than that, but that was the gist. Never forgot it!
What is the importance of music to you (as a writer and as a person)?
Music was the language my mother taught me at a young age. It follows me wherever I go. And so does she.
---