Meet National Book Award Finalist Erika L. Sánchez
The author of I Am Not Your Perfect Mexican Daughter loves Larry Levis
The 2017 National Book Awards (also known as the Oscars of the literary world), will be held on November 15th in New York City. In preparation for the ceremony, and to celebrate all of the wonderful books and authors nominated for the awards this year, Literary Hub will be sharing short interviews with each of the finalists in all four categories: Young People's Literature, Poetry, Nonfiction, and Fiction.
Erika L. Sánchez's I Am Not Your Perfect Mexican Daughter (Alfred A. Knopf Books for Young Readers / Penguin Random House) is a finalist for the 2017 National Book Award in Young People's Literature. In this novel, Julia—the titular Mexican daughter—is adrift after the death of her "perfect" older sister. But was Olga really perfect after all? Julia will find out (and find out something about herself in the process). Literary Hub asked Erika a few questions about her book, her process, and life as a writer.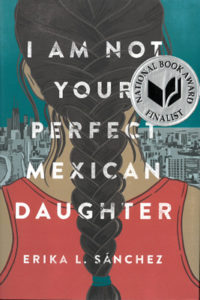 Who do you most wish would read your book? (your boss, your childhood bully, Michelle Obama, etc.)
Toni Morrison, my literary hero. I think I might just drop dead if I ever meet her.
What's the best book you read this year?
Don't Call Us Dead by Danez Smith.
What do you always want to talk about in interviews but never get to?
My love for food. I dance when I eat something particularly delicious.
How do you tackle writers block?
Reading, running, and chanting (I'm Buddhist).
Which book(s) do you return to again and again?
The Heart is a Lonely Hunter by Carson McCullers, One Hundred Years of Solitude by Gabriel García Márquez, Paradise by Toni Morrison, and all poetry by Larry Levis.
Some of the best poets I know also write YA. How do the two forms intersect or interact for you, if they do? How do you know when something might be a novel, or might be a poem?
I think poets often make strong prose writers because we pay obsessive attention to image, rhythm, and sentence structure. I write prose very slowly because of this. In fact, I printed out the first draft of the novel and rewrote it entirely. I will agonize over a sentence for a ridiculous amount of time. I write in all three genres, and knowing which one is the right vehicle is often innate. It's hard to explain, but it's a kind of visceral response. Sometimes I see something while I'm running, for instance, and I just know it will end up in a poem. It's easier for me to be more intentional with prose, but poems seem to ask me to be written.
---