Meet National Book Award Finalist Ibi Zoboi
The author of American Street on robots, movies, and the American Dream
The 2017 National Book Awards (also known as the Oscars of the literary world), will be held on November 15th in New York City. In preparation for the ceremony, and to celebrate all of the wonderful books and authors nominated for the awards this year, Literary Hub will be sharing short interviews with each of the finalists in all four categories: Young People's Literature, Poetry, Nonfiction, and Fiction.
Ibi Zoboi's American Street (Balzer + Bray / HarperCollins Publishers) is a finalist for the 2017 National Book Award in Young People's Literature. In this novel, Fabiola immigrates with her mother from Haiti to Detroit—where her mother is detained and Fabiola finds herself left alone with her strange American family, in a strange—and increasingly dangerous—American city. Literary Hub asked Ibi a few questions about her book, her favorite things, and life as a writer.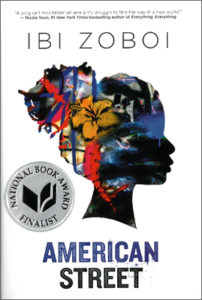 What do you always want to talk about in interviews but never get to?
Article continues after advertisement
Being a mom of three with a writing career.
Who was the first person you told about making this list?
My dear husband.
Which book(s) do you return to again and again?
Two Thousand Seasons by Ayi Kwei Armah. The Ear, the Eye, and the Arm by Nancy Farmer, The Power of Myth, a transcript of a conversation between Joseph Campbell and Bill Moyers. Krik? Krak! by Edwidge Danticat. Parable of the Talents by Octavia Butler.
Article continues after advertisement
Which non-literary piece of culture—film, tv show, painting, song—could you not imagine your life without?
I have three. The movies Coming to America and The Color Purple. And the most beautiful song in the world called "Kothbiro" by Kenyan musician Ayub Ogada.
What's the best writing advice you've ever received?
Nnedi Okorafor told me to exercise. N.K. Jemisin told me to get robots: a Roomba, a dishwasher, a crockpot. These would allow me the physical energy and time to get words down on the page.
This novel is, in part, about the "American Dream." What does that idea mean to you, and what does it mean to your characters?
The "American Dream" means being able to support myself by doing what I love; getting paid for what I truly believe is my life's purpose. Economic freedom is such an elusive idea in developing countries. For my young characters, the American Dream is much more convoluted. When there's a lack of opportunities and Americans can't afford basic necessities, there's no room for rest, no room for dreams. So that dream is just as elusive as it is for people living in developing countries. We have whole third world cities and neighborhoods in America.
---