Meet National Book Award Finalist Erica Armstrong Dunbar
The author of Never Caught on music, Oprah, and teaching
The 2017 National Book Awards (also known as the Oscars of the literary world), will be held on November 15th in New York City. In preparation for the ceremony, and to celebrate all of the wonderful books and authors nominated for the awards this year, Literary Hub will be sharing short interviews with each of the finalists in all four categories: Young People's Literature, Poetry, Nonfiction, and Fiction.
Erica Armstrong Dunbar's Never Caught: The Washingtons' Relentless Pursuit of Their Runaway Slave, Ona Judge (Atria / 37 INK / Simon & Schuster) is a finalist for the 2017 National Book Award in Nonfiction. The book tells the story of Ona Judge, an enslaved woman who escaped from America's first First Family: George and Martha Washington. Literary Hub asked Erica a few questions about her book, her favorite things, and her life as a writer.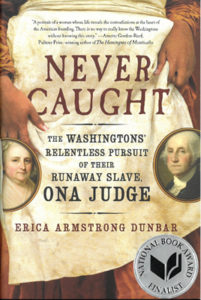 How did you first get interested in the story of Ona Judge? And related: what's the value or importance of continuing to re-evaluate America's founding fathers?
Twenty years ago, I was in the archives reading through eighteenth-century newspapers and I came across a startling runaway slave advertisement. A young woman called "Oney" Judge (Oney was a nickname of sorts) had run away from the first president of the United States and there was a ten-dollar bounty on her head. I was immediately intrigued and vowed to find out as much as I could about the twenty-two-year-old woman who defied George and Martha Washington. Never Caught tells the incredible story of an enslaved woman who dared to live life by her own terms—in a country that discounted her humanity, considered her as three fifths of a human being, and devalued her status as a woman. It's a book about the complexity of race, greed, power, and courage but it also provides a fascinating exploration of the lives of George and Martha Washington and their relationship to the system of human bondage. Ultimately, Never Caught is really one of the first books to examine the founding of the country through the eyes of the enslaved. It allows readers to reconfigure their knowledge about the founding fathers and to focus on the original issues surrounding race that still haunt our nation.
Who do you most wish would read your book? (your boss, your childhood bully, Michelle Obama, etc.)
Ummmm, that's an easy question. Oprah Winfrey, Ona's waiting on you!
If you have a day job, what is it? How do you negotiate writing and working?
I'm a history professor, a job that I adore! I feel super fortunate that I get to spend my days teaching students about African American history, the history that most of my students never encountered in high school. I find that teaching and writing inform one another. My lectures about large themes connected to American history appear in my writing. The research that I complete for my books always finds a way into my classrooms. In essence, teaching and writing go hand and hand.
What time of day do you write (and why)?
I am a morning writer. I find that after a night of restful sleep, I can commit myself to several hours of uninterrupted writing that balances my historical analysis with creativity. But my window for this kind of writing is short, and everything falls apart by 3:00pm. I turn to editing in the evening.
Which non-literary piece of culture—film, tv show, painting, song—could you not imagine your life without?
MUSIC is a necessity! I often listen to music when I'm writing and it prompts creativity. If I am writing about the late eighteenth century, I may select Beethoven for my playlist. If I am editing and need a bit of extra energy I always turn to '90s hip hop.
---