Mayukh Sen on Writing About Food—With Feeling
"Tie food to feeling above all else."
The following first appeared in Lit Hub's Craft of Writing newsletter—sign up here.
I never set out to write about food professionally. The very phrase "food writer" suggests a skill set I don't possess: I'm not terribly knowledgeable about restaurants, nor am I much of a cook. (I am resolutely not a recipe developer.) When I fell into this line of work just over five years ago, I was a 24-year-old aspiring film critic in need of a salaried culture writing job. I figured that a staff gig at a food-focused website would provide me such stability, while also encouraging me to achieve fluency in a new register. But my primary interest was always in the people who make food, and the lives they touch through that labor.
Still, food writing initially excited me because of its unique opportunity for beauty, even sensuality. When done with skill, I knew, describing food as an object could result in the kind of breathtaking prose I so wanted to create. But that amateur's zeal soon gave way to anxiety. I began fearing that the genre would expose my inadequacies as a stylist. I could either rely on words that many in my profession had excised from their vocabularies—"delicious," "delectable," or the dreaded "toothsome"—or defy cliche so strenuously that I'd make some tortured and appetite-draining analogy, like comparing the texture of a dumpling to that of a teddy bear.
And so, terrified of failing, I shied away from engaging with food on the page at all as I began writing my first book, Taste Makers, a group biography that chronicles the lives of seven pathbreaking chefs and food writers—all of them immigrant women—in late 20th century America. At the onset of my project, I told myself that food should be a vital character in these sketches, not an afterthought. After all, these women sought to express their humanity through their creative work. But as I wrote, I struggled to keep food's presence alive in the text. I wasn't sure how to weave food into each story without it seeming dutiful, as if I were checking a box: Make the reader hungry every third paragraph.
What helped me overcome this stasis was to remind myself what it was about this genre that enticed me all those years ago. I revisited these women's cookbooks, memoirs, and interviews to find meals that captured my imagination, letting myself experience the emotions—pleasure, pain, disgust—that food inspired in them. I couldn't forget the Italian food writer Marcella Hazan's recollections of a gruel she made for piglets during World War II: She would wash bomb dust from mulberry leaves, chop them, and then boil them in water with polenta flour. The author Najmieh Batmanglij's mention of saffron ice cream sandwiches she'd had back in her home country of Iran enchanted me, because it seemed so far removed from any of my food memories. I laughed when I read about the Jamaican chef Norma Shirley's impressions of the food she had as a nursing student in Scotland, a collage of beige meats and vegetables she considered inedible.
As I worked through drafts, I seized upon those striking images of food that my research and reporting presented. I started by detailing the ingredients in these dishes. Where applicable, I would force myself to build a scene around a recipe, walking my reader through what it was like for each woman to actually cook or eat such meals; that way, the character remained present in the frame. After that foundational work, I began to focus on the sentiments these women associated with food. That was ultimately a far better use of my energy than meticulously curating adjectives related to taste, texture, or presentation.
This is now advice I impart upon my students, because I'd failed to heed it for so long: to tie food to feeling above all else. Food writing, after all, has potential to do more than stimulate a reader's appetite, though it took me years to understand this. Rather, what a person eats can reveal a great deal about the world that shaped them, what values they hold close, and who they are.
__________________________________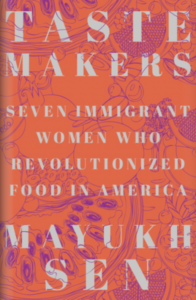 Taste Makers: Seven Immigrant Women Who Revolutionized Food in America by Mayukh Sen is available via W. W. Norton & Company.
---