Mary Gaitskill's Classic Essay on John McCain
From the 2008 Presidential Campaign
DAY ONE
When I saw Sarah Palin speak at the Republican National Convention, the hair on the back of my neck stood up. I had thought McCain's choice of running mate must mean that he was in a complete paranoid tailspin, the kind that comes before huge, humiliating defeats. But as I watched her, and the rabid, adoring response to her, I thought something else, which was: This woman is a sadist and she doesn't know it. And it's working for her; her people love her for that very reason, and they don't know it.
By "sadist" I don't mean a costume-wearing fetishist, and if I did, I wouldn't be as appalled. I mean something more basic, a person whose driving motive in life is to dominate, control, and inflict pain. Most people don't know what their driving motive is, and most people have more than one. But some people have one that is so unconflicted and so overwhelming that they fairly drip with it. What I was looking at onstage at the Republican Convention was somebody who dripped with highly charged, puerile cruelty; it was there in her sneering, aggressively charming voice, in her body, in the set of her mouth. It was there also in the roaring response to her, a response that comes from the body, while the head is thinking something else altogether, about loving America, standing up to terrorists, whatever.
When I said to people, "I think Sarah Palin is a sadist," they reacted like I was making a joke, or being provocative. I suppose that I was. But how far off was I? What do you call it when she incites crowds to threaten Obama with death by calling him a terrorist in that dripping, girlish voice? These are people who are looking to hurt someone, and their urge has just been legitimized, even idealized for them by an attractive woman whom some young men I know consider "hot."
DAY TWO
This election makes me remember Vladimir Nabokov's essay on Nikolai Gogol's "The Overcoat," in which he describes the short story as "a grotesque and grim nightmare making black holes in the dim pattern of life"; it is a beautiful, flexible, and fantastically broad phrase. "The Overcoat" is about a poor, half-crazy little clerk in pre-Revolutionary Russia who, when his thin coat rots off his back one freezing winter, spends his entire savings on having a new coat made for him. The new coat is magnificent, and it transforms his life. For the first time he is invited to a party, where he drinks too much; on the way home he is robbed of his coat; the robbery breaks his heart; he sickens and dies. The story is typically read as an allegory of "the little guy" in a socially unjust world, but Nabokov sees something more terrible, a story of "whirling masks," through which the tortured human protagonist must wander in desperate confusion, and in which the true plot, as opposed to the literal one, comes from "that secret depth of the human soul where the shadows of other worlds pass like the shadows of nameless and soundless ships."
How garish are these masks that talk to us nonstop every day, how huge they loom out of television and cyberspace! What secret depths do they come from, what primitive forces are finding expression through them? What the fuck are they doing here? John McCain, having unleashed insane Pandora, is now trying to stuff her back in the box, probably because human beings are horrified at seeing people at his rallies turn into prelynch mobs. But when one of his supporters denounces Obama as "an Arab," and McCain responds like a person ("He's a decent family man"), he's booed by his own. While one of his masks makes nice, the others keep putting out the misinformation. Through it all wanders the human voter—who, if he's Republican, bought the overcoat years ago and, though it's been stolen from him, still worships it on his knees.
DAY THREE
The most visible story of John McCain has been his "honor" and how important it is to him, how key to the understanding of his mind. The less visible story is his violent temper: how he yells at people for nothing, nearly attacks people who frustrate him, how he once called his wife a "cunt" in front of reporters. Now the anger has come out in a hugely visible form, projected like a demon into the screaming herds that accuse Obama of terrorism as they run bellowing off a cliff.
A melancholy thought: McCain may once have had honor, or at least a concept of it. If he still has enough decency to be ashamed of losing it, he needs anger to hide his shame; without his anger he would not be able to bear his shame.
DAY FOUR
When Hillary Clinton and Barack Obama were still fighting for the nomination, I had a conversation with a woman who said she supported Hillary because "any female" would be preferable to "any male," and that she thought Obama was no different from anyone else in the male system. When Sarah Palin got nominated, I asked this woman if she supported her. "Of course not," she said. "Sarah Palin is not a woman, I don't care how many times she's given birth. She's totally bought into the male power system."
I thought, How ridiculous. Then my husband reminded me of Fritz Lang's Metropolis and the false Maria. In the movie, the real Maria is a working-class girl trying to help her fellows by pure-hearted means. The rulers then build a false Maria to sow division and hatred. It doesn't quite work as a comparison; Palin is more a combination of what the real Maria claims to be (evangelical) and what the false one is, proud and violent. But the film's logic is visual, and visually, it pictures America now as it once pictured Weimar Germany. The false Maria's dance is one of gluttony and power, and it has a demonic force that awakens ancient archetypes of chaos and destruction. And the damn thing even winks.
DAY FIVE
When Hillary was still running, I didn't support her because I preferred Obama, and because I didn't think she could win. Somebody asked me if I thought she couldn't win because she's a woman, and I said, "Not because she's a woman, but because she's not enough of a cunt." I meant that she didn't have a raw female presence equal to that of her husband, Bill. I went on to say that as a liberal (sort of ) woman, I didn't think she'd dare go there, that the only woman who could do that would be a conservative. I was right, and I have never been more sorry. Sarah Palin has the kind of glandular force I was referring to, some- thing that has nothing to do with her prettiness, but augments it immeasurably. Hillary Clinton was taunted for being strong—privately, even liberals made her out as a castrator, which was brutally unfair: Like many professional women, Hillary never cut off anyone's nuts but her own. No one's taunting Sarah Palin like that, and no wonder: Hillary is accomplished verbally; her power comes from the part of the body with teeth. Palin can't talk her way out of a bag; she doesn't need to. That's not the source of her power.
DAY SIX
The language aspect of the Obama/McCain debate was the usual rote push-pull. When I turned down the sound, the picture was clearer and more alarming. McCain was malign, contemptuous, and very physical. Obama was weak, vague, and heady. McCain looked like a big, vicious dog, Obama like a smaller dog trying to avoid a fight by looking away and licking his lips a lot. It was very dispiriting to see.
DAY SEVEN
My sister has an eerie ability to look at people and read them very quickly in terms of their character; I have rarely known her to be wrong. She was the first person to tell me, years before the election, that Obama was great, that he needed to run for president. "He has white light glowing around his head," she said.
The second person to say anything to me about Obama was a writer friend. She said she liked him a lot but that she worried about him as a leader because she couldn't "feel his dick." She wasn't talking about sex. She meant that he didn't fully, on a bodily level, believe in himself, that his actions came totally from his head. I agree with her. That is what makes him look fragile sometimes, especially in contrast with John McCain, whose dick, like it or not, one can feel. McCain's confidence is ghastly, because it is so caught up in his violent righteousness—but it is there.
In a strange way, these two qualities, the powerful, glowing mind and the lack of full bodily presence, are part of what makes Obama a compelling and emotional figure. Whatever he has accomplished, it has been through the power of his mind, that almost otherworldly glow that has carried him through so many obstacles, especially vicious race prejudice. So many of us know what it is to lack confidence, yet to will yourself to go on, even though you don't quite feel the ground under your feet. People are calling McCain the "underdog" now, but this is bullshit. Obama, who's barely ahead in the polls, was always the underdog here—black people were scared to vote for him at first because they thought he'd be killed. And they had reason to fear. He has incredible courage to be where he is, up against that old bastard, especially if he got there without full confidence. My sister believes he can win. I hope she is right.
Libération, 2008
POST SCRIPT: Since the election of Donald Trump, I've more than once regretted calling John McCain an "old bastard;" I especially regretted it after last night, when his vote stopped the health care travesty from going forward and stopped it with beautiful dramatic timing all the more elegant in the context of Trump's Nero-The-Clown Show.  Old bastard McCain may be, but he is a noble old bastard.  Sad day maybe when "noble" means acting in a non-insane, non-stupid, non-craven way. But still: noble.  
__________________________________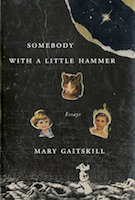 This essay originally appears as "Worshipping the Overcoat" in Somebody with a Little Hammer. Used in arrangement with Pantheon, an imprint of the Knopf Doubleday Publishing Group, a division of Penguin Random House, LLC Copyright © 2017 by Mary Gaitskill.
---