Looking for Answers After the Murder of a Dear Friend and Little Brother
Ben Westhoff on Frustration, Grief, and Questions in the Wake of a Young Black Man's Death
In the first years of my journalism career I was a hip-hop-obsessed music writer who'd never made a Freedom of Information Act request. But while doing research for Fentanyl, Inc. I not only uncovered government documents, but met with dark-web traffickers and traveled to China, where I impersonated a drug dealer. I got in a car with the owner of a fentanyl operation, who took me to his Breaking Bad–style lab outside of Shanghai.
This was risky behavior, but the trip helped me develop my investigative reporting skills, and in the years following the death of Jorell—who had been my Little Brother through the Big Brothers Big Sisters of America program, and who had become like family to me—I shifted from cultural stories toward those involving narcotics and criminality. I interviewed convicted killers, wore a bulletproof vest to drug sites, and pored over crime statistics.
In the process I learned something that surprised me. Most murder victims, it turns out, have some connection to the person who killed them.
I had assumed a large percentage of murders were random, but in reality most happen among acquaintances. In cases where the perpetrator doesn't know the victim, a robbery or burglary is often involved. Jorell was killed outdoors, in broad daylight. As far as I knew he wasn't being robbed, and he wasn't trying to rob anyone. And since he'd been shot at point-blank range, he was clearly the intended target.
A troubling thought started to develop within me: What if Jorell knew his killer?
Two years had passed since his death, and the wounds were no longer so raw. I began examining it more dispassionately, with fresh eyes. I had allowed myself, or perhaps even forced myself, to accept a story that fit my worldview. But speaking with Jorell's friends helped open me up to truths I'd previously ignored. I no longer wanted to tell myself a story that made me feel comfortable. I wanted the truth.
One thing that kept nagging at me was the comment in my Riverfront Times obituary from the woman named Lacey Plumb. She wrote that Jorell "lived by the street." For the first time since his death, this thought began to nag at me. I reread her words. And the more I read, the more I realized I could no longer shut them out.
Soon afterward I sent a Facebook message to Joe. "Do you know someone named Lacey Plumb? She said she dated one of Jorell's brothers and lived at your house."
"Yes," responded Joe. "She was with Jermaine."
I thanked him and called Jermaine, who recalled their time together. "We met in 2013 in a city in Arkansas called Mountain Home," he began. "She stayed in the same trailer park as one of my previous ex-girlfriends." He and Lacey began a relationship, and she followed him back to Ferguson, moving in with the Cleveland family. She and Jorell didn't get along, and before long her relationship with Jermaine descended into bitterness as well. Finally they broke up and she moved back to Arkansas. "She got very disrespectful, calling me all sorts of things," Jermaine said.
Speaking with Jorell's friends helped open me up to truths I'd previously ignored. I no longer wanted to tell myself a story that made me feel comfortable. I wanted the truth.
It sounded like the rough outlines of her story as presented in the Riverfront Times comments section checked out, and I'd eventually contact her personally. But in the meantime, my thinking about Jorell and his murder case began to shift. It wasn't something that happened all at once, but I began thinking about his case less from the perspective of a friend and mentor, and more from the perspective of a reporter.
I stopped assuming his killing had been random. I started talking to people about the details of his final months, the time when he stopped returning my phone calls.
I spoke with Jorell's family and close friends, who told me that Jorell had been engaging in self-destructive behavior. He'd been associating with people with criminal records, some of whom sold drugs and illegal guns.
Jorell never told me about any of this, but maybe I shouldn't have been surprised. When he was alive, Jorell looked up to me. He wanted me to be proud of him.
"How are things in school?" I'd ask.
"Fine," he'd say.
"Is there anything bothering you?" I'd ask.
"Nope," he'd say.
Looking back on these conversations, I realize that Jorell was going through some of the most trying times of his life. But rather than discuss them with me, he went out of his way to make me think everything was okay.
It became clear that there was a Jorell I never knew. He wasn't the carefree kid I'd naively imagined him to be. He was deeply paranoid and often consumed by anger. His violent temper regularly took him to the edge of danger.
The first person I spoke to about the intricate details of Jorell's case was his father, Joe Cleveland. In November 2018, more than two years after Jorell was killed, I gave him a call.
"Hey Joe, how are you doing?"
"I'm fine, Ben. How's the family?"
Normally for a story like this I'd interview the source in person, but this time I felt nervous. I didn't know if Joe wanted to revisit all of this. I worried I'd be dredging up painful memories he'd prefer stay buried. But he appreciated my interest, and had a lot to get off his chest. Some of the broader strokes he'd already told me: shortly after Jorell's death police had arrested a suspect, a guy who lived near the Clevelands and was at least a decade older than Jorell. The detectives wouldn't tell Joe his name, but it didn't seem to be anyone Joe knew. This suspect didn't stay behind bars very long though. Although police had requested cell phone records attempting to place him at the scene, apparently they couldn't gather enough evidence to prosecute him. So they let him go.
This had all happened more than a year ago. Joe had received no updates since.
"The longer it went, the more sour it got," Joe told me. "I really don't think the detectives are putting forth the effort into the case that they should. That's my opinion. They could do a lot more than they're doing."
This nearly broke my heart. It seemed to confirm the worst stereotypes about police detectives assigned to Black cases. I wanted to believe differently. When I thought of heroic detectives on the homicide beat, I pictured Bunk and McNulty from The Wire, hard-drinking cops who may have been louses, but they nonetheless worked hard to pursue the truth.
But the police assigned to Jorell's case didn't seem invested. When I tried to get in touch with the lead detective, Jason Rodesiler, he didn't call me back for days. When we finally talked he was curt.
"Can you tell me the name of the suspect who was held in custody?" I asked.
"I cannot," he said.
"Would you mind telling me why?"
"We can't reveal information about an ongoing investigation," he said. He gave this same response to most of my other questions.
I learned what I could about this detective. He was from Michigan originally and served in the Navy. In 2003 he received the Medal of Valor, presented to police officers who perform "a conspicuous act of bravery exceeding the normal demands of police service." I'd imagine that he meant well, and, at the time Jorell was killed, was likely hamstrung by a heavy caseload. The St. Louis County Police Department says its detectives each handle six to eight homicide cases per year, which is better than in the city, where officers handle an average of thirteen, but still more than ideal. A Department of Justice study recommended detectives be assigned only three per year.
The inability of the St. Louis County PD to prosecute anyone for Jorell's death brought to mind a 2018 Washington Post investigation, which showed that only about half of murders in the nation's biggest cities get solved. The rate in St. Louis was a dismal 36 percent in 2020, though the numbers were better in St. Louis County. Both nationally and in St. Louis, conviction rates were lower when it came to murdered Black men.
The Cleveland family has a complicated relationship with the police. Jorell's brother Jovan told me about times he'd been harassed for jaywalking, or simply "walking while Black." But following the Ferguson unrest of 2014, including the appointment of the city's first Black police chief, Jovan believed the situation had improved. "I think they're trying to be more friendly," he said. "I think the police actually learned a lesson."
Rece was not so optimistic, maintaining the violence had gotten worse. "After Mike Brown it got really grimy," she said. "Not just in Ferguson, but in St. Louis everywhere—city, county—with the deaths." She blamed police indifference for Jorell's unsolved killing. "Nobody trust the police to do nothing. So [nothing] get solved. They have to actually be caught, at the crime scene, with the weapon in their hand, for them to find out who did anything."
Some observers also cite the so-called Ferguson Effect, which claims the antipolice protests following Michael Brown's killing led to more homicides due to a decline in "proactive" policing, because some cops didn't want to be considered racist or put themselves into hostile situations.
Travis Campbell, an economics PhD student at the University of Massachusetts Amherst, found that, post–Michael Brown, police killings declined while other homicides rose. Campbell studied 1,600 Black Lives Matter protests around the country from 2014 to 2019, finding "a 15 to 20 percent reduction in lethal use of force by police officers—roughly 300 fewer police homicides—in census places that saw BLM protests," according to an analysis by Vox. At the same time, there were "somewhere between 1,000 and 6,000 more homicides than would have been expected if places with protests were on the same trend as places that did not have protests."
We'll never know if the Ferguson Effect led to Jorell's killing or affected his case. Another potential factor was witness collaboration with police. While Jorell's family spoke with detectives, some eyewitnesses and people with relevant information did not. This dovetailed with historic distrust of police in many African American neighborhoods.
In this regard, I believed I could be helpful. As I told Detective Rodesiler, many of Jorell's friends who were unwilling to speak with authorities would talk to me—even with the knowledge that I would bring their information to the police. Rodesiler declined my help.
"We're professionals," he said.
I kept bugging him for updates, until a year or so later a different detective with a hard to pronounce surname took over the case, Ryan Wojciuch. He was friendlier, but also tight-lipped. Everyone kept telling me the same thing—that they couldn't share information about Jorell's case until it was solved.
This was doubly frustrating because, by the looks of things, they would never solve it.
"That's my only son, and I'm still fuckin' mad," Jorell's mother Dianne Robinson told me, when we talked on the phone three years after Jorell's death, her voice rising. "Cause they haven't caught the fucking killer."
I understood this feeling. When I sat in that cop car on the humid afternoon of Jorell's killing, I told them everything I knew. I wanted desperately to help them solve this case.
When they declined my help, at first I hoped this meant they knew what they were doing—that they really didn't need me. But as the weeks turned to months, and as the months turned to years, I began to understand why so many people in Black communities were cynical about the police, how the seeds of their distrust had been sown. The cops were up in everyone's faces giving tickets all day long, yet when it came to something this heartrending, they had nothing to say. Jorell's loved ones were walking around with holes in their hearts, and this killer believed he'd gotten away scot free.
____________________________________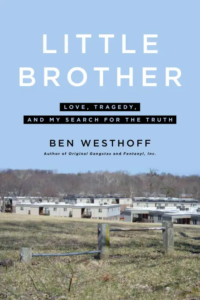 From LITTLE BROTHER by Ben Westhoff, © Ben Westhoff, courtesy Hachette Books.
---