Jen Silverman on Re-reading, Making a Tarot Deck, and Other Kinds of Escape
"I can feel in my bones when a book and a person would match."
Jen Silverman's novel, We Play Ourselves, is out now in paperback from Random House, so we asked about their favorite books to give to friends, the best stories to revisit, and how they procrastinate.
*
What is your favorite book to give as a gift?
I am bad at many things in life, among them things that it is key to be good at—like adding and subtracting, retaining directions, and understanding all the things your iPhone does. BUT the one thing I am good at is giving people books. I can feel in my bones when a book and a person would match. To those ends, there generally isn't a one-size-fits-all book gift, but some books that I have really enjoyed giving over the past few years are:
Richard Yates' The Easter Parade, to an actor friend who reads keenly and has a delicious grasp of the overlap between camp and pathos. He read it while riding around NYC on the M60 bus, which is a perfect example of how this book might be read.
Hari Kunzru's Red Pill, to an actor-writer friend who is mesmerized and alarmed by global politics, loves a good thriller, and chops wood to relax. (Not a euphemism. With an axe.) I myself read Red Pill with the wide-eyed horror of falling down a long flight of stairs, and when it was over, I wanted to start again.
Akwaeke Emezi's The Death of Vivek Oji to a doctor friend, whom I occasionally text to find out if I'm dying. We know from the title that Vivek is dead before we meet him, and I thought that kind of certainty would be relaxing for her. (Also, she reads voraciously and loves complicated, nuanced characters, which this book is full of.)
Which book(s) do you reread?
I have read Jenny Offill's Dept. of Speculation many times now; similarly, Rebecca Lindenberg's Love, An Index; Nico Amador's chapbook Flower Wars; Kaveh Akbar's Calling A Wolf A Wolf; Sylvia Plath's Ariel; Richard Siken's Crush. Something in these books calls me back to them, and each time I find both the familiar comfort of what I love, and something new—a new way of seeing or a new set of questions.
Which non-literary piece of culture—film, tv show, painting, song—could you not imagine your life without?
Takashi Miike's body of films had a big impact on me in my early twenties. Something about the gleeful and confident way in which he mixed gore, gangster tropes, dark comedy, escalating flights of absurdity, and fleeting moments of deeply-felt emotional naturalism. I think the sexual violence in some of those movies would be harder for me to watch now, but his body of work as a whole showed me how the boundaries we draw between genres and modes are porous, easily crossable—even deliciously crossable.
Werner Herzog's Antarctica documentary Encounters at the End of the World was also incredibly impactful. I've watched it again and again. The first time I saw it, I thought: somebody is showing me a place where I could belong. Over time I realized, what I was responding to was the rag-tag collection of international misfits. As someone who grew up in a bunch of different countries, I've learned to pass in a variety of ways, but I'm always aware of the mismatch between my performance of passing and my experience of what's happening around me. He showed me a window into a world that felt homelike to me—in its juxtaposition of many languages, many cultures, many kinds of escape, many ways of not-fitting.
What is your favorite way to procrastinate when you are meant to be writing?
I've been drawing a Tarot Deck of Sad Pandas for years—I keep redoing the cards and I never seem to finish. I've also been making a series of large-scale drawings, unrelated to Tarot. I always feel better when my hands are moving and my brain is off.
If you weren't a writer, what would you do instead?
I'd be a tattoo artist, in Paris, Sydney or Osaka. I'd have a small tattoo parlor that, like a good sushi counter, is omakase—chef's decision. You come and tell me which body part you want ink on, and I do whatever feels right. No complaints, no returns. It would probably be a really small customer base. Maybe a friend of mine could set up a laser-removal parlor next door…
_________________________________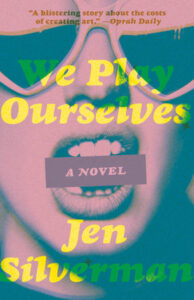 We Play Ourselves by Jen Silverman is available via Random House.
---