Literary Long Weekend: San Francisco      
City of Bookstores!
To celebrate our partnership with Kimpton, enjoy 20% off their Best Available Rate. Cozy up in your hotel room with one of our seasonal book recommendations, or venture out on a book lovers' travel itinerary.
On June 6, during a panel at the inaugural Bay Area Book Festival, a New York Times columnist claimed, much to the vocal displeasure of those in attendance, that only two bookstores remained in San Francisco. That a journalist for the New York Times could be so ill-informed is alarming, of course, but perhaps he can be forgiven (not entirely) for buying into the larger cultural narrative about the obsolescence of brick-and-mortar bookstores and, with them, of active literary culture.
I occasionally hear variations on this comment, especially as Green Apple, one of dozens of bookstores in San Francisco, branched out to a second location last August. A few days after our opening, a man who wasn't quite joking stood in the doorway—without crossing the threshold of the shop—and with an exasperated sigh lamented (loudly) that now there was one more business he had to worry about going under. He suggested that a taqueria would have been a more welcome addition to the neighborhood. If only we'd asked for his input as we were designing the store.
Fortunately, this kind of pessimism has proven to be the exception rather than the rule. Hardly a day passes without someone coming into the store and telling us that they are delighted to see us here. I think, or at least hope, that the overwhelming enthusiasm we've heard points to a larger cultural shift, one that might be slow to take root in many places but that, fueled by shop-small movements and a reimagining of civic space, is steadily gaining momentum, toward the local community.
And so, though literary culture isn't exclusively relegated to bookstores, I'd like to take this long weekend to provide a whirlwind tour of San Francisco's thriving bookselling community. I start with Green Apple because I know it best. From there, I'll lead you east across a city rich with literary history and full of bookstores.
Friday
Inner Richmond: Green Apple Books (506 Clement Street)
Green Apple Books at 6th and Clement opened in 1967 and has since grown organically, now occupying two buildings, with separate entrances to two labyrinthine, dusty, and seemingly patched-together spaces that are crammed, bursting, and burdened with books. Our buyers are judicious and books turn so quickly here that the space doesn't feel claustrophobic—tight though some aisles may be, they're generally free of piles of books—but the overwhelming impression the store gives off is of discovery waiting to happen. The first time I stepped into Green Apple, I felt that I just pried the lid off a treasure chest and, as one might be expected to in such a situation, I felt completely inadequate to the task.
Green Apple presents a challenge that, thankfully, many readers are up to. While its organizational methods are for the most part consistent with what you'd expect, there are the odd corners, the weird displays, the dead-ends that you're not sure how you found your way into. There's a faucet sticking out of a shelf in the Granny Smith Room. There are layers, almost geological in their make-up, of post-its, old headlines, weird bookstore arcana, and more taped to the walls. I once counted more than two dozen types of flooring material in the store, including a concrete patch on the second floor. How the contractors managed to pour that without a single bookseller carving a quote from "The Waste Land" in it is beyond me.
Set some time aside for this visit. You'll want to be leisurely here, wandering through the rooms of the main store before heading to the Annex to browse the biggest used fiction section in San Francisco, if not the entire Bay Area. While you're browsing, reserve a table down the street at Burma Superstar or, take a bookseller's advice and try Mandalay, an equally fine Burmese restaurant that might not receive the accolades of its more famous neighbor, but that is (in the opinion of many contrarians) just as good.
Inner Sunset: Green Apple Books on the Park (1231 Ninth Avenue)
After dinner, walk south a mile and a half to the Inner Sunset to attend a reading at Green Apple's new outpost, Books on the Park. You'll pass through the music concourse in Golden Gate Park, bordered on either side by the California Academy of Sciences and the DeYoung Museum. As you exit the park and cross Lincoln Way at Ninth Avenue you'll find the store. On any given night, we'll be hosting a touring writer. This fall, we have visits planned from Joy Williams, Marlon James, Mary Gaitskill, and Christian Bök, among others. There is almost always beer. There will often be snacks. And many times after readings, a troop of us round the corner to continue conversation over drinks at the Little Shamrock, which some claim is the longest continuously operating bar in San Francisco. This former outpost on the western edge of the city is no longer much of an outpost, but is one of the most comfortable spots to enjoy a pint or two and talk into the night.
Saturday
Mission District: Alley Cat, Modern Times, Adobe, Press, Borderlands, and 826 Valencia
Grab a bite to eat at Arizmendi, a cooperatively owned bakery on Valencia Street in the Mission, then head east on 24th Street where, in a stretch of a few blocks, you'll hit Adobe, Modern Times—both relocated from a rapidly gentrifying Valencia Street—Press, and Alley Cat. This neighborhood, still predominantly Latino, hearkens back to the old Mission, with vibrant murals, Mexican bakeries, and a number of excellent taquerias, like El Farolito.
In the past fews years, the make-up of the neighborhood has, like many parts of San Francisco, changed rapidly. Although many find it easy (and just) to inveigh against gentrification, the history of a bookstore like Adobe (3130 24th Street), recently relocated from 16th and Valencia to 24th and Shotwell, shows a more complicated reality. An early signal of the changes in the Mission when it first opened nearly 30 years ago, Adobe was recently ousted from its original location on 16th Street by an unsustainable rent increase—the death knell of so many bookstores.
But the beloved store, which had over time transitioned from a forerunner to a relic in a neighborhood now home to high-end retail (no mayo shops just yet, but give it time), was saved by an outpouring of public support, a successful crowdsourcing campaign, and the hard work of its volunteers and owner, Andrew McKinley. In a piece published on The Bold Italic, McKinley wrote that the old Adobe, which he'd run for 25 years, was more than a bookstore: it was a space for artists, writers, and musicians to unwind, to collaborate and feel at home in a city that hasn't always been known for living conditions conducive to artists.
This ethos has carried over to the newly rebranded shop, Adobe Books & Arts Cooperative, which is run by volunteers and will, during any given visit, bustle with a crowd similar to those who frequented the old store. The vibrant events line-up includes Super-8 film screenings, art exhibits in the gallery space at the rear of the shop, and readings with local poets and writers. Plus, the store's Instagram is a must for fans of book porn.
* * * *
A few blocks further east on 24th Street sits the latest incarnation of Modern Times Bookstore Collective (2919 24th Street) a progressive bookstore that's been operating in San Francisco since 1971. Before the most recent move, Modern Times was, like Adobe, located in the heart of the Mission's retail district on Valencia Street. Having been forced toward the margins due to—surprise!—a rent increase, the collective responded as they have since the start: with forward-thinking policies and a well-grounded philosophy of what a bookstore can and should be. Besides selling books, including possibly the city's best Spanish-language section, Modern Times hosts an event series, book clubs and discussion groups—I remember sitting in on a largely ex tempore talk by Slavoj Zizek a few years back—and the requisite open mic night.
* * * *
Press (3108 24th Street) bills itself as a "specialty books and things shop," where you're as likely to find a handsome first edition of a Modern Library classic or small press poetry collection as you are a Japanese designer pencil set. The store isn't built around events, but with its clean lines and airiness, Press is a refreshing counterweight to many of the Bay Area's overstuffed bookstores.
* * * *
Fittingly, the tour of 24th Street's so-called Bookstore Alley ends with Alley Cat (3036 24th Street), a predominantly used bookstore that, like Adobe, holds a gallery space and hosts dozens of events a month, including craft workshops with instructors from the San Francisco Writers Workshop, and book clubs. Opened in 2011, Alley Cat was formerly one of four stores owned by Kate Rosenberger. Rosenberger still owns Dog-Eared Books, one of just two bookstores still surviving on Valencia Street. (The other, Borderlands, is a science fiction bookstore that will survive through 2015 due to an innovative sponsorship program.) The stock between the two stores is similar, but I find Alley Cat, with its charming and open architecture, its gallery feeling (without sacrificing space for a lot of good books) a better store to browse.
* * * *
If you can stomach the wait, eat at the nearly 100-year-old St. Francis Fountain (2801 24th Street), which has no discernible literary history, but does have milkshakes.
Circle back up toward Valencia Street after lunch, stopping at Borderlands (866 Valencia Street), San Francisco's only dedicated science fiction shop and another interesting case of crowdfunding. After announcing the closure of the store early this year, ostensibly due to San Francisco's increase in minimum wage, the store later hit upon the idea of staying afloat by means of public sponsorship. This idea was so successful that the store had enough sponsors to stay open through 2015 and possibly beyond. (As I was writing this, a piece on the scheme was published in Guernica that covers more details than are necessary here.)
You'll want a drink to wind down after a day book browsing, but before you head to any of a number of great Mission bars, pop into 826 Valencia, a non-profit writing and tutoring center fronted by the nation's only Pirate Supply Store. Here you'll find all the necessary accoutrements for your next swashbuckling adventure, as well as dozens of chapbooks and anthologies of writing by young people.
Sunday
North Beach: City Lights (271 Columbus Avenue)
You've filled your extra suitcase with books. Your liver is an alcohol-soaked sponge after a night out in the Mission. But you've still got time to hit one last bookstore before moving on: City Lights, of course.
North Beach bustles at night, but I prefer to visit on sleepy Sunday mornings so as not to be distracted in my singular pursuit of books. Start with brunch at 15 Romolo (its name is its address), an airy bar with the feeling of an old saloon. Be warned: the waffle shots are stronger than they look.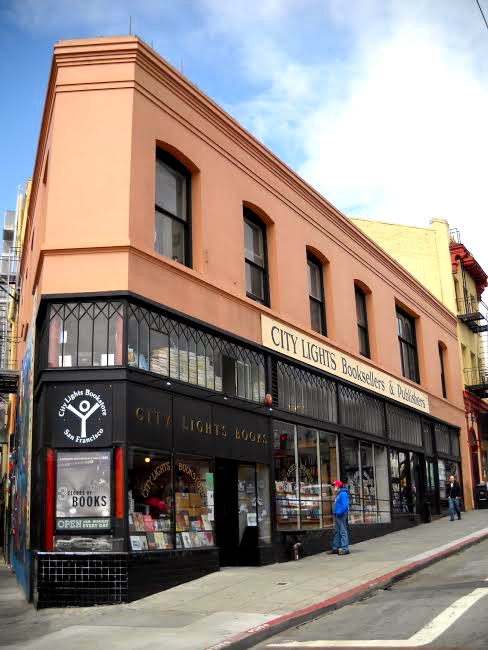 After brunch, saunter over to City Lights and take in the unique history of this 60-year-old space. The store is always full: European tourists jostle with literary ghosts and local writers. The poetry room, with its wooden rocking chair and view of adjoining rooftops, is justifiably famous, but I find myself drawn to the slightly unsettling claustrophobia of the low-ceilinged basement. There's something secretive feeling about the space that is supremely welcoming, though the rest of the store, with its commitment to a deep backlist and willingness to forgo the current vogue, is a marvel. In many ways, City Lights stands outside of time while also contributing, through its publishing arm and its unequivocal political stance, to the life of the city (and beyond).
Afterward, make the requisite walk across Jack Kerouac Alley to Vesuvio for an early drink. Sit upstairs next to a window and watch North Beach traffic pass you by while you browse your new book. It's the perfect way to wind down from your trek across one of the great literary cities in the world.
---