Lit Hub Recommends
Campus novels, indie westerns, the real Lolita, and more of the team's favorites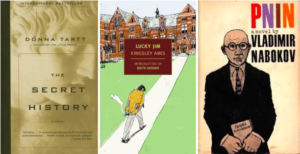 This week, I'd like to recommend campus novels. There is some disagreement in the Literary Hub office over whether campus novels are any good, and I am here to say: Dan is wrong, and they are good. They are particularly good for adults who, when September appears, become intolerably wistful about their school days—not because of the partying or the friends or the relative freedom, but because of all the studying. Studying was great, wasn't it? Writing papers and taking quizzes. Learning stuff. Listen, I know I'm a mutant. But I get to recommend whatever I want, and I am recommending that you read a campus novel or two this month. Start with Donna Tartt's The Secret History (the ur-campus novel, which even Dan likes) and Vladimir Nabokov's Pnin, if you haven't read them yet. I fully support A. S. Byatt's Possession if you too are a real English nerd. And if you can ignore the fact that its author was a terrible person, Kingsley Amis's Lucky Jim is also delightful. Or try any of these. I promise that soon you will find yourself thinking fondly of those tests and papers and ritual sacrifices to Bacchus that filled your college years. Or did you not have those?
–Emily Temple, Senior Editor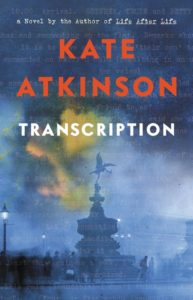 I have loved Kate Atkinson since I read Behind The Scenes at the Museum in high school. And unlike most of the things I loved in high school (flared chinos, Dispatch, trying to get gay men to fall in love with me), my affinity for her novels has only grown stronger. I only started Transcription yesterday, but I can give the first 50 pages a full-throated endorsement. If you love suspense, wry and generous writing, and (my personal favorite) heat-seeking parentheticals (seriously, she's so good at parentheticals), read this book. Or any Kate Atkinson book! Also she published her first novel when she was 44. That last part is not a recommendation, just something I whisper to myself over and over when I'm lying awake at night. It's very soothing.
–Jessie Gaynor, Social Media Editor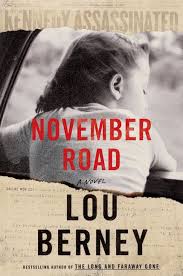 This week I've been reading and enjoying Lou Berney's November Road, because conspiracy fiction, road trip novels, New Orleans crime fiction, and alternative histories of the JFK assassination are the four circles that make up the Venn diagram that is my reading life, and Berney threw a dart and just hit me dead center.
–Dwyer Murphy, CrimeReads Editor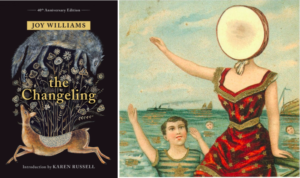 This week I'm bringing recommendations you probably don't need (since both these things have been highly recommended for a couple decades), but I'm always very late to the party. I recently read my first Joy Williams novel, The Changeling, and while my previous exposure to her writing (a brilliant short story from the anthology My Mother She Killed Me, My Father He Ate Me) clued me in to how strange her work can be, I wasn't anywhere near prepared for The Changeling. The novel is one of the most grotesque fever dreams I've ever read, and even if I wasn't always certain I got what was going on or that I wasn't missing huge chunks of subtext, it's still enchanting and portrays families and motherhood in a fascinating way. The other thing I've been sleeping on was dredged up by a friend with excellent taste, who half-jokingly berated me for never having sat down to listen to Neutral Milk Hotel's In The Aeroplane Over The Sea properly. Not long after that happened (and I half-jokingly called him a jerk while immediately queueing up the album), the days grew dark and rainy and I spent a lot of time walking around, looping the album like an indie movie caricature. I'm still listening to little else, so perhaps that's a case for half-jokingly berating your friends to listen to things they might actually love, especially if your friends are 20 years behind on said things.
–Miriam Kumaradoss, Editorial Fellow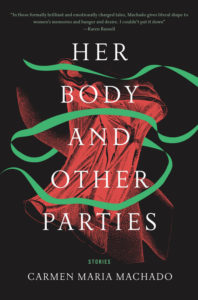 Every couple of days, my lovely upstairs neighbor knocks on my door and asks me for a book recommendation. Last week, I gave her Her Body and Other Parties, the collection by Carmen Maria Machado, so we've been talking a lot about these ghostly, feminist stories. (My other recommendation is: talk to your neighbors.) My favorite story in the collection is "The Husband Stitch," a retelling of the children's story that definitely scared the bejeezus out of you when you were little, "The Green Ribbon." The original story is about a girl who always wears a mysterious green ribbon around her neck. The retelling is about the sacrifices women make. It's all sad and surreal and a little bit scary. (Hey, Halloween is just seven short weeks away.)
–Katie Yee, Book Marks Assistant Editor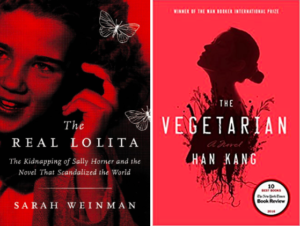 This week, I've been slowly recovering after spending the weekend at Bouchercon, the nation's largest mystery convention, only to rush back on Sunday for Rosh Hashanah. Happy New Year, folks! I finished up Sarah Weinman's brilliant true crime narrative, The Real Lolita, on the plane ride back and it was just as good as I'd hoped, grappling with the legacy of Lolita while keeping the narrative focus firmly on Sally Horner, the real-life inspiration behind Nabokov's most famous work. I also read Han Kang's The Vegetarian for the first time, even though I've had it recommended to me for years, and was shocked, horrified, and extremely discomforted by this amazing work of feminist body horror.
–Molly Odintz, CrimeReads Associate Editor
This week, I'm recommending two lesser-known gems from the year of our lord 2015. The first is Thrown, essayist Kerry Howley's brilliant work of literary nonfiction in which the author (or, more accurately, an invented version of the author) insinuates herself into the lives of two real-life cage fighters—one a young prodigy, the other an aging journeyman. It's funny and tragic and brutal and philosophical and the writing is absolutely mesmerizing from start to finish. The second is Slow West—a low-key British/New Zealand Western starring Kodi Smit-McPhee as a Scottish teenager who travels to America in search of his exiled love, and Michael Fassbender as the jaded bounty hunter he employs for protection on the journey. It's an odd, wry, slow-burning and beautifully shot little film that nobody saw, but it's quiet wonderful.
–Dan Sheehan, Book Marks Editor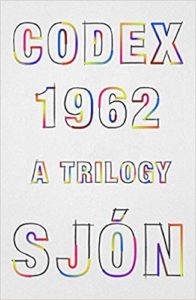 Anyone who feels like nothing can out-weird our current reality hasn't opened a book by the writer Sjon. His compact, surreal epics read like lost tales of the Prose Edda, the river from which most Norse mythology flows. They conjure foxes that argue about electricity and poet-healers who perform exorcisms. They are moonlit, gorgeous, full of ghosts, built like songs. (Sjon is also a lyricist who has worked with Bjork) Until now, we've had just a few books available in English by Sjon, most notably the eternal and god-flecked Blue Fox and the recent Moonstone. Codex 1962, his latest, is actually epic in size and a wonder. Every time you think you've absorbed the scale of its scale, it expands. A tale of fugitives and war, greed and biology, it accordions through genres like David Mitchell's Cloud Atlas as it builds to a terrifying crescendo that says so much about the power of mutability in storytelling, life, and music. We possess both sides of this quality to change inside us—the greed of eternal expansion, the instinct to adapt and perform—and this book sings of their collision like no other.
–John Freeman, Executive Editor
---