Like Jazz, Bowling, and Old Hollywood Hairdos?
Thank Insects.
Edward D. Melillo on the Miraculous Properties of Shellac
The sensation of being "in the groove" is the holy grail of jazz. As the renowned drummer Charli Persip described it, "When you get in that groove, you ride right down that groove with no strain and no pain—you can't lay back or go forward. That's why they call it a groove. It's where the beat is, and we're always trying to find that."
This expression from the Roaring Twenties is an allusion to an insect secretion. The close fit between a phonograph needle and the grooves in early shellac 78 rpm records determined the quality of the playback. Shellac—a resinous, amber-colored secretion of the tiny scale insect Kerria lacca—served as the key ingredient in the first generation of phonographic disks. Odd as it may seem, a gummy substance manufactured by bugs and their human hosts in South Asia was the pioneering medium for the transmission of recorded sound.
The curious story of how a sticky discharge from billions of insect bodies became a vehicle for the globalization of audio culture spans millennia and crosses oceans. Shellac first gained attention through its combustible role in the ancient Indian Sanskrit epic e Mahabharata (c. 300–400 c.e.). In this fast-paced saga, filled with internecine feuds and palace intrigue, Duryodhana, the leader of one of two feuding royal factions, attempts to murder his cousins. He traps the Pandavas in a flammable house built of shellac, but they foil his plot and escape to safety through a secret passageway.
The name for Duryodhana's combustible shellac—or simply "lac"—comes from the Sanskrit word laksha,which means "one hundred thousand," a reference to the enormous number of lac bugs that swarm on the branches of certain trees. As with silk and cochineal, host plants are the organic intermediaries that facilitate these human-insect relationships.
For thousands of years, peasants in India and other parts of Southeast Asia have raised lac insects on three species of fig and acacia trees: kusum (Schleichera oleosa), palas (Butea monosperma), and ber (Ziziphus mauritiana). The branches of these trees nurture two strains of lac insects, known colloquially as kusmi for lac raised on kusum trees and rangeeni for lac raised on palas and ber trees.
Shellac entered the living rooms and lexicons of many more consumers after 1896, when Emile Berliner discovered its utility to the recording industry. Like Zinsser, Berliner was a German-born inventor who had come to the United States at mid-century. Berliner found that warm shellac could be molded and machine-pressed into hard disks for radio and home-audio playback.
Shellac is a natural thermo-plastic, pliable when heated and solid at room temperature. In addition, it mixes well with fillers and dyes. As a result of its favorable physical properties and its relative abundance, shellac offered a promising substitute for the materials used by the nascent recording industry. In the 1870s, Thomas Edison had developed the first phonographic system, which relied on thick brown cylinders of mineral wax.
Jazz musicians of the 1920s and 1930s pruned their sprawling dance hall tunes to fit on the short sides of a shellac record.
"Edison Gold Molded Records," as they were known, delivered sounds to a flaring horn by vibrating a stylus along the finely etched grooves that ran around the outer surface of the canister. These wax drums were bulky, expensive, and difficult to store. Despite a flurry of advertisements that touted "the sweet tone for which the Edison [phonograph] is famous," inventors searched for an alternative material for transmitting musical performances into the parlors of the public.
Berliner patented the gramophone in 1887, convinced that his comparatively light shellac-based platters would replace Edison's cumbersome wax cylinders. Phonograph manufacturers agreed and soon began pressing thousands of recordings into ten- and twelve-inch disks. Rotational speeds varied among manufacturers, but most turntables spun at a brisk 75 to 80 revolutions per minute (rpm). Eventually, 78 rpm became the industry standard.
By 1900, shellac records had eclipsed wax cylinders (and the short-lived vulcanized rubber disk) as the medium of choice for commercial music reproduction. Shellac was the binding agent in a composite that also included powdered limestone, lubricants, and abrasives, to keep the phonograph needle from slipping. The early 78 rpm records featured coarse grooves that generated a crackling surface noise like the sizzle and pop of frying bacon. Record production drove increasing demand for shellac. In 1920 alone, the United States imported more than $23 million worth of shellac (11,568 tons) from Southeast Asia.
Such enormous quantities of shellac originated from vast stands of fig and acacia trees and their insect colonies, which had been carefully tended by villagers across northern India, Thailand, Burma, and the Malay Peninsula. Prior to the 1930s, rural cultivators relied on traditional methods for transforming harvested lac into high-grade shellac. After workers ground, sifted, and washed the stick lac by hand, the resulting piles of amber-colored chips were ready for melting.
In 1924, the American actress and travel writer Elizabeth Brownell Crandall vividly described the ensuing process: "The mixture is then put into long, narrow cloth bags, ten to twelve feet long and two inches wide. These wormlike bags are held over open charcoal fires by two operators who begin to twist the bags in opposite directions, while the melted Lac slowly oozes out and drops upon the floor."
Crandall continued: "As the melted Lac drops to the floor, it is spread out by means of a pineapple leaf. Before it has time to congeal it is picked up by still another native, who stretches it into thin sheets, placing a foot on either end of the piece and then pulling it upward by means of his teeth and hands." The process Crandall described was typical of shellac production in the 1920s.
Although aspects of this grueling procedure became mechanized as the 20th century wore on, many shellac exporters continue to maintain that handmade shellac is of a much higher quality than its machine-made counterpart. To this day, workers at thousands of local shellac operations in India still melt lac over charcoal-burning clay ovens known as bhattas, and they continue to hand-stretch the molten drippings that seep from the long, rotating cotton bags.
From these bhatta furnaces flowed the raw material that record companies pressed into the first generation of shellac records. The pioneering artists of the 78 rpm era were a diverse group. Their musical range spanned the big, brassy sounds of the young Louis Armstrong and King Oliver's Creole Jazz Band in the 1920s to the stirring renditions of Jean Sibelius's symphonies that the Finnish symphonist Robert Kajanus conducted during the 1930s. Such sonic milestones marked the onset of a new era, one that gave an afterlife to the formerly unrepeatable performance.
In the words of Bruno Walter, one of the 20th century's greatest conductors, "Recording is the only form of immortality attainable by a performing musician." With this transformation in the reproduction of sound, music experienced a revolution.
Although the shellac 78 extended countless new soundscapes to artists and listeners, it also limited musicianship in unforeseen ways. Igor Stravinsky's 1925 Serenade in A for Pianoexemplifies this paradox. The Russian-born composer tailored each of the four movements of his Sérénade to conform to the three-minute time constraints of a ten-inch 78 rpm shellac record. Stravinsky recalled, "In America I had arranged with a gramophone rm to make records of some of my music. This suggested the idea that I should compose something whose length should be determined by the capacity of the record. I should in that way avoid all the trouble of cutting and adapting. And that is how my Sérénade en la pour Piano came to be written."
As serial record buyers were often surprised to learn, their audial habits depended on the bodies of bugs.
Likewise, jazz musicians of the 1920s and 1930s pruned their sprawling dance hall tunes to fit on the short sides of a shellac record. Legendary New Orleans drummer Warren "Baby" Dodds was hardly alone in resenting these restrictions on his creative freedom.
Recounting the character of the recordings he made with his brother Johnny's band, Dodds remarked, "We could never play as many choruses as we used in dances, and if there were solos they had to FIt into the exact time, too." Ironically, Dodds was more "in the groove" when performing live than when his beats were being etched into the deep furrows of a shellac record.
Shellac 78s faced other challenges. Because these records had such brittle surfaces, they exhibited an unusual degree of embedded obsolescence. The tracking device on a typical Victor phonograph put 50 thousand pounds per square inch of downward pressure on the steel needle, raking the grooves of the shellac disk like a farmer's plow carving through clods of tender soil.
Cosimo Matassa, founder of the prolific J&M Recording Studio in New Orleans, recalled that in the 1940s, "A hit record would get worn out each week on the jukebox, because shellac supplies were scarce and record formulations were poor. . . . [A record] got played 100/110 times and it was worn out. So a hit record kept on selling and selling." For music companies, this was quite a windfall. Consumers could hardly avoid coming back for more. It also kept many insect communities and their human hosts in business.
As serial record buyers were often surprised to learn, their audial habits depended on the bodies of bugs. Referring to shellac's insect producers as "Mr. and Mrs. Lacca," the author of a 1937 article in Popular Mechanics explained that these creatures "still retain the world monopoly on the shellac business. When man needs real shellac today, he still must rely on a bug—and like it." However, such six-legged industries were not immune to geopolitical upheaval.
During the Second World War, shellac supplies underwent a drastic contraction. German U-boat attacks on Allied merchant ships and Japan's invasions of the Malay Peninsula, Thailand, Indochina, and Burma disrupted global supplies of the valuable product. The United States War Production Board began rationing shellac in April 1942. The substance was a key waterproofing material for the insulated wires and wooden components of midcentury boats and airplanes.
Shortages propelled a transatlantic wartime recycling movement that prefigured the first Earth Day by nearly three decades. In a 1943 campaign dubbed "New Records Depend on You!" a consortium of recording companies urged owners of unwanted 78s to return their shellac disks for reprocessing. In Britain's Gramophone Magazine, representatives of Decca Records, Columbia, and Parlophone announced, "Owing to war conditions the Government has found it necessary to conserve supplies of shellac and other materials essential for manufacturing records by the most stringent restrictions as to the use of these materials."
The statement continued with an exhortation: "The further maintenance of adequate record supplies will depend upon the goodwill and readiness of the public to return old and unwanted records, because only by this means will manufacture continue." By May 1946, U.S. shellac prices had hit $45 per ton, more than tripling their prewar average of $14.
After the war, the rise of vinyl heralded the dawn of a new era in recording technology and the conclusion of shellac's half-century reign over the record industry. In 1948, Columbia Records introduced the "Vinylite" 45 rpm, seven-inch extended play ("EP"). Shortly thereafter, RCA Victor followed suit with the 33 rpm, 12-inch long-playing ("LP") vinyl. New records, created by synthesizing a copolymer of vinyl chloride and vinyl acetate, were harder and smoother than those made of shellac, allowing manufacturers to press more grooves into the disk.
Shellac 78s contained around 85 grooves per inch, while the newer EPs and LPs averaged between 224 and 260 grooves per inch. This innovation transformed the listening experience by extending playing time, reducing background noise, and enhancing record durability. The "hi-fidelity" era had begun.
Even so, the shift from shellac to vinyl was not an overnight phenomenon. As late as 1953, The New York Times reported that U.S. sales of shellac 78s had totaled $89.7 million the previous year, exceeding the combined sales of EPs and LPs by more than $6 million. This was, however, the last year the shellac 78 outperformed its vinyl competitors in the United States. Commercial production of shellac 78 rpm records in the United States ended in 1958.
In retrospect, the 70-year-long heyday of the shellac disk was an era of unprecedented longevity for a musical technology.
In retrospect, the 70-year-long heyday of the shellac disk was an era of unprecedented longevity for a musical technology. From the advent of shellac records in the 1890s to their ultimate demise in 1962—the year when EMI Music withdrew its last remaining 78s from its catalogs—these brittle grooved platters filled the shelves of music listeners worldwide. The sonic technologies that have followed—vinyl records, reel-to-reel audio, eight-track recordings, cassette tapes, compact discs, DATs, and MP3s—have all had much shorter commercial lives.
The demise of the 78 rpm record did not curtail shellac's global reach. It experienced a full-blown revival after the Second World War. In fact, shellac's presence in the vernacular of U.S. politics never waned. One of these expressions was on vivid display during the 2010 midterm elections, when the Democratic Party suffered demoralizing losses in congressional and governors' races throughout the United States.
Speaking to the press corps in the aftermath of the defeat, President Barack Obama accepted full responsibility for his party's electoral woes: "I'm not recommending for every future President that they take a shellacking . . . like I did last night." Obama employed a colloquialism that dates to at least the 1920s. In all likelihood, shellac's widespread association with the stupor-inducing alcohols that finished a project (or vanquished the craftsman's clearheadedness in the process) prompted North American sportswriters to use the term when describing boxing knockouts and baseball blowouts.
The earliest instance of this buzzword for defeat is a June 25th, 1923, headline from Connecticut's Hartford Courant that reads, "Luque's Streak Ends When Cubs Shellac Reds, 2 to 0." The English language is capable of remarkable contortions. Almost simultaneously in the 1920s, the insect-inspired expressions of "being in the groove" and "getting shellacked" emerged at opposite extremes of the pleasure-pain spectrum.
"Jukebox" was another evocative, shellac-related term coined during the decade of the Harlem Renaissance, flappers, and the speakeasy. The word "juke"—insinuating disorderly or wicked things—comes from Gullah, a creole of English and West African dialects long spoken by descendants of African slaves in coastal South Carolina, Georgia, and northeastern Florida. While in the 19th century, "juke house" or "juke joint" initially referred to a roadhouse or brothel, the term "jukebox" eventually came to mean a public gramophone.
The first of these so-called "nickel-in-the-slot" machines (not yet called jukeboxes) debuted on November 23rd, 1889, at the Palais Royale Saloon in San Francisco. Manufactured by the Pacific Phonograph Company, it consisted of an oak cabinet that housed an Edison Class M electric phonograph. After depositing a nickel, a listener could hear music played from the single wax cylinder inside the device. Since the mechanism lacked amplification, stethoscope-like rubber tubes functioned as crude headphones. The device looked like a fanciful creature from a Jules Verne adventure.
Shellac is, quite literally, everywhere, from our hair and teeth to our fingernails and stomachs (even after death).
By the late 1920s, a new version of this coin-operated gramophone record player, now filled with towering stacks of shellac 78s, was enlivening roadside diners and animating dance halls across the United States. The jukebox also found a receptive home in that quintessentially American cultural institution, the bowling alley. In fact, during the first half of the 20th century, the nation's ten-pin alleys literally oozed shellac.
In addition to the shellac records spinning on turntables, the bug secretion coated the wooden lanes, which needed frequent applications of clear varnish to keep the balls rolling smoothly. As one longtime arcade worker from Wisconsin recalled, "After shellacking the alleys at night we had to be careful to turn out the lights so the heat generated by the lights wouldn't start a fire." It is unlikely that Duryodhana's flammable lac house came to mind when bowling alley owners envisioned such catastrophic scenarios.
In the 1940s, polished nails came into vogue. The American actress Rita Hayworth's glamorous fashion sensibilities deserve the lion's share of the credit for this development. Her trademark carmine lips and matching red nails, which appeared in full Technicolor glory in films such as Blood and Sand (1941), worked wonders for the cosmetics industry.
Fast-drying shellac was the main ingredient in the crimson-hued manicure glosses of the day. It was also the primary component of the first commercially available aerosol hair sprays. Although they were likely oblivious of it at the time, Americans were coating their hair and nails in an insect secretion, grooving to its resonant tones, and bowling strikes and spares on its smooth veneers.
Shellac's heyday was cut short by the arrival of a new generation of man-made substitutes during the postwar years. From the 1950s onward, vinyl records, urethane wood varnish, acrylic nails, and an array of other synthesized polymers dethroned the insect secretion from its position as the world's leading proto-plastic.
However, just as shellac seemed to have reached its coda, this ancient insect secretion once again came to occupy a central place in the daily lives of consumers around the globe. During the late 20th century, discoveries showing that many of the synthetic substitutes for this insect secretion were toxic to the human body and harmful to the environment opened a door for the reemergence of shellac in a vast array of venues.
A stroll through the aisles of any North American pharmacy, hobby shop, supermarket, or convenience store makes this abundantly clear. In pharmaceutical products, shellac serves as an enteric coating to slow the digestion of medicines in the acidic environment of the human stomach.
Shellac is sold as a popular varnish for furniture and decks, it keeps the skins of citrus fruits and apples waterproof and shiny, it adds a glossy patina to candies, and it augments the drying properties of many types of nail polish, hair sprays, eyeliners, and mascaras. It appears on the ingredients lists of dentures and tooth fillings, and it is increasingly often used as a nontoxic preservative for cadavers.
Shellac is, quite literally, everywhere, from our hair and teeth to our fingernails and stomachs (even after death). Whether we are aware of it or not, we are all "in the groove," moving to the rhythms of the lac bug's life cycle.
__________________________________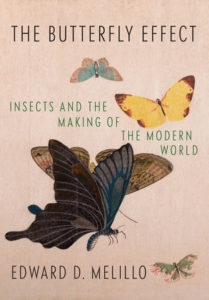 Excerpted from The Butterfly Effect: Insects and the Making of the Modern World by Edward D. Melillo. Copyright © 2020 by Edward D. Melillo. Excerpted by permission of Alfred A. Knopf, a division of Penguin Random House LLC. All rights reserved. No part of this excerpt may be reproduced or reprinted without permission in writing from the publisher.
---