Life in the Aftermath: Books That Explore What Happens After Things Go Wrong
Tara Conklin Recommends Novels That Hinge on the Great Before/After
I've always been fascinated by the idea of a dramatic before/after. What is the single event that separates one period of time from the next? What causes a person, a community, an era to shift from one state to another? Each of my two previous novels played with this division. In The House Girl, an act of violence marks the before/after for my protagonist, Josephine Bell. In The Last Romantics, it's a death in the family that sends my characters hurtling into the after. 
During the pandemic, I thought a lot about how COVID would be, for many of us, a before/after marker. Those months and years living in a heightened state of isolation, fear and confusion and then our re-emergence back into a changed world. For the first months of the pandemic, I couldn't write a word. I watched a lot of zombie TV and post-catastrophe movies, thinking: well, it could always be worse.
But after awhile, I found that even fictional calamity hit too close to home to provide much entertainment. I also found that I wanted to write again in a way that felt entirely escapist. I wanted laughter and happy endings. I wanted optimism, community, joy and characters who, eventually, do the right thing.  
The book that resulted from that urge opens with one of those fundamental before/after moments that divide a life. My somewhat hapless heroine, Darcy Clipper, sits in her kitchen and listens as Skip, her husband of seven years, explains that he's leaving her for a skydiver he met on a corporate team-building event. Darcy's assumed happily-ever-after is rocked and she returns to her childhood home where she plunges into a period of unplanned isolation, fear and anxiety. 
My book Community Board takes place entirely in 2019 and the term COVID isn't mentioned once, but it examines the psychological, emotional and physical toll the pandemic took on us all.
The book also examines how we find our way back. Darcy, like most of us now in 2023, wrestles with how to live within a community once again. How to make friends, trust, engage with the world in a way that feels authentic and doesn't send her screaming back into her house.  I insisted on a happy ending with this book, and so Darcy finds one. It wouldn't be a leap to say that I was channeling my own optimistic desire that we all find a new happiness, whatever that might look like, in this post-pandemic time.
The list of books below all tackle the dramatic before/after a fundamental life-defining event.  
*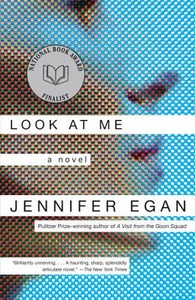 Jennifer Egan, Look at Me
For those familiar with Egan's Pulitzer-winning A Visit from the Goon Squad, the multi-layered brilliance of this novel will come as no surprise. The story centers on Charlotte Swenson, a once-successful fashion model whose face is shattered in a car accident. She becomes unrecognizable to those who knew her before and must re-invent herself entirely.
Subplots involving a private investigator, a teenage girl and a would-be terrorist all converge in a stunning conclusion. Egan writes like no other.  Throughout this book, she has so many balls in the air that the final resolution—satisfying, unpredictable, totally earned—feels nearly miraculous.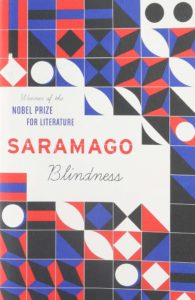 Jose Saramago, Blindness
What would happen if everyone in the world went blind over the course of a single day? This is the before/after scenario that Saramago imagines in this thrilling, terrifying and utterly plausible novel. The book unspools like a fever dream—societal and personal breakdowns occur by degrees and then all at once. Structurally, Saramago sets himself a difficult task: there are no quotation marks, very few paragraph breaks and all the characters and city remain unnamed throughout.
As a reader, this creates the same sense of disorientation experienced by the characters and lends an inexorable momentum to the fear and violence that propel the plot. The story feels nearly pre-ordained, yet still utterly suspenseful. And despite their lack of names, his characters—particularly the doctor's wife, the sole person to retain her sight—emerge fully formed in all their idiosyncratic weaknesses and strengths.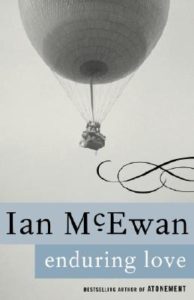 Ian McEwan, Enduring Love
The opening scene ranks among the very best I've ever read: a hot air balloon rises into the sky, a child alone in the basket and a man dangling helplessly from a rope. Five men rush across an open field to help. One man dies and from that point of tragedy onwards, the characters' lives are intertwined in an entirely unpredictable story of obsession and paranoia.
It's the character of Jed Parry, infatuated and irrational, who provides the engine for the mental and emotional turmoil that unfurls after that first hypnotic scene. McEwan writes like a surgeon—each sentence is precise and cutting and full of suspense.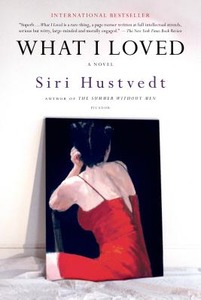 Siri Hustvedt, What I Loved
Hustvedt uses before and after structurally as well as substantively in this heartbreaker of a book.   The novel's two halves are separated by one unimaginable tragedy. A story of how friends become family advances intimately in the first half, giving the reader full access to the characters' interior emotional lives and connections. You know these people deeply and honestly in the way that only great fiction can evoke.  When the tragedy occurs, it's like a punch in the face—stunning and painful. Watching how these characters fracture and evolve after that event is as gripping as any thriller.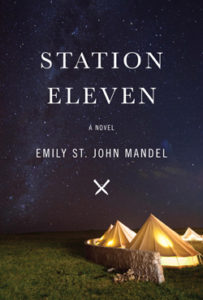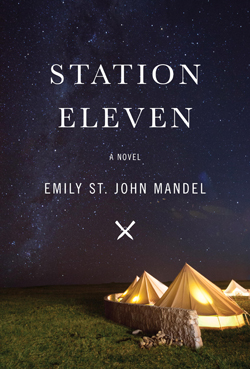 Emily St John Mandel, Station Eleven
The apocalyptic event—be it war, illness or alien invasion—is a well-worn genre element. But this book offers an entirely unique and literary take on the disaster trope. The story follows a group of Shakespearean actors as they travel across a ravaged earth and explores how art meets an essential need, even during (or especially during) times of privation and crisis. 
My favorite aspect of this book is the back and forth between the before and the after. Mandel follows several groups of characters, first introducing them as they exist before the pandemic, then how they survive during the spread of the disease, and finally as they're living some 20-odd years later in a changed world. The narrative time jumps allow the reader to see how the life-changing event of the pandemic forced these characters to become better, or worse, versions of themselves.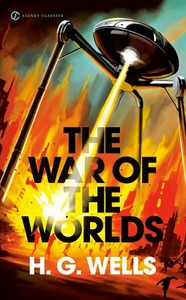 HG Wells, War of the Worlds
I've read this book at least a dozen times. The smell of its dog-eared pages always takes me straight back to childhood.  Yet despite its familiarity, the narrative still manages to elevate my heartbeat and make my palms sweat. This classic story of an alien invasion, its evocation of the hideous Martians and their deadly plan for humanity, reads like a first-person account of real events.  You can see why Orson Wells' reading of the text on national radio prompted mass hysteria in 1938. Written before both World Wars, the book can also be read as an unsettling harbinger of the violence and inhumanity that the first half of the 20th century would bring.  But my favorite part of the novel?  There's a happy ending. 
__________________________________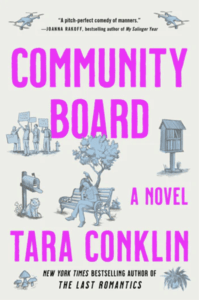 Tara Conklin is the author of Community Board, available now from Mariner.
---