Let's Rethink How We Talk About Love, Intimacy, and the Absence of Desire
Angela Chen on Asexual Romantic Love
"I think I am in friend-love with you," says the narrator of a comic of the same name, written and illustrated by Yumi Sakugawa and published in Sadie Magazine in 2012.
"I don't want to date or even make out with you. Because that would be weird," the comic continues across a series of panels, but the narrator does want:
the other person to think they are awesome
to spend a lot of time hanging out
Facebook chats after midnight
to email weird blog links
to swap favorite books
to @reply to each other's tweets
to walk to their favorite food trucks
to find the best hole-in-the-wall cafes together
to have inside jokes
but all "in a platonic way, of course."
I want to be close to you and special to you, the way you are to me, but I do not want to be sexual with you, this comic says. I want to be emotionally intimate with you and I want to be in love with you, but not in that way. Just as saying woman doctor implies that a doctor by default is male, clarifying this feeling as friend-love implies that love—the real thing, the romantic thing—is for sex. In truth, Sakugawa's descriptions of platonic friend-love are similar to what many aces would call nonsexual romantic love.
Nonsexual romantic love sounds like an oxymoron. Almost all definitions of the feeling of romantic love—separate from the social role of married partners or romantic acts like saying "I love you"—fold in the sexual dimension. People might not be having sex, but wanting sex is the key to recognizing that feelings are romantic instead of platonic. Sexual desire is supposed to be the Rubicon that separates the two.
It's not. Aces prove this. By definition, aces don't experience sexual attraction and plenty are apathetic or averse to sex. Many still experience romantic attraction and use a romantic orientation (heteroromantic, pan-romantic, homoromantic, and so on) to signal the genders of the people they feel romantically toward and crush on.
Intuitively, it makes sense that people can experience romantic feelings without sexual ones, and few are confused when I define romantic orientation as separate from sexual orientation. The understanding breaks down once someone asks what it means to feel romantic love for someone if wanting to have sex with them isn't the relevant yardstick. How is that different from loving a platonic best friend? Without sex involved, what is the difference people feel inside when they draw a line between the two types of love? What is romantic love without sexuality?
Aces know that sex is not always the dividing line that determines whether a relationship is romantic.
Once again, this isn't a question only applicable to aces. Allosexuals (allos, for short) might feel infatuated with a new acquaintance or be more attached to their best friend than to any romantic partner, yet they can deny the possibility of romantic feeling because of the lack of sexual attraction. Allos can wave their hand and say, "There are people I want to sleep with, and I don't want to sleep with you, so it's only platonic."
As convenient as it is that allos can use sexual desire to distinguish the categories, this is also a constricting way to evaluate the world, and allos can seem as bewildered by their feelings as aces. For them, emotional intimacy and excitement can be confusing or nonsensical if they don't include sexual attraction. Many allos have shared with me their puzzlement at feeling like they were in love with friends despite no sexual attraction on either side. The writer Kim Brooks published a long essay in The Cut puzzling over how it could be that she has obsessive relationships with women despite being straight. Of her college roommate she writes, "the relationship was never sexual, but it was one of the most intimate of my young adulthood. We shared each other's clothes and beds and boyfriends."
Aces know that sex is not always the dividing line that determines whether a relationship is romantic. We take another look and say, "Maybe you're in love with your friend even if you're not sexually attracted to her." Questions about the definition of romantic love are the starting point for aces to think about love and romance in unexpected ways, from new, explicit categories beyond friendship and romance to the opportunities (legal, social, and more) of a world where romantic love is not the type of love valued above all others. Asexuality destabilizes the way people think about relationships, starting with the belief that passionate bonds must always have sex at the root.
*
For 16-year-old Pauline Parker, June 22, 1954, was "the day of the happy event." She wrote those words in neat script across the top of her diary entry, marking it as a much-wished-for occasion. "I felt very excited and 'the night before Christmas-ish' last night," she wrote underneath. "I am about to rise!"
The happy event would take place as Pauline hoped, though the long-term consequences would not be what she intended. Later that afternoon, Pauline and her friend Juliet Hulme, age fifteen, took Pauline's mother for a walk through Victoria Park in Christchurch, New Zealand.  As the three went down a secluded path, Juliet dropped a stone. When Pauline's mother bent down to pick it up, the two girls bludgeoned her to death with a brick inside a stocking, taking turns bludgeoning the woman to death and smashing her face almost beyond recognition.
The teenagers had met a couple of years before, when Juliet—beautiful, wealthy, and from a high-class British family—was then new to the country. Pauline was less comely and less moneyed; her father ran a fish store and her mother a boardinghouse. The two became inseparable, often lost in their own rich fantasy world. The bond was threatened when Juliet's parents decided to send her to live with relatives in South Africa. Pauline could come along if Pauline's mother would allow it, but everyone knew that this suggestion would never be approved. For the girls, the only way forward seemed to be the brick and escaping to a new life in America.
To use ace lingo, sexual attraction and romantic attraction don't need to line up.
From the murder to Heavenly Creatures, the Peter Jackson film it inspired, to the lasting fascination the case holds today, Pauline and Juliet have never been able to dispel the suspicion that they were having sex. Juliet has denied that the two were lesbians, but her denial means little in the eyes of a world that believes only specifically sexual love could inspire that type of mutual obsession. This belief—that platonic love is serene while intense, passionate, or obsessive feeling must be motivated by sex—is common. It does not track with reality.
If you don't believe aces who say that passionate feelings can exist without any sexual desire, believe University of Utah psychologist Lisa Diamond, who says the same thing. (Diamond refers to the feeling of "infatuation and emotional attachment" as "romantic love," so I will too here.) Diamond theorizes that the two can be separate because they serve different purposes. Sexual desire tricks us into spreading our genes, while romantic love exists to make us feel kindly toward someone and willing to cooperate for long enough to raise those exquisitely helpless creatures known as babies. Romantic love can be more expansive than sexual attraction because heterosexual sexual attraction, while usually necessary for producing kids, is not required for successful co-parenting. To use ace lingo, sexual attraction and romantic attraction don't need to line up.
Diamond first noticed this conflation of passion and sex when interviewing women about how they became aware of their sexual attraction to other women. "So many [women] would tell these stories about having a really strong emotional bond to female friends when they were younger, and they'd be like, 'So I guess this was an early sign,'" she tells me. Close female friendships do frequently use affectionate, quasi-romantic language that can confuse burgeoning sexual desires. Sometimes though, the story can be more complicated, and Diamond, an expert in sexual fluidity, began questioning whether passion must always equal secretly sexual.
If sexual desire were necessary for romantic love, kids who haven't gone through puberty wouldn't have crushes. Many do. Surveys show that children, including ones too young to understand partnered sex, frequently develop serious attachments. I had elementary school crushes and so did many of my allo friends. Adults have gone through puberty but their sexual desires don't always dictate their emotional ones either. In one study Diamond references, 61 percent of women and 35 percent of men said they had experienced infatuation and romantic love without any desire for sex.
Romantic friendships were not considered a threat to marriage and it was easier for people to believe that a nonsexual relationship could be as ardent as a sexual one.
It is already taken for granted that sexual desire doesn't need to include infatuation or caring. one-night stands and fuck-buddy arrangements are all explicitly sexual and explicitly non-romantic. The opposite conclusion—that for some, infatuation never included and never turns into sexual desire—is harder for people to accept, at least in the West. The story is different elsewhere. Historical reports from cultures in Guatemala, Samoa, and Melanesia describe how these close, nonsexual relationships were acknowledged. Sometimes honored with ceremonies such as ring exchanges, these relationships were considered a middle ground between friendship and romance and were often simply called "romantic friendship," Diamond tells me.
In these cultures, marriage was often more of an economic partnership than a love match. The marital and sexual bond was not automatically assumed to be the most important emotional relationship, unlike in current Western culture. Romantic friendships were not considered a threat to marriage and it was easier for people to believe that a nonsexual relationship could be as ardent as a sexual one. Romantic friendships were passionate on their own terms because passion is possible in many types of relationships.
__________________________________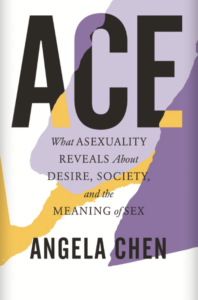 Excerpted from Ace: What Asexuality Reveals About Desire, Society, and the Meaning of Sex by Angela Chen (Beacon Press, 2020). Reprinted with permission from Beacon Press.
---