Let's Enjoy Books Where Characters Are Openly Queer
McKayla Coyle Curates a Queer Fantasy Reading List
From Arthur and Lancelot to Sam and Frodo, there's a long history of queer characters in fantasy. Maybe not openly queer characters, but certainly queer-coded friendships and furtive, lovelorn glances (and who among us could provide a heterosexual explanation for "I can't carry it for you, but I can carry you"). The characters in these books, however, are openly and unabashedly queer. Sometimes their queerness is the center of their story and sometimes it's a side note, but it's always an important part of who these characters are and how they view their world.
Fantasy is a particularly queer genre, as it bends and breaks the rules of our world and creates new visions of what the world could be. Rather than thinking of fantasy as a form of escapism, think of it as a lens through which we can view our world. Sometimes introducing gods and monsters allows us to get to the truth of a situation better than delivering an unadorned, direct version of the truth. Fantasy allows us to look at the world through our own very personal ways of seeing and understanding, and invite others to see the world the way we see it. The vulnerability associated with this act, and the willingness to reinterpret reality into something new, is inherently queer.
For a lot of history, queerness has been something that must be read into texts. Rather than allowing characters to love each other openly, their love must be carefully hidden and coded and secreted away so that only careful readers will suspect the author's true intentions. Sometimes it can be fun to read queerness into older texts. It allows us to interact with books in a very intentional, emotional way. It can breathe new life into texts that may have otherwise felt unapproachable. But it's also such a relief to read a book where the characters are openly gay, or bi, or trans, and the text acknowledges and respects this part of them. It's a relief to be recognized, especially in a genre that feels as deeply queer as fantasy does. It's a relief to feel seen.
The books on this list are populated by characters who span the spectrum of queerness. From trans monks to lesbian orcs to bisexual princesses, the sexualities of these characters inform, but don't overwhelm, their stories. These novels aren't generally coming out stories; even if a character is learning about their gender or sexuality over the course of the novel, that understanding isn't the focus of the novel. It's important, but it's not the only thing that happens in the book. These are fantasy novels with wonderful characters, nuanced relationships, and brilliant plots that are also extremely gay. Is this a list of absolute banger queer fantasy novels written in the last few years? Yes. Is this list also a call to action for more queer authors to write fantasy novels? Again, yes.
*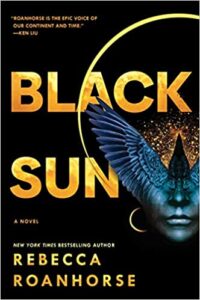 Rebecca Roanhorse, Black Sun
(Gallery/Saga Press)
I cannot believe more people aren't talking about this book. Everyone should be talking about this book! Based on Indigenous American civilizations, folklore, and culture, Black Sun follows four characters as they approach the holy city of Tova for the winter solstice, all of them with their own motivations. There's gender-noncomforming assassin priests, giant crows, beautiful rogue sailor women, steamy romance, political intrigue, heartbreak, terrible destinies, gambling dens, witches, and much more. This book has it all, and does everything so well. As a bonus, the sequel, Fevered Star, is already out.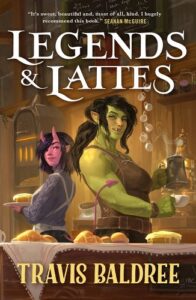 Travis Baldree, Legends and Lattes
(Tor Books)
If you like fantasy but you're tired of reading about wars and general intensity, this is the book for you. Viv is an orc who's tired of adventuring and is ready to settle down and open a coffee shop. As she works to get her business off the ground, she meets a delightful cast of characters who become her best friends (and one succubus woman who might be something more). It's as cute as it sounds, but there's also real heart to this wonderfully sweet book. Cozy fantasy at its best.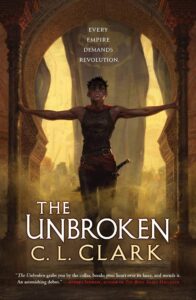 C.L. Clark, The Unbroken
(Orbit)
An epic fantasy about colonialism and revolution and two women on opposite sides of a great war. The Balladaire Empire rules over the native Qazāl people and steals their magic for the empire. When Touraine, a Qazāl native who was stolen as a child and conscripted into the Balladairian army, is brought on to the Balladarian princess' personal guard in order to quash a rebellion, she must choose between protecting a home she never knew, and loving a woman who may or may not love her back. A stunningly thoughtful and nuanced fantasy novel.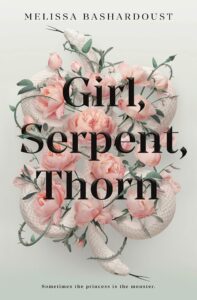 Melissa Bashardoust, Girl, Serpent, Thorn
(Flatiron Books)
A fairy tale fantasy novel based on Persian folklore about a princess who's poisonous to the touch, a mysterious and handsome young man, and a female demon who can turn into a moth. When the princess decides she can no longer bear her curse, she sets in motion a series of events that could destroy her family and their kingdom. This wonderful book never goes in the direction you expect, and its characters are full, complex, and morally ambiguous without being labeled "good" or "bad". The world and lore of this book are original and richly imagined, and the love story is vulnerable and beautiful.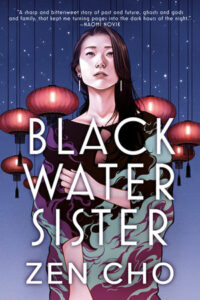 Zen Cho, Black Water Sister
(Ace Books)
Set in modern-day Malaysia, Black Water Sister follows Jessamyn, a struggling young woman who just moved from America to Malaysia with her parents. As if she wasn't having a hard enough time dealing with stress, joblessness, family, and her fear of coming out to her parents, she suddenly begins hearing her dead grandmother's voice in her head. Soon her grandmother's ghost is visiting her constantly in order to force Jess into getting revenge on the richest man in Malaysia for allegedly offending a god. This whip smart, character-driven modern fantasy is full of voice and charm, as well as ghosts, gods, and magic.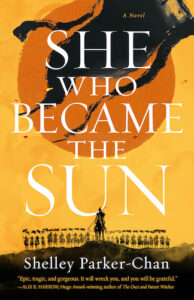 Shelley Parker-Chan, She Who Became the Sun
(Tor Books)
While this is technically more of a historical epic than an out-and-out fantasy novel, it's really cool and insanely gay and it deserves a spot on this list. Set in China in the 1300s, this novel follows the life of Zhu Chongba, a girl who must take on her brother's identity—and his great destiny—after he dies. As Zhu grows up to become a monk, and then a rebel, a warrior, and a leader, she is haunted by her brother's destiny until she decides to take it for herself. Featuring lots of gender, phenomenal writing, and, yes, lesbian fisting.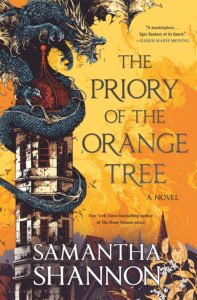 Samantha Shannon, Priory Of The Orange Tree
(Bloomsbury)
The BookTok girlies will come for me if I don't mention this book, since it's the go-to sapphic fantasy recommendation. Anyone who loves being swept away into complex, fully-populated worlds of dueling magic, hidden societies, monarchical intrigue, and dragons will love this book—all nearly-850 pages of it. Priory isn't for the faint of heart or the short of free time, but anyone who has the time and energy to take on this tome will be sure to fall in love with the world, and the sapphic lovers at the center of it.
---