How a North Korean Kidnapping Inspired My Novel
Ravi Mangla on the Intersections Between Godzilla, Propaganda and South Korean Cinema
For as long as I can remember I've been fascinated with filmmakers. Perhaps in the same way that filmmakers are often besotted with novelists. The grass is, after all, more lush and spongey on the other side. I cut my teeth on masters like Robert Altman, Michelangelo Antonioni, and Yasujirō Ozu.
However, absent from my budding film education was Shin Sang-ok, a giant of postwar South Korean cinema, who—along with his partner, the actress Choi Eun-hee—was kidnapped by then-Propaganda Minister Kim Jong-il in a story so strange and calamitous it's a wonder that Hollywood hasn't turned it into gussied-up Oscar bait with a brazenly miscast Ben Affleck in the role of Shin.
Shin's career was stymied at the height of his powers. He spent his post-captivity years slinging Karate Kid knock-offs (the Three Ninjas franchise, for you aging millennials out there) to American film audiences under the name Simon Sheen, perhaps hoping to be mistaken for an estranged son of Martin.
The story of Shin's abduction served as the kernel for my latest novel The Observant, which tells the story of Vasant Rai, a documentary filmmaker, who is imprisoned in an authoritarian nation and released under the agreement he direct a film about the country's imperious ruler. The novel, which I began writing after the rise of Trump, marries my background in political organizing with my long-standing interest in film lore—and Shin and Choi's story, in particular.
So little of the writing on Shin gives proper due to his seismic impact on Korean film. He was the first Korean director to make a film in Technicolor and the first to use CinemaScope. For over a decade, he and Choi dominated the box office. His film A Flower in Hell about a sex worker catering to American GIs remains one of the most celebrated films of the era. Of his range as a director, author Paul Fischer writes in A Kim-il Production, "he adapted Maupassant novels and then made ludicrous horror movies about vampiric cats, or about demon snakes transforming themselves into beautiful women in order to seduce Buddhist monks." A jurist at the 1994 Cannes film festival, Shin awarded the Palme d'Or to another master at synthesizing high and low culture, Quentin Tarantino, for his film Pulp Fiction.
Where American media routinely deifies exceptional acts of the individual, Pulgasari tells a tale of shared responsibility and working people pulling together to defeat feudal forces
Pulgasari is both Shin's most frequently screened film and the means to his and Choi's escape. It was the seventh film made under Kim and the highest budget film completed in confinement. The success of Pulgasari persuaded Kim to send Shin and Choi abroad to find a financier for their next project, an epic film on Genghis Khan, which prompted their escape and defection to the United States.
In feudal Korea, a blacksmith's daughter Ami (Chang Son Hui) watches her father (Gwon Ri) and bandit boyfriend Inde (Ham Gi Sop) imprisoned after resisting attempts by the Governor to seize their farm equipment and recast it as weaponry. With his dying breaths, Ami's father molds a tiny Pulgasari—a folkloric reptile creature—out of a ball of rice and prays for it to protect the workers. Pulgasari comes to life after coming into contact with Ami's blood and grows larger by consuming iron. Now colossal in size, Pulgasari rampages through the King's army and tilts the battle toward the rebels. With the King's army in shambles, Pulgasari is hailed as a hero and fed more and more of the village's iron supply. Ami recognizes that Pulgasari's hunger won't be satisfied and the workers are now at the mercy of a new overlord. Tethered by blood, Ami extinguishes her own life to defeat the beast.
The kaiju genre of monster film was born out of the horrors of nuclear war. The unspeakable trauma from the bombings of Hiroshima and Nagasaki found form in Godzilla—a massive, irradiated lizard that wreaks havoc on Tokyo. Inspired by the Japanese monster, Pulgasari's origin story charts a different course. There is nothing sensational or sinister about its genesis; Pulgasari is, in oddly humble fashion, the product of the blacksmith's sacrifice.
The idea of sacrifice acts as a common thread throughout the story, as all three central characters—Ami, Indie, and Ami's father—ultimately sacrifice themselves for their community. Where American media routinely deifies exceptional acts of the individual, Pulgasari tells a tale of shared responsibility and working people pulling together to defeat feudal forces (propaganda, to be sure, is not limited to autocratic countries). The story bears plenty of similarities to Korea's own liberation struggle from Japan, in which Korean farmers and laborers rose up against their Japanese colonizers.
The most curious part of Pulgasari may be creature's final act turn from savior to oppressor. "When this country's iron is gone, the people will have to take you and invade other countries. Then the whole world would be at war, and humanity would fall," Ami brooded over in the final act. While Shin insisted that Pulgasari is run-of-the-mill monster fare, the turn leaves you to wonder whether Shin embedded his own forewarning on how easily liberators, in the absence of safeguards, become the very thing they rose up against in the first place.
Shin's legacy feels incomplete, his best years taken from him. Between his battles with the South Korean censorship board and his internment at the hands of Kim Jong-il, Shin's creative vision struggled to find purchase in his later years. He and Choi's sacrifices were not offered willingly, and his health suffered in his later years as a result of the hellish conditions of his imprisonment.
It's hard not to see some of Shin in the blacksmith: an aging craftsman who scrapes together what little he has for a final act of salvation. "There has never been a day in my life when I haven't created something," Ami's father says, before sculpting the talismanic creature. All told, Shin amassed over eighty directing credits in his seventy-nine years. He was as prolific as he was passionate about the craft of cinema. And one hopes that like the iron-eating monster of yore, his stature only continues to grow.
__________________________________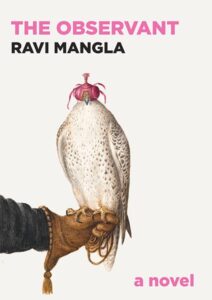 The Observant by Ravi Mangla is available from Spuyten Duyvil.
---