Failsafe Reading Recommendations for Your Non-Reader Friend in Need
Ideas for Emergency Book Therapy
The following is from $9 Therapy: Semi-Capitalist Solutions to Your Emotional Problems.
*
The average American man reads one book or less a year. Yet another reason we're considering moving to New Zealand.
Reading is great because you look cute doing it, you can do it for free (we love you, libraries!), and even if it's not always self-improving, it's at least entertaining. Here are some of our and our friends' go-tos if you need inspiration the next time you're in the stacks.
Basically any genre fiction—noir, romance, thrillers. The pleasure of genre fiction's sticking to a formula is that you know what you're in for: the hero is going to brood, the girl is going to get the guy (and lots of orgasms along the way), or a burly ex-marine is going to stop the baddies from blowing up the Capitol . . . yet again. A couple of faves to get you started: Murder on the Orient Express by Agatha Christie, Queenpin by Megan Abbott, The Cuckoo's Calling by Robert Galbraith, and anything by Courtney Milan, Alyssa Cole, Cat Sebastian, and Jennifer Crusie.
The Self-Sufficient Life and How to Live It by John Seymour
"It's a guide to everything homesteading, from tomato pests to how remove a boulder from your field before you plow it. The illustrations are beautiful and the tone is so matter-of-fact that I can almost see myself in overalls, holding a bushel of my own produce, like Oprah's Instagram."  –Miya Kumangai, tarot expert and Justin Peck fan.
Call Me by Your Name by André Aciman
"I reach for this novel when I'm feeling reflective. It's gutting, but ultimately cathartic." AND Another Brooklyn by Jacqueline Woodson: "This novel's aching haze of nostalgia inspires stillness."  –Novelist John Glynn, author of Out East and attender of more weddings than anyone we know.
The Hobbit by J.R.R. Tolkien
"Not to be confused with the soulless CGI-cash-grab that hit the silver screen. The actual Hobbit is a cozy adventure of a bumbling little hero who instantly becomes the reader's spirit animal and is filled with warm joy and cooling wisdom. (Plus delightful descriptions of food and drink.) Reading the first line makes me melt into the couch pillows as if I was going to fall through to Middle Earth below."  –Adrian Louis Chandler, writer, story editor, and Disneyland fan.
My Life in France by Julia Child and Alex Prud'homme
I mean, it's about learning to cook in your gorgeous home(s) in France, a lifestyle to which we all aspire. The passage about eating her first loup de mer will fill you with such intense food lust that it's obscene. Plus, there's the diplomatic service, crazy housemaids, pipes freezing in the Childs' apartment, and her savage disdain for Marseille fisherwomen who can't agree on the right recipe for bouillabaisse.
Anything by Samantha Irby. Honestly. Anything.
Slow Days, Fast Company by Eve Babitz
Hands down, the coolest LA girl writing about the coolest LA things. Babitz is the girl who stayed up all night drinking with beautiful people before somehow churning out some of the best personal journalism of the 20th century.
Pride and Prejudice by Jane Austen
"I reread it (or parts of it) whenever stuff like dating is stressing me out, because with P&P I actually know what's going to happen, and it's all going to work out. And it's just a nice world to be in!"  –Annette Berg, who is basically a Danish supermodel.
"I have never finished this book, and I kind of never want to."
Real Simple magazine
"The remarkably soothing power of Real Simple magazine is that it transports you to a world where new ways to use a clipboard, finding the right shade of white for your living room, and Ikea furniture-building hacks are headline worthy."  –Kate Hutchinson, literary #influencer and biz dev diva.
My Soul Looks Back by Jessica B. Harris
Conjuring a bohemian New York, a cookbook author and food historian looks back on her friendships with luminaries like James Baldwin, Nina Simone, and Toni Morrison—usually over sumptuously described meals and wine in West Village restaurants.
In the Hand of the Goddess by Tamora Pierce
"When the world is wild, I go to an even wilder place: In this middle-grade fantasy classic (yes, I know), a teenaged girl disguised as a boy trains to be a knight, falls in love with a prince, and faces off against an evil mage. Also, she has a psychic connection with her cat. She's my favorite heroine of all time, and my problems are pretty basic compared to hers, honestly."  –Karaoke goddess Estelle Tang, senior editor at vogue.com.
People I Want to Punch in the Throat by Jen Mann
"I love listening to comedic, complaining, self-parody, memoir-type audiobooks that parallel aspects of my life, so I can laugh/cry with someone who totally gets me while commuting on the train. And I check them out from the library, so even including train fare, it's way less than $9 total."  –Julia Voss, who, trust us, is just smarter than you.
An Unnecessary Woman by Rabih Alameddine
Aaliya Saleh, a tart seventy-two-year-old Lebanese woman whose solitary life belies a brilliant, literary mind, looks back on her life in this 2014 novel. It's about nothing and everything, but slipping into her seemingly ordinary life is a joy.
Was She Pretty? by Leanne Shapton
This book will make you feel so fondly toward your exes. Ideal for when you're in the post-breakup/redownload-Tinder phase and need to remember there are nice people out there.
Changing My Mind by Zadie Smith
You could describe the experience of reading this book as talking for hours with your most brilliantly agile-minded and hilarious friend . . . but honestly, none of our friends are quite as cool as Zadie Smith, so there's no comparison. This is a nonfiction essay collection on everything from Middlemarch to 50 Cent's biopic. In a word: perfect.
The New Yorker
"Am I the only one who first flips to the caption contest when cracking open a new edition? Readers' cleverness makes me feel genuinely hopeful about the collective brain, and it's the one thing I can say I finish in every magazine." AND Becoming by Michelle Obama: "It'll make you feel like a third in the Obamas' marriage, which would be the ultimate act of self-care." And There Is No Shame in True Trash: "Every now and then I google Kristen Stewart and read banal stalker press about my beautiful Bella. Validating a hot celebrity's lack of privacy is the ultimate indulgence."  –Novelist and cheese aficionado Georgia Clark, author of The Regulars and The Bucket List.
The Journals of Sylvia Plath
"Confession: I have never finished this book, and I kind of never want to. I've been nibbling away at it for the past six years or so, ingesting a few pages here and there when I need to disengage from the world and immerse myself in the meandering minutiae of a brilliant mind."  –Carla Bruce-Eddings, writer and confirmed Slytherin
__________________________________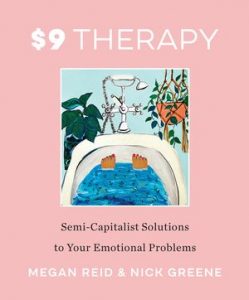 From the book $9 Therapy: Semi-Capitalist Solutions to Your Emotional Problems by Megan Reid and Nick Greene. Copyright © 2020 Megan Reid and Nick Greene. On sale February 11 from Morrow Gift, an imprint of HarperCollins Publishers. Reprinted by permission.
---