Learning to Be Black in a Strange, Strange Country
Ajibola Tolase Moves from Nigeria to the United States
My father doesn't like salad. Now that I think about it, I don't know many Nigerians who actually like salad. My father would say, "Why would I eat leaves when I'm not a goat." Most Nigerian meals are derivatives of cassava, rice and yam. I arrived at LaGuardia Airport in the summer of 2019, after 26 hours of travel. I was hungry because I didn't eat on the plane from Lagos. The only American food that looked satisfying to me was a burger, but I knew I couldn't have hamburgers because ham is pork and I am Muslim.
I asked the airport vendor for recommendations, but I was met with "What do you want?" I tried again. "Could you please recommend a meal from your menu that doesn't include pork or pork products?" I didn't know at the moment that we were having an accent problem and she couldn't comprehend the words from my mouth.
After three tries she requested that I wait before disappearing behind the counter. By the time she returned, uniformed men were also coming in my direction. I left LaGuardia hungry.
*
"It is traditional to destroy Black bodies—it is heritage." This sentence from Ta-Nehisi Coates' Between the World and Me was my crash course on Black rage. While I was still learning to be Black, I didn't like to be seen with Black men of a particular age bracket. It's more of a staying-alive strategy if you think about the statistics reported by the Washington Post—218 Black men were shot and killed by the police in 2018.
Most of these men were between ages 18 and 44. In my first week of living in the US, I saw a cop pull a Black man over. It felt like a miracle when he drove off after some questioning. He didn't have the luck I had in LaGuardia; his cop was white. I was watching from the bus stop, where I wasn't only waiting for a bus but also for a man to die.
*
Chris Rock opened his Netflix special,Tamborine, by saying, "You would think the cops would occasionally shoot a white kid just to make it look good." What he meant was, "Just to balance out the mistake of shooting Black kids."
When we said hello to the white woman behind the cash register she paused, lolling her head back as if she were in a trance.
My friend, Chris, is a Black man from Louisiana. The first time I rode in his car, it was dark; we talked about jazz and the poetry of Terrance Hayes and Yusef Komunyakaa. We could have been two shadows in a black car passing through the empty of the night. He said things I missed because I wasn't listening. I was looking farther into the night, farther than the headlights could reach because I was afraid. I don't know if he could tell I was still learning to be Black.
*
I live in Madison, where I go to grad school. Every time I say this, people say Racism in the Midwest is mild. It's hard for me to know what to make of this. My second time at Target was with my roommate, three months after I arrived in the United States. When we said hello to the white woman behind the cash register she paused, lolling her head back as if she were in a trance.
You are Ghanaian, she said. At the end of our conversation, she wanted me to know two things: though she couldn't tell my nationality she is a genius at identifying accents, and my English is very good no one would be able to tell I had only lived in the US for three months. I thanked her. What I didn't tell her is that I, too, am a genius at identifying accents. That I, too, know people who say "Wanna beg?" when they mean to say "Want a bag?"
*
My first haircut was at Sport Clips. I like to have my hair cut on Monday mornings, when the chances of a crowded salon are slim. Besides the tiny sticker on the glass door, there was no indication that I was going into a barbershop. As a Nigerian, I should have known not to trust barbershops without posters of Ludacris.
It was very clean inside. I was received by two women in matching uniforms and aprons. My stylist introduced herself as Allison and asked what hairstyle I wanted. Though I have always had a buzz cut, I wanted a fade. I asked her opinion—whether she thought I would look good. Allison draped an apron over me; the buzz of the clipper lulled me to sleep.
Allison initiated a conversation, maybe just so I could keep my head still. She asked where I was from and whether I liked it here so far. "Yes, I like it here," I said, "I love it here." She paused and steered my chair so I was facing her. "Someone told my daughter Trump will put her on a flight to Africa," she said. I must have looked like I had been told the Nigerian president was egged. "My daughter is mixed," she explained.
Every initial conversation always comes to that—whether I like it here. People say I arrived in Trump's America, but is it really Trump's? After she was done cutting my hair, Allison and her colleague wanted to know if I had seen a vacuum cleaner. She was unimpressed when I told her I was familiar with vacuum cleaners; she had wanted to be the first to show me how one works, the American magic. I watched as she pulled one out and vacuumed the hair off the floor.
*
I wore a hat after my first haircut. When I told my friend Chris where I had cut my hair, he laughed so hard he clutched his sides and bent over. He recommended the next barbershop I visited. There, the stylists were Black. I walked in, said hello, took a seat, and waited my turn. One of the barbers turned to look at me and nodded. I said hello again.
I reactivated my Tinder account with a bio that reads, "Grad student who does poetry. I swear I have only been Black for six months."
The Black boys who came in after me went over to the barbers before they sat. They slapped the backs of their hands, then shook hands, then snapped their fingers. It sounded like they were making music. They nodded at the barbers they couldn't reach at the end of the hall.
*
My friends left Madison at the start of winter break. The city felt emptied. I would wake up early to watch the snowbanks brighten with morning. I was so lonely I made a log of my daily human interactions, mostly smiles from strangers on the street.
I agree with Helon Habila's proposition that there is no loneliness like the loneliness of a stranger in a strange city. I created a Tinder profile. My bio was simple: Grad student who does poetry. My first match was with a bisexual woman who was 79 miles away. The one message I sent was met with silence.
The next, a grad student in my school, P., was a mile away. I asked if she wanted to meet for lunch, but she was quick to tell me she wasn't interested in a date. I was bewildered. The app that had brought us together had one job. I didn't know how to respond.
In my hesitation, P. flooded my phone with messages: "But I will fuck you." "I mean, I will do some kinky shit." "I have only been with one black man." I told her I appreciated her honesty. She couldn't seem to tell I was being sarcastic. She continued: "He had a thick cock." "Show me your cock."
*
Now that I know the function of Black bodies, now that I know a Black body shouldn't negotiate what is requested of it, I am sorry to say I reported the account. I am sorry to say I made my body unavailable by deleting my account. I reactivated my Tinder account with a bio that reads, "Grad student who does poetry. I swear I have only been Black for six months."
__________________________________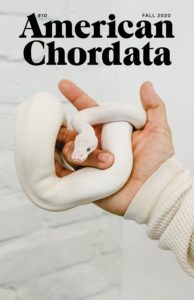 From American Chordata (Issue 10, Fall 2020). Reproduced with permission. Copyright © 2020 by Ajibola Tolase.
---