Laughing at the Enemy: How Ukrainians Weaponize Jokes in the Face of Danger
Johannes Lichtman on Wartime Humor in Ukraine
I met Nazar Romanchenko in 2018, when I was living in Lutsk, Ukraine with my girlfriend, where she'd been placed on a Fulbright Fellowship. I was a member of the one coworking space in town, a new building that stood out in a post-industrial district by the river, and Nazar was the office manager. During coffee breaks in the kitchen, he would tell me Ukrainian jokes, often paired with a brief history lesson. My favorite, which I later used for my novel, Calling Ukraine, goes like this:
When God created Eastern Europe, he carved from the earth three hulking nations: a dull gray valley called Germany, an endless white tundra called Russia, and, between the two, a bursting field of yellow flowers called Ukraine.
When the Ukrainian people saw their new home, they could not believe their good fortune. They walked the fertile fields marveling at the richness of the soil, breathing in the crisp air of the Carpathian Mountains, and staring out in awe at the glimmering Black Sea. They looked to the dull German valleys to the west and the barren Russian plains to the east, and then back at the Eden in which they were going to get to spend their lives.
They said to God, "What have we done to deserve such bounty? What have we done to deserve such good fortune? Why have you blessed us with such riches?"
And God said to the Ukrainians, "Let me introduce you to the neighbors."
In the early days of Russia's brutal invasion, when I was back in the United States, Nazar would send me videos of rockets hitting apartment buildings. I would toggle between rage, grief, and deep worry for all the friends and colleagues who had chosen to stay. He and I messaged about questions of safety, information on missile strikes, and how to get funds to grassroots defense and humanitarian groups.
But it didn't take long for Nazar to start sneaking in jokes again. In April, the day before Orthodox Easter, he sent me a TikTok tutorial on cleaning your windows in preparation for the holiday. The video opens with a shot of a Ukrainian man holding up cleaning supplies. A breezy Earth, Wind, and Fire song plays in the background. Then the video cuts to the man's bombed-out window frame. End of tutorial.
There was a rapid rise in jokes that were less Soviet or generally Slavic and more distinctly Ukrainian.
"The Ukrainian sense of humor originated from all the troubles that preceded our people for centuries," Nazar said. The choice, he explained, was to give up and cry, or fight and laugh at the enemy. "We chose the latter!"
As the war continued, Nazar and I would try to talk every few weeks. On August 24, we had arranged to Skype to celebrate Ukrainian Independence Day, but Nazar had to cancel because Russia was hammering Ukraine with rockets to ruin the holiday. When we were finally able to connect, he told me how, after several hours stuck in the bomb shelter with the air raid sirens blaring, the man next to him said, "What are they doing—bringing that rocket in on a bicycle?"
At some point, Nazar and I decided to start collecting jokes formally. We assembled a set of our favorite jokes in hopes of painting a brief portrait of Ukraine during the crucial decade of 2014-2023. This period began with the Maidan Revolution and the first Russian invasion in 2014, when Ukrainians stood up to reject their colonial abuser, and continues today into the second Russian invasion.
It was during this period, in Nazar's view, that a modern, specifically Ukrainian consciousness spread across the country, and, consequently, there was a rapid rise in jokes that were less Soviet or generally Slavic and more distinctly Ukrainian.
While I, Johannes, am the one speaking in the first person throughout, this a co-authored text. Nazar researched and transcribed the jokes that form the bulk of this essay—as well as countless others that were, in the end, untranslatable—and then walked me through explanations of the cultural context. I tried to make them comprehensible to an English-speaking audience.
1.
A Russian arrives at the Ukrainian border.
The Ukrainian border guard asks, "Name?"
"Dimitri."
The border guard asks, "Occupation?"
The Russian says, "No, just visiting."
In 2014, Putin responded to the Ukrainian revolution, which ousted the pro-Russian president, by pouring soldiers into Crimea and the Donbas region of Eastern Ukraine. But the soldiers wore no markings on the uniforms, and the Kremlin said that they were not soldiers, just "tourists" who'd been inspired to join the fight. In Ukraine, they became known as "little green men"—magical tourists who somehow all had Russian military equipment.
2.
Q: Who was the winner of war in the Donbas?
A: The statues of Lenin.
The Maidan Revolution marked the beginning of Ukraine's withdrawal from the Russian sphere of influence, and a symbolic part of this rejection of Russia was the removal of over a thousand Lenin statues across the country, in what came to be called "Leninopad." (Literally: "Leninfall.") The Russian invasion of the Donbas in 2014, and the nine years of entrenched warfare that Russia has since waged in conjunction with local separatists, has led to great suffering and thousands of civilian deaths. But the Lenin statues are still standing.
3.
Putin's greatest achievement during his twenty-three years in office is, undoubtedly, winning World War II.
While Putin's most destructive historical delusion is that Ukraine is not a country, the dictator's revisionism reaches its apex every year on May 9. Victory Day once celebrated Soviet victory over Germany on the Eastern Front, but it now all but commemorates Putin himself liberating the world from Nazism. Putin tries to use this mythology to prop up his de-Nazification campaign of decidedly un-Nazi Ukraine.
Zelensky prefaced the joke by telling Letterman, "The times are tough, but people keep joking."
There are a lot of Putin jokes floating around Ukraine these days, so we had many to choose from. Even when I lived in Ukraine, before the full-scale invasion, the touristy markets in Kyiv were stocked with rolls of toilet paper bearing Putin's face. But Nazar and I chose this particular joke for the simple reason that it always makes us both laugh
4.
Ukrainians in 2014: "Oh, shit!"
Europeans in 2014: "We are deeply concerned."
Europeans in 2022: "Oh, shit!"
Ukrainians in 2022: "We are deeply concerned."
In 1994, the Budapest Accord promised Ukraine security assurances in exchange for surrendering its stockpile of nuclear weapons. But as Ukrainians learned when Russia invaded Crimea and the Donbas in 2014, this security assurance amounted to little more than "deep concern." The phrase "deeply concerned" became infamous in Ukraine that year. Eight years later, after Russia launched its full-scale invasion of Ukraine, Europe worried that Russia would use nuclear weapons or set its sights on the EU. The joke suggests that, for Ukrainians, after the Russian trial run of 2014 was met with so little international resistance, it was "deeply concerning" that Russia would expand their ambitions to the gates of the Europe.
5.
Two Ukrainians meet in the street. The first one greets the second in Russian, but the second answers in Ukrainian.
"Why are you speaking Ukrainian?" the first one says.
"I try to speak as little Russian as possible these days."
"Why? Are you afraid Ukrainians will come beat you up?"
"No, I'm scared the Russians will come save me!"
Both Ukrainian and Russian are widely spoken in Ukraine. The situation is due to many factors, but the biggest is a history of Soviet restrictions on the Ukrainian language. When my girlfriend and I lived in Western Ukraine, where Ukrainian is favored, it was not uncommon to hear people switching between the two languages or borrowing words from Russian to mix in with their Ukrainian sentences.
However, since 2014, Russian propagandists have used the imagined persecution of Russian speakers in Ukraine as justification for Russia's aggression. In reality, while Ukrainian was promoted to the status of official language as part of Leninopad, Russian is so accepted in Ukraine that Zelensky broke into Russian during the 2019 presidential debate to the cheers of the crowd. This dark joke refers to the terror that follows when Russian soldiers come to "save" Russian-speaking Ukrainians.
6.
Two guys meet up.
One asks the other: "So what's going on with the war? What are people saying?'"
"What are they saying? They're saying that Russia is fighting NATO."
"Are you serious?"
"Yes! Russia's at war with NATO."
"How's it going?"
"Well, 70,000 Russian soldiers are dead, their stockpile of missiles has almost been depleted, and much of their equipment has been destroyed!"
"And what about NATO?"
"What about NATO? NATO hasn't even arrived yet!"
This joke—told by President Zelensky to David Letterman when Letterman interviewed him in December, and recited to me by Nazar over Skype—is just one of many examples of the Ukrainian government's use of humor in political messaging.
Zelensky prefaced the joke by telling Letterman, "The times are tough, but people keep joking."
It was an echo of what Nazar had told me early in the invasion.
"It might be surprising that we have so many jokes about the war," he said. "But we need to keep living. And it's easier to live when you have jokes."
*
Nazar Romanchenko earned a degree in history from Lesya Ukrainka Volyn National University. He lives in Lutsk and works as a sales manager.
__________________________________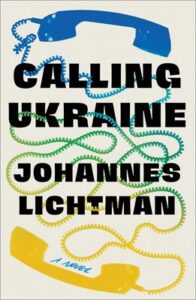 Calling Ukraine by Johannes Lichtman is available from Scribner/Marysue Rucci Books, a division of Simon & Schuster.
---