Latin America's Answer to Karl Ove Knausgaard
On Ricardo Piglia and His Alter Ego, Emilio Renzi
"Do not read, as children do, to amuse yourself,
or like the ambitious, for the purpose of instruction.
No, read in order to live."
Gustave Flaubert
Ricardo Piglia was an assiduous reader, that most embattled of today's pastimes. He published a book called El último lector (The Last Reader, 2005), in which he celebrates not speed in reading, as often done in schools, but slowness. In the epilogue, he quotes a line from Wittgenstein: "In philosophy the winner of the race is the one who can run most slowly. Or: the one who gets there last." Piglia called sharp readers "private eyes," in honor of his obsession with detective fiction, the style in which he wrote most of his work. (He loved W. R. Burnett's The Asphalt Jungle, James M. Cain's The Postman Always Rings Twice, and Dashiell Hammett's The Dain Curse.) He often invoked a famous photograph of Borges, who became blind in his thirties, taken while he was director of Argentina's Biblioteca Nacional, holding a book a few inches from his nose. Borges said, "I am now a reader of pages my eyes cannot see." Piglia writes, "A reader is also one who misreads, distorts, perceives things confusingly." For him, it was crucial to read idiosyncratically, against the current.
A cornerstone of contemporary Latin American letters, Ricardo Piglia taught at Princeton until he moved back to Argentina after he was diagnosed with amyotrophic lateral sclerosis, known as Lou Gehrig's Disease, of which he ultimately died on January 6, 2017 at the age of 75. He didn't spend his entire life only reading; he also invested a prodigious amount of time writing about that life: his education, his relationship with his grandfather Emilio, the upheaval of Peronism, his early attempts at writing, publishing, and teaching. He loved to write about his responses to favorite books, especially Argentine classics (by Macedonio Fernández, Roberto Arlt, Borges, Julio Cortázar, Manuel Puig, and Juan José Saer), his thrill at mapping various national traditions (American, Italian, Polish), and his fascination with the Rezeptionsgeschichte of certain authors (Joyce, Kafka, Faulkner,  and Dostoevsky).
Piglia identified himself as a critic who writes and as a writer who critiques, stating that "criticism is a modern form of autobiography." Early on in The Diaries of Emilio Renzi, he speculates, "How I Read One of My Books could be the title of my autobiography (if I ever wrote it)." He wrote stories, novels, operas, screenplays, and several volumes of essays (including Crítica y ficción [Criticism and Fiction, 1986], Formas breves [Brief Forms, 2000], and Escritores norteamericanos [North American Writers, 2016]). Yet his most enduring effort, the one likely to earn him a place in posterity, is the 327 notebooks he crafted day in and day out between 1957 and 2015 in which he imagined himself not as Ricardo Piglia but as his alter ego, Emilio Renzi. As it switches from the first to the third person and back, The Diaries of Emilio Renzi generates a sense of alienation, wonderment, and displacement in the reader. The first volume starts, "'Ever since I was a boy, I've repeated what I don't understand,' laughed Emilio Renzi that afternoon, retrospective and radiant, in the bar on Arenales and Riobamba. 'We are amused by the unfamiliar; we enjoy the things we cannot explain.'"
In The Symposium, Plato's mouthpiece Aristophanes suggests that each human individual is made of two halves. At birth, these halves are divided, resulting in the vertigo and sense of incompletion that define us as humans. That division is solved through the quest to "find the other half," in love. In the case of Piglia, his solution came through fictionalization: the chronicling of his life as if it belonged to el otro, the other—that is, to Renzi. This strategy is often called "autofiction." The Diaries of Emilio Renzi is not a loyal distillation of what Piglia experienced, but rather a recreation, or even a revision. He started the notebooks just as the alter ego Emilio Renzi began to materialize.
It isn't surprising that Piglia loved other people's diaries. There are reactions to a handful of them—by Goethe, Stendhal, Flaubert, Kafka, Woolf, Gadda, and Pavese—spread throughout the volumes. What attracts him in them, it seems, is that adulterated mode called "fictionalized autobiography." In that regard, The Diaries of Emilio Renzi is Latin America's response to Scandinavian Karl Ove Knausgaard's My Struggle. Yet Piglia's "autofiction" is different: the notebooks don't present their protagonist's state of being as a fait accompli but as an experiment. The reader catches Renzi in an ongoing state of gestation, writing, as he himself puts it, "an imaginary version of myself." In the end, he inscribes himself as a palimpsest, made of evanescent stories that are "told over and over again, and through telling them and repeating them they improve, are refined like pebbles honed by water in the depths of rivers."
The name Emilio Renzi isn't arbitrary: Piglia's birth name was Ricardo Emilio Piglia Renzi. Emilio Renzi is the name with which he signed his first publications. It is also the name of the detective in a number of his books, from Artificial Respiration (1980) to Burnt Money (1997) and El camino de Ida [One Way Road, 2013]. These, however, are tangential paths to appreciating Renzi's plight. The notebooks are his true habitat. In them his argentinidad, indeed his latinoamericanidad, come to full view. "How could one write about Argentina?" Renzi wonders. His answer is complex. It isn't the content of a book that makes it Argentine because the Argentine writer can write about anything. So what is it? "We write our books, publish them," Renzi posits. "We are left to live, we have our circles, our audience. To say it another way, everything must be centered on the use of language. In this way, the content will have different effects. The subject does not matter so much as the particular type of structure and circulation of our  works."
In a conversation with Roberto Bolaño in the Spanish newspaper El País in 2001, Piglia describes Latin Americanism, the identity of Latin Americans, as made of misbegotten dictators and clairvoyant prostitutes, "a kind of anti-intellectualism that tends toward simplifying everything, and which many of us resist." Bolaño responds that, "to our disgrace, we continue to be Latin Americans," a condition that, he argues, is the result of economic and political forces. The two authors were disruptors rather than endorsers of this condition. Their fiction is a commentary on the merchandizing of stereotypes. Disruption for them meant laughing at how Latin America is exported abroad: a tropical, half-baked, exuberant landscape that is at once magical and anti-European.
Like Bolaño, Piglia plotted that disruption meticulously. Aware of his end (also like Bolaño), he devoted his remaining years, from 2011 until his death, to adapting the 327 notebooks into three ample volumes and seeing them to publication. Rumors about this magnum opus circulated long before the volumes were released, and they were greeted with enormous enthusiasm upon publication in the Spanish-speaking world, one each year between 2015 and 2017. Respectively, the volumes cover Renzi's "formative years," from 1957 to 1967, "happy years," from 1968 to 1975, and the years 2011 to 2015, under the subtitle A Day in the Life. He explores every detail of himself through Renzi, who serves as filter and intermediary, and perhaps also as demiurge.
Call the notebooks Portrait of the Writer as Invention. In them Renzi isn't an empiricist like Hume; he is closer to Spinoza. His interest isn't in reality itself but in the ways the brain imagines it. In The Diaries of Emilio Renzi, we witness Renzi's thought processes, his anxieties, his response to crucial actors in his life (such as his tyrannical father), even the way he constantly mocks his own seriousness—"I'm a trickster!" he enjoys saying. David Foster Wallace argued that fiction is where loneliness is not only confronted and relieved but also "countenanced, stared down, transfigured, and treated." Renzi articulates principles, faces boredom, scoffs at platitudes, and shifts restlessly in his own views. 
A descendant of Italian immigrants (and immigrants are forcibly aware of the division of selves), Piglia was born in 1941 in Adrogué, in the south of Buenos Aires. The family eventually moved to Mar del Plata, and in 1965, Piglia, by then already a passionate reader, moved to Buenos Aires on his own. "It is what you read when you don't have to," Oscar Wilde said, "that determines what you will be when you can't help it." Like many of his generation, Piglia found Borges, who in turn opened up Argentine letters in full.
Renzi meets Borges during his student years. "He had an immediate and warm way of creating intimacy, Borges," he exclaims. "He was always that way with everyone he talked to: he was blind, he did not see them and always spoke to them as if they were near, and that closeness is in his texts, he is never patronizing and gives no air of superiority, he addresses everyone as if they were more intelligent than he, with so much common understatement that he has no need to explain what is already known. And it is that intimacy that his readers sense." If one doesn't know how to distill his work, Renzi argues, Borges's influence on others—and Cortázar's, too—becomes "a plague." Yet it is Borges who tells Renzi that "writing . . . changes the way of reading above all." Indeed, such was the allure of the author of "The Aleph" that much of Renzi's readings are built as digres- sions on Borges's ideas; he wrote about him and taught his work profusely.
The universe of signs is at the core of the Hispanic world, which is populated with books that address reading, from Don Quixote to much of Borges's work to One Hundred Years of Solitude. Piglia's oeuvre aims at that same insistence: living is reading and vice versa. In photos we have of him he is always caught looking at a book, with his thick glasses at center stage, or else toying with a magnifying glass, or—the trickster again!—giving the viewer (i.e., the reader) the middle finger. Clearly, reading isn't a metaphor for him.
Piglia's apologia for reading doesn't turn him into a hero whose mission it is to salvage an entire civilization, like Guy Montag and Clarisse McClellan in Fahrenheit 451. His quest is at once simpler and more complex: it is a defense of self-consciousness.
__________________________________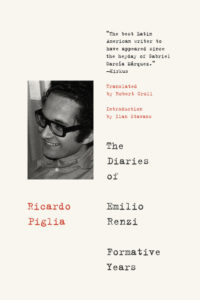 From the introduction to The Diaries of Emilio Renzi: Formative Years by Ricardo Piglia. Used with permission of Restless Books. Copyright © 2017 by Ilan Stavans.
---