5 Books Making News This Week: Dystopias, Daughters, and Debunking
Louise Erdrich, Sarah Perry, Kevin Young, and More
The National Book Awards ceremony, hosted by Cynthia Nixon, will be livestreamed on Facebook November 15. Tune in for the winners (finalists' interviews here), and Annie Proulx, who is being honored with the Medal for Distinguished Contribution to American Letters. Edwidge Danticat is honored with the $50,000 Neustadt International Prize. Her nominator, Achy Ojebas, notes that Danticat "addresses how the specter of history haunts the unresolved present and undermines the future unless people find a way to redeem it." Colson Whitehead's The Underground Railroad wins the Zora Neale Hurston/Richard Wright Legacy Award in fiction. Other winners include Kali Nicole Gross's Hannah Mary Tabbs and the Disembodied Torso, nonfiction, and Donika Kelly's Bestiary, poetry. Whitehead's novel also pops up on the International Dublin Literary Award longlist, along with Brit Bennett's The Mothers, Michael Chabon's Moonglow, Emma Cline's The Girls, Rachel Cusk's Transit, Nicole Dennis-Benn's Here Comes the Sun, Louise Erdrich's LaRose,  Zadie Smith's Swing Time, and Elizabeth Strout's My Name is Lucy Barton, among others. Ladee  Hubbard wins the Ernest  J. Gaines Award for her first novel, The Talented Ribkins. Amy Goldstein's Janesville wins the McKinsey Business Book of the Year Award.
Multiple award-winning author Louise Erdrich pivots to a "grippingly dystopian novel"; poet and New Yorker poetry editor Kevin Young writes an "original and illuminating" book about hoaxing from P.T. Barnum to the age of "fake news," Wendell Berry "continues to rage against machines," Sarah Perry's After the Eclipse "pulls the reader swiftly along on parallel tracks of mystery and elegy," and award-winning memoirist Anne Fadiman writes a book about her father that should "probably be savored like a grand cru rather than guzzled down like cheap beer."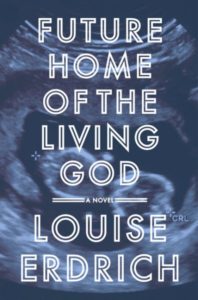 Louise Erdrich, Future Home of the Living God
"It is the future that haunts us now," writes Erdrich in her new dystopian novel, which arrives after her acclaimed justice trilogy—The Round House (the National Book Award), The Plague of Doves (a Pulitzer finalist), and LaRose (the National Book Critics Circle's fiction award). Critics note its timely qualities.
"There is a half-crazed urgency to so much of our cultural discourse now, and it still doesn't feel normal—this unrelenting vertiginous tumult that surely, surely will subside. When it does, we think, we'll reset, readjust, move forward again on safer, steadier ground," notes Laura Collins-Hughes (Boston Globe). "'Historic times!' Cedar Hawk Songmaker writes to her unborn child in Future Home of the Living God, Louise Erdrich's grippingly dystopian 16th novel about a terrifying new order and the resistance that fights it doggedly."
Dan Cryer (San Francisco Chronicle) writes:
More than any other Erdrich novel, this is a fast-paced adventure tale. Observations about faith and family crop up only in the pauses between one peril after another. For that reason, the prose, with few exceptions, is far more streamlined than the customary Erdrich lyricism. These sentences are crafted to keep the action marching forward.
The plot, with its episodes of stealth, flight and capture, borders on the improbable. But who's to say what forms of subjugation and heroism American authoritarianism may someday produce?
"Cedar Hawk Songmaker finds herself at the center of this startling story of speculative fiction in which pregnancy has been placed under the jurisdiction of the state," writes Sloane Crosley (Vanity Fair). "With a drop of The Handmaid's Tale and a drop of The Children of Men, Erdrich cooks up a reproductive-rights thriller all her own."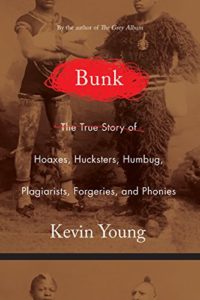 Kevin Young, Bunk
Longlisted for the National Book Award and the Andrew Carnegie Medal, the latest book of cultural criticism by Young, a poet, poetry editor of The New Yorker and director of the New York Public Library's Schomburg Center, traces two centuries of hoaxing from P.T. Barnum to current-day "fake news." Booklist's starred review notes, "As we adjust to life with a president who plays fast and loose with the truth and whose backstory arouses growing skepticism, this examination of the long and colorful history of hoaxes and cons is most welcome." In my BBC Culture column, I call it "original and illuminating."
"If Kevin Young's Bunk had simply been a chronicle of hoaxes over the years, it would have been gripping reading in its own right," notes Tobias Carroll (Minneapolis Star-Tribune). "But Young goes much deeper, examining the reasons why large groups of people are drawn to certain varieties of bunk, and what that says about our society."
Niela Orr (Harvard Magazine) compares Young to playwright Suzan-Lori Parks:
In the same way that . . . Parks uses drama as an apt scalpel for history, Young uses creative nonfiction, often employing the same elegant puns and pivots that appear in his verse. Where Parks in her play Topdog/Underdog used three-card monte and the arcade as symbolic showcases for American violence and its bloody repetition, Young demonstrates in Bunk how the "con" works in more abstract ways. In the early twentieth century, the so-called long-con went from being perpetrated nomadically to taking place in a "store," a semi-permanent set of displays meant to resemble a real shop that targets could visit repeatedly. His use of the conman's "store" as a metaphor for America's repository of dubious racial ideas and gender stereotypes is particularly insightful. Along with his winking approach to the material, his bemused attitude helps to detract from the horror, offering a model for processing current national affairs. Bunk suggests that one has to smirk at this stuff once in awhile, to avoid getting too freaked out.
Bunk is "long, overstuffed with anecdote and argument, a stylistic counterpoint to his spare, minimalist poetry," writes Colin Dickey (Los Angeles Times). "Its 477 some pages (plus another hundred of notes and sources) may seem daunting to some readers, but it's a wild, incisive, exhilarating tour through Western culture's sideshows and dark corners. Like a sideshow barker, Young writes with unbridled enthusiasm, a showman's conviction, and a carny's canny, telling a story that at times defies belief."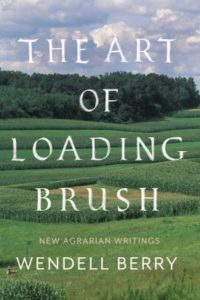 Wendell Berry, The Art of Loading Brush
"My writing for 50 or 60 years has been given to regret for the manifold abuses of our economic landscapes, and so to advocacy for kindly treatment of all the lives involved in what Aldo Leopold called 'the land community,'" Berry said in accepting the National Book Critics Circle's Sandrof Award for lifetime achievement two years ago. He adds a new collection of writings to his body of work. "I've been at this for more than 50 years, and my allies and I have done no good," Berry tells Time's Sarah Begley. "For land use and land maintenance in those economic landscapes, we have done no good. We've not ever been able to put any meaningful restraints on the coal industry. They've done what they wanted to do. So-called farming has become increasingly dependent on toxic chemicals. There's still too much soil erosion."
Berry "is a frustrated advocate, speaking out against local wastefulness and distant idealism; he is a gentle friend, asserting as he always has, the hope possible in caring for the world, and your specific place in it," writes Joel Pinckney (Paris Review). "As far as I'm aware, The Art of Loading Brush is singular in Berry's corpus, in that it includes essays, stories, and poetry all in one volume. It reads like a summation of his life's values…"
The starred Kirkus review calls it "[v]intage Berry sure to please and instruct his many admirers."
Brian Barth (Modern Farmer) writes:
Berry continues to rage against machines: the laptops and high-tech tractors he believes are causing us to lose touch with each other and our environments. He laments the "dispersed lives of dispersed individuals, commuting and consuming, scattering in every direction every morning, returning at night only to their screens and carryout meals."
Yes, Berry's a bit of a curmudgeon, who likens our smartphone obsession to drug addiction and prefers horse-drawn plows to simulated horsepower. He writes longhand before his wife, Tanya, converts the manuscripts on a Royal Standard typewriter. Such anachronistic tendencies, however, point to more than mere nostalgia—namely, a clear-eyed view of the ways in which modern society is wrecking the Earth under the guise of progress.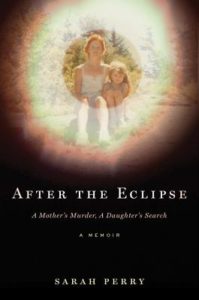 Sarah Perry, After the Eclipse
Perry was 12 when her mother was murdered in a village in Maine. Her memoir about the aftermath, including a years-long investigation of the killing and her own much altered coming of age, garners critical praise.
Bliss Broyard (New York Times Book Review) is enthusiastic:
After the Eclipse pulls the reader swiftly along on parallel tracks of mystery and elegy. Early on, Perry dispels any question of whether her mother hastened her own death through her choices in men or her behavior, but she withholds who actually killed her mother until almost the end. The chapters alternate between Perry's mother's life—beginning with a childhood characterized by neglect, alcoholism and violence and her escape at 15 into a marriage to Perry's father that brought more of the same—and Perry's own life after her mother's death, as she struggles to be a "normal kid" in a series of loveless homes amid an ongoing murder investigation that treats her as both suspect and potential next victim.
It's a rhythm that builds suspense, which in other hands might feel prurient, but Perry's scrupulous research and painstaking rendering of her experiences make her a trustworthy guide through such emotionally charged terrain. She's also a wonderful writer with an assured sense of when to zoom in to her body's somatic response for a piercing immediacy and when to pull back to convey the measured perspective gained through the distance of time. Many moments of beauty and tenderness rise up through the darkness.
Laura Miller (Slate) analyzes four books of true crime, and praises After the Eclipse, highlighting "The Night," the chapter describing her mother's death. "Those nine pages are carved from a solid block of nightmare, both raw and perfect: 'Then. Boots thundering across the linoleum. A drawer pulled to the end of its runners, slamming at the end. Metal on metal, a knife pulled out, surely.' I've never read a better depiction of how a sudden, violent event rips through a human being's apprehension of reality while, at the same time, some stubborn version of the self soldiers on, doing what it takes to survive. 'A new part of me is born right here in the kitchen,' Perry writes, then switches to the first person plural as she recounts running out onto the darkened street in search of help. The rest of After the Eclipse could not possibly be as hair-raising, but it's something nearly as good: an unfussy, richly textured remembrance of a town, a family, a particular place on the planet that its author knows all the way down to her bones—the strengths of a classic memoir."
After the Eclipse offers the reader no pat resolution, concludes Laura Jean Moore (Brooklyn Rail). "There is, at last, a trial and conviction. But Perry makes it clear that the reverberations of her mother's death are ongoing, and that Crystal's killer was not so aberrant as our comfort might wish us to believe. Ultimately, what the book illustrates best is the gulf of loss and the continuing significance of one life taken before its time. Grief, after all, is not a tidy emotion. It echoes through and beneath every subsequent experience ("the colors and sounds and textures of the world still seem to conspire to bring her back to me"). This book is just one of the many repercussions of a life cut short."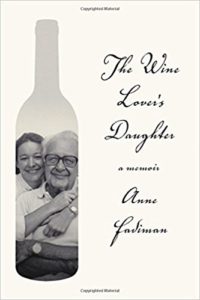 Anne Fadiman, The Wine Lover's Daughter
Award-winning memoirist Fadiman takes a look at her celebrated literary father's life, seen mostly through the lens of his hobby as a wine collector. "Along with books, wine represented the sort of cultivated, refined life that he had aspired to when he was growing up poor in Brooklyn," she tells NPR's Scott Simon. "And once Prohibition ended and he could legally buy wine, amassing a really expensive cellar was pretty much the first thing he did with his new money."
Michael Dirda (Washington Post) writes, "Anne Fadiman clearly knows her trade. By recording both her past experiences and her current thoughts about those experiences, she keeps The Wine Lover's Daughter consistently absorbing and, once begun, you will be hard-pressed to stop reading, even though the book should probably be savored like a grand cru rather than guzzled down like cheap beer. Either way, though, you're in for a good time."
Lorna Koski (Women's Wear Daily) calls it "a funny and charming book."
"Those familiar with the author's essays will recognize her polymath mind and tangential style, and those unfamiliar will find it delightful to encounter for the first time," writes Derek Sanderson (Library Journal). "How she manages to fit her own life, her father's life, her marriage, a primer on wine, the scientific study of taste, and many other subjects into such a slim volume is mind-boggling, something this reviewer is still trying to comprehend."
---