LANGE NÄCHTE TAG or, LONG DAYS OF NIGHT BY SIMON FROEHLING
At the Festival Neue Literatur, a Crash Course in Contemporary German Literature
Simon Froehling will be appearing as a featured writer at The Festival Neue Literatur, March 2-5. The following excerpt is translated by W. Martin.
Any minute now you'll sit down on my bed in my light-blue underwear with the old-fashioned fly and smoke a cigarette.
Even though I'm almost as young as you, the old-man underwear belongs to me. It was a gift from Neighbor Albert.
He bought it by mistake, he told me.
Me, it fits perfectly.
I met Neighbor Albert last summer at the party for his fifty-fifth birthday. The invitation was hanging in the entrance next to the front door. Instead of a present I brought along Urs, and a bottle of wine.
Urs was nervous. When meeting the parents isn't an option, the first encounter with friends or neighbors can do just as well—and be similarly fraught with significance. As to why he was no longer in contact with his family, in a village somewhere in Emmental, Urs refused to say.
I hid the fact that I didn't know Neighbor Albert personally, that he wasn't a friend of mine, and that the whole thing was no big deal. I was enjoying the surfacing feeling, the sense that this could be the start of something new.
Once you come out of the shower—once I've helped you out of the shower, dried you off, and maneuvered you back into the bedroom, I help you put the light-blue underwear on.
Leg up, I say, kneeling in front of you.
You hold onto my shoulders with both your hands.
Now the other one.
Ready for the last dance, you say drily, then clear your throat as if you'd noticed the ironic tone of your remark only in speaking and immediately wanted to shake it off.
I pull the briefs up over your sex and stand up at the same time, letting the elastic snap against your skin. The briefs are much too large. Ready for the last dance.
Nobody's going to die, I say.
Suddenly Stretch is standing in the room shaking her head: What's happened to you, Patrick? To us all?
Pushing him away, pulling him close, I hear myself answer.
Stretch and I always switched to English when we wanted to distance ourselves from each other.
Maybe if I'd made more of an effort, if I'd visited her every now—
You turn around and take a few halting steps to the window, which you can't see out of because the blinds are down, and a few slightly more steady steps back to the wardrobe; then you march almost to the bedroom door, which is open, and from there back to the window, as if you were measuring the floorplan of my room: considering a new bed perhaps (king-sized, instead of my old one, queen), a roomier wardrobe.
The briefs flap about your thighs.
Nobody's going to die; you'd just better not catch a cold.
Three weeks earlier, on a Friday evening in the fall, we were sitting upright across from each other during yoga:
Two figures, reproduced in the floor-to-ceiling mirrors that covered two walls, looking at each other, each seeing himself behind the other and behind himself the other, then once again himself and the other, and again, until they shattered into infinity.
And then quickly looked away.
For the rest of the hour we concentrated not on breathing or on moving through the asanas as adroitly as possible, but on keeping from looking up and smiling at each other and blushing and noticing that the others were already struggling with the next pose, while we kept looking at each other and at the same time couldn't help but look past one other to that point in the far distance in the mirrors where we were no longer recognizable as human figures but only as a knot about to burst.
Although I'd been going to yoga for a year, this new guy was much more limber. He managed to hold his thin, wiry body locked in complex poses for endless seconds, long after I'd collapsed out of them onto the not very soft mat.
Where I'm still sitting in my memory, just the way I had landed, my lips slightly parted to let the shock escape that came with the belief that I had recognized something, had suddenly recognized myself in another.
 *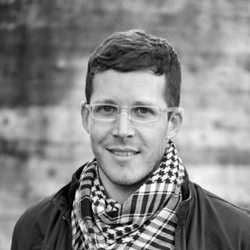 About the Author
Simon Froehling was born in 1978 in Switzerland to an Australian mother and a Swiss father. He saw about ten of his full-length theatre and radio plays produced or published in Switzerland, Germany, Austria and Australia, before graduating from the Swiss Literature Institute at the Bern University of the Arts in 2009. His BA thesis included the novel Lange Nächte Tag, which was published to critical acclaim by Bilgerverlag in Zurich the following year. Simon has received numerous awards for his work, most recently the Network cultural prize 2014 for his contribution to queer arts. His latest publication was an audio play for children, produced by Swiss national broadcaster SRF Radio 1 in 2016.
 *
Simon Froehling will be participating in these events during the Festival Neue Literatur:
Words with Writers
FRIDAY, MARCH 3, 6PM
Austrian Cultural Forum New York (11 East 52nd Street, Manhattan)
Selected students from Columbia University, Pratt Institute, New York University, Vassar College, and Hunter College take on FNL authors in a lightning round of literary interviews.
Featuring all six German-language authors and moderated by festival curator Peter Blackstock.
The Author's Voice
SUNDAY, MARCH 5, 2PM
Deutsches Haus at NYU (42 Washington Mews, Manhattan
The six German-language authors of Festival Neue Literatur pair up with NYC actors to give a sampling from their work, providing a taste of new writing from Austria, Germany, and Switzerland.
Featuring all six German-language authors and moderated by festival curator Peter Blackstock.  English Excerpts read by actors.
Silence Is Violence: LGBTQ Writing in A Fracturing Political Climate
SUNDAY, MARCH 5, 6PM
McNally Jackson (52 Prince Street, Manhattan)
Larry Kramer once said: "I don't consider myself an artist. I consider myself a very opinionated man who uses words as fighting tools." This panel promises a lively discussion of the intersection between LGBTQ writing and politics, from HIV/AIDS activism, to class and race identity, to gay persecution both historical and contemporary, exploring what it means to be a sexual minority in today's political climate.
Featuring Marlen Schachinger, Simon Froehling, Fabian Hischmann, and Francine Prose, and moderated by William Johnson of Lambda Literary.
---