King Mob Rule: On a First-Person Account of the Horrific Tulsa Race Massacre of 1921
Mary E. Jones Parrish Remembers and Mourns the Destruction of Tulsa's Black Community
The Nation Must Awake: My Witness to the Tulsa Race Massacre of 1921 is Mary E. Jones Parrish's first-person account which she compiled along with the recollections of several dozen others and published in an edition of less than 100 under the name Events of the Tulsa Disaster less than a year after the incident. With meticulous attention to detail that transports readers to those fateful days, Parrish documents the magnitude of the loss of human life and property in Tulsa's Black community that for decades was swept under the rug.
Spurred by word that a young Black man was about to be lynched for stepping on a white woman's foot, a three-day riot erupted that saw the death of hundreds of Black Oklahomans and the destruction of the Greenwood district, a prosperous, primarily Black area known nationally as Black Wall Street. The murdered were buried in mass graves that are still being exhumed even today.
Thousands were left homeless, and millions of dollars in Black-owned properties were burned to the ground. The incident, which was hidden from history for decades, is one of the single worst episodes of racial violence in the United States. Read an excerpt from what Tulsa Race Massacre historian Scott Ellsworth calls "the most important single source of the history of the massacre."
*
I came from Rochester, NY, in 1918, to visit a brother who lived in Tulsa. In Rochester, our people were of a limited number, and the sole business engaged in was restaurants, hotels, rooming houses, barber shops, beauty parlors, etc. During my few months stay in Tulsa, my eyes feasted on the progressive sights they beheld among our group.
Every face seemed to wear a happy smile. This peace and happiness was destined to change to a deep and quiet sorrow, for it was at this time that the hand of the World War was felt most keenly here. Our Uncle Sam summoned 250 Black boys at one time. These boys did not hesitate, but bravely heeded the call, many never to return to their then beloved Tulsa. These brave boys gave their lives to make the world safe for democracy. Is it safe? Let Tulsa, the city that suffered thousands of its innocent, law-abiding citizens to be made homeless, answer.
Tonight as I write and think of Tulsa then and the Tulsa of June 1st, my eyes well with tears and my soul cries for justice. Oh, America! Thou Land of the Free and Home of the Brave! The country that gave its choicest blood and bravest hearts to make the world safe for democracy! How long will you let mob violence reign supreme? Is democracy a mockery? Is this beautiful "Land where our fathers died, the land of the Pilgrims' pride" to drift into Bolshevism and anarchism as Russia has done? If King Mob continues to rule it is only a matter of time until we shall witness some of the scenes of Russia enacted right here on our shores.
The rich man of power and the fat politician who have maneuvered to get into office, and even our Congress, may sit idly by with folded hands and say, "What can we do?" Let me warn you that the time is fast approaching when you will want to do something and it will be too late.
When mob violence first began, it originated in the South, and its victims were Black men and women. Today the hand of King Mob is being felt in all parts of the United States, and he is no respecter of persons, race or color—not even sparing white women.
The Tulsa Disaster was really caused by a threatened "Lynching Bee," and because the men of Color rose up in defense of the law and to protect a fellow man from the hands of the lawless horde that had gathered around the jail.
Just as this horde of evil men swept down on the Colored section of Tulsa, reducing the accumulation of years of toil and sacrifice to piles of brick, ashes and twisted iron, if something is not done to bring about justice and to punish them, thereby checking that spirit, just so will they, some future day, sweep down on the homes and business places of their own race. This spirit of destruction, like that of mob violence when it is once kindled, has no measure or bounds, neither has it any respect of place, person or color. At one time lynching was considered a Southern pastime. Today the land of the North has also been branded with this abominable sin and disgrace.
After visiting Tulsa in 1918, I returned to Rochester, and remained there only five months before being called to McAlester, to the bedside of my dear mother who departed this life after six months of patience and care by the children who loved her so dearly. I then decided to locate in Tulsa. I had heard of this town since girlhood and of the many opportunities here to make money. But I came not to Tulsa as many came, lured by the dream of making money and bettering myself in the financial world, but because of the wonderful cooperation I observed among our people, and especially the harmony of spirit and action that existed between the business men and women.
On leaving the Frisco station, going north to Archer Street one could see nothing but Negro business places. Going east on Archer Street for two or more blocks there you would behold Greenwood Avenue, the Negro's Wall Street, and an eyesore to some evil-minded real estate men who saw the advantage of making this street into a commercial district. This section of Tulsa was a city within a city, and some malicious newspapers take pride in referring to it as "Little Africa." On Greenwood one could find a variety of business places which would be a credit to any section of the town. In the residential section there were homes of beauty and splendor which would please the most critical eye. The schools and many churches were well attended.
After spending years of struggle and sacrifice, the people had begun to look upon Tulsa as the Negro Metropolis of the Southwest. Then the devastating Tulsa Disaster burst upon us, blowing to atoms ideas and ideals no less than mere material evidence of our civilization.
Let Tulsa, the city that suffered thousands of its innocent, law-abiding citizens to be made homeless, answer.
A Colored boy accidentally stepped on a white elevator girl's foot. An evening paper hurled the news broadcast, with the usual "Lynching is feared if the victim is caught." Then the flames of hatred which had been brewing for years broke loose.
Since the lynching of a White boy in Tulsa, the confidence in the ability of the city official to protect its prisoner had decreased; therefore, some of our group banded together to add to the protection of the life that was threatened to be taken without a chance to prove his innocence. I say innocence because he was brought to trial and given his liberty; the girl over whom the trouble was caused failed to appear against him.
On the evening of May 31st, I was busy with a class in Typewriting until about 9 P.M. After my pupils were gone I immediately began reading a book which I was very anxious to finish (must admit, however, that I was never able to complete it), so did not notice the excitement until a late hour. The evening being a pleasant one, my little girl had not retired, but was watching the people from the window.
Occasionally she would call to me, "Mother, look at the cars full of people." I would reply, "Baby, do not disturb me, I want to read."
Finally she said, "Mother, I see men with guns." Then I ran to the window and looked out. There I saw many people gathered in little squads talking excitedly. Going down stairs to the street I was told of the threatened lynching and that some of our group were going to give added protection to the boy.
I am told that this little bunch of brave and loyal Black men who were willing to give their lives, if necessary, for the sake of a fellow man, marched up to the jail where there were already over 500 white men gathered, and that this number was soon swelled to over a thousand. Someone fired a stray shot and, to use the expression of General Grant, "All hell broke loose." From that moment quiet and peaceful Tulsa was turned into a hotbed of destruction.
__________________________________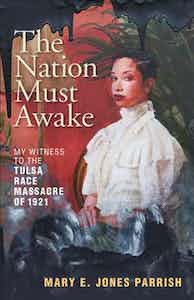 Excerpted from The Nation Must Awake: My Witness to the Tulsa Race Massacre of 1921. Used with the permission of the publisher, Trinity University Press. Copyright © 2021 by Mary E. Jones Parrish.
---