Kate Elizabeth Russell Takes the Book Marks Rapid-Fire Books Quiz
The Author of My Dark Vanessa on the Books She Loves...
and Does Not
Kate Elizabeth Russell's debut My Dark Vanessa has been through a lot… Our sister site Book Marks decided to run her through the rapid-fire books quiz, do get a sense of the books she loves (and does not).
*
First book you remember loving?
Starring Sally J Freedman as Herself by Judy Blume. I remember at one point I left my copy outside in the rain and after it dried out, the book was sort of lopsided and the paper so brittle it cracked when I turned the pages. It was well-loved, like a favorite stuffed animal.
Favorite re-read?
Autobiography of Red by Anne Carson.
What book do you think your book is most in conversation with?
Lolita might be the most obvious answer, but I'm going to say Tiger, Tiger by Margaux Fragoso.
A book that blew your mind?
Malina by Ingeborg Bachmann, an absolutely perfect novel.
Last book you read?
Exquisite Mariposa by Fiona Alison Duncan. I loved it!
A book that made you cry?
Know My Name by Chanel Miller.
What book from the past year would you like to give a shout-out to?
Marilou Is Everywhere by Sarah Elaine Smith was one of my favorite reads of 2019. Such a smart, strange, beautiful novel.
Classic book you hate?
Portnoy's Complaint.
Classic book on your To Be Read pile?
Bear by Marian Engel. Though it's only still "to be read" because I keep waiting to find it in a used bookstore. I could order a copy, but I really want to find it myself.
Favorite book of the 21st century?
Heroines by Kate Zambreno. Really, anything by Kate Zambreno.
Book(s) you're reading right now?
Ghost Of by Diana Khoi Nguyen, Talking Animals by Joni Murphy, and for the past couple months I've been slowly making my way through the diaries of Marie Bashkirtseff.
__________________________________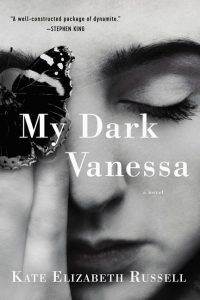 Kate Elizabeth Russell's My Dark Vanessa is out now from William Morrow. 
---