Kate DiCamillo on Seeing Her Book, The Magician's Elephant, Adapted for Film
"A good adaptation helps you to see the book anew."
The film adaptation of Kate DiCamillo's New York Times best-selling children's book, The Magician's Elephant—about a young boy named Peter who embarks on a journey with a mysterious elephant—premieres on Netflix today. To celebrate, we asked DiCamillo about seeing her work adapted, what film and TV she's loving lately, what book she'd like to see adapted next, and more.
*
How does it feel to see your story come to life on screen? 
It's always a surreal experience—to have a story that I wrote (slowly, alone, in the dark hours of early morning) become a story that people can watch together, be immersed in together. The best part is that togetherness—and that people often find their way back to the book because of the movie.
What's your favorite book-to-movie or series adaptation (other than your own)?
Oh, I just loved Station Eleven. I thought it was moving and terrifying and beautiful. And I loved the book so much, and loved the series in an equally passionate way.
If you could see any book adapted (or re-adapted), what would it be?
Hmm. I really love Ann Patchett's Commonwealth. I think it would make a great mini-series.
What notes for the story did you share with the film's creators? 
I spoke with Julia Pistor (the producer) very, very early on. We talked about the themes of the book—the impossible becoming possible, love, empathy, family—and the film has capture all of those beautifully.
If you could voice a role in the film, what would it be?
Oh, I love this question. I was particularly charmed by Adele, but I certainly don't think I could do a better job than Pixie Davies.
What's the hardest part of having your work adapted, and what advice would you give other writers about the experience?
I don't really think anything about it is hard, except for the fact that you kind of just have to let the story go. It's like a kid growing up, you let them venture out into the world and become a different version of themselves. As for advice for other writers, I would say: be open to it happening, and be open to all the possibilities.
How was your relationship with the book changed during the process of adaptation?
Oh, not changed really. Just broadened, deepened. A good adaptation helps you to see the book anew.
What TV show are you binging right now, and/or what recent movie did you love?
I love, love Ted Lasso. And Russian Doll. And I really loved Women Talking.
__________________________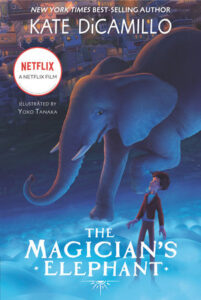 Kate DiCamillo's The Magician's Elephant is available now from Candlewick Press. 
---