Karen Tei Yamashita is a Full-Fledged Jane Austenite Now
The Sansei and Sensibility Author on Cooking, Napping, and Austen
Karen Tei Yamashita's short story collection, Sansei and Sensibility, is out now from Coffee House Press.
*
Literary Hub: What time of day do you write and why?

Karen Tei Yamashita: There is no set time to write. I write when I am able. When I am awake.

LH: How do you tackle writers block?
KTY: I take a nap. I take lots of naps. When I awake, sometimes my brain resets, and there's something new there to work with. I also clean house. I clean out the refrigerator. I tackle the stove. I go into that closet or that shed. I scrub the bathtubs. Finally, I go off and cook, try a new recipe, make a dish I've imagined might work. I do barbecue; watch Youtube videos of big guys with grills demonstrating their stuff, then do my JA version of their Texas thing.   

LH: Which non-literary piece of culture—film, tv show, painting, song—could you not imagine your life without?
KTY: Cooking and food. When you finish a story or when you can't think about the next sentence, there is always food, something to tackle in the kitchen, a recipe to try, leftovers to makeover, friends with whom to share dinner and a bottle of wine. Forget about what can't be said. Celebrate writing. Celebrate a friend's new work. Take on a taste adventure. Participate in the nuance of a new spice or herb or combination of.
Article continues after advertisement
Eat, and then it's gone. Clear the table; wash the dishes; snuff the candles. It's all a memory. Months later, someone asks for the recipe. What recipe? We made it up at the time. The memory of food wafts over the memory of our conversation. Was it Ronaldo's poem? Micah's short story? Anjali's essay?  

LH: What's the best writing advice you've ever received?
KTY: My dear friend and teacher Casey Krache was for many years the first reader of every one of my books. She was the first because she read for content and structure, not small editing and spelling errors. She read "the book" and could sense its form and space and character. I looked forward to her comments, always by phone, and based on her early thoughts, I could reconsider and shape the work. What her thinking taught me was about how to shape and see the work as a whole, gifted her understanding about how to make it complete.       

LH: What's a classic you feel guilty about never having read?

KTY: Well obviously I felt guilty about never having read Jane Austen. Then I binge-read all her novels over a period of months. What had I been missing? And why had my sister become a serious Janeite?  Now I know why my sister loves Austen and why I love my sister.  
__________________________________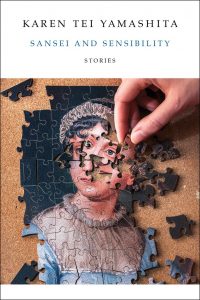 Karen Tei Yamashita's book of stories Sansei and Sensibility is available now.
---