Julia Reed on the Memories Woven Into Well-Worn Clothes
"Years from now when I find them in my closet I will remember what havoc I will have wreaked."
When I was a sophomore in college, the fall fashion magazines pronounced it "the year of dyed furs." And there was a photograph in Vogue, I think of Lisa Taylor, and she was wearing a cobalt blue squirrel coat. I wanted that coat so bad, all I thought about for months was how I was going to get my hands on enough money to buy it. I was earning about $45 a week at the time, so it was clearly impossible, and now I am spending a lot of time in Louisiana, where in one parish the opening day of squirrel season is actually a school holiday, and squirrel is something kind of greasy that you eat and do not wear, much less dye blue, so a coat made of squirrel seems decidedly less enticing.
But the point is that when I think of that coat, I am back in my rented apartment in Georgetown. I can see myself lying on my bed, on my stomach, looking at that coat instead of studying my logic textbook (a subject I clearly should have paid more attention to). I can tell you exactly what went on that fall, whom I loved, what I prayed for. I remember every year of my life by the clothes that I wore—or at least the ones that I wanted.
The word fad implies something ephemeral, silly, even wasteful. This year's fad is next year's Goodwill donation and all that stuff. But still I wait for them. Right this instant they will tell me what's going on in the world of fashion—and in some cases what's going on in the world—and a little later they will tell me what went on with me.
Webster's says a fad "suggests caprice," not necessarily a good thing, but it can also suggest so much more. Like the hit song of a particular summer, "this year's look," "the season's rage," can recall the milestones or just the moments of your life and the life of the world around you.
I remember every year of my life by the clothes that I wore—or at least the ones that I wanted.
Of course, sometimes you get to remember twice, the nature of a fad being that it gets resurrected. I remember Pucci the first go-round from my mother's Pucci dresses, Pucci nightgowns, Pucci bikini underpants. All I wanted to do was grow up so I could be cool and wear Pucci, and lo and behold I could, although by that time I didn't want to. The night before I sat down to write this I had a dream about a perfect pair of platform shoes—I haven't succumbed yet because I feel as though I did that already, but now I may.
Not long ago I pulled out the dress I wore to the party after my high school graduation. It's sheer and floaty with a handkerchief hem and water-colored ferns. That night I wore it with high, high heels and my grandmother's diamond bracelet and snaked my best friend's boyfriend. This summer, like everyone else, I wore it with flats and a cross on a thong around my neck and felt not vampish but waifish and therefore too sweet to snake anybody's anything.
Most of the clothes I've saved in my closet cannot be recycled physically; they hang there as aide-mémoire to a life. I see the labels Donald Brooks and Chester Weinberg and I am again curled up on the floor of the bride's dressing room at Hafter's department store on Washington Avenue in downtown Greenville, Mississippi, and I am as happy as I ever was during my childhood.
I am watching my mother try on clothes for the season, or usually, frantically, for some big event for which she is dieting and buying new clothes at the same time, and I am struck by the importance of it all: the lunch, always chef 's salad, called in from Jim's Cafe across the street because we could not possibly stop; the enormous piles of clothes tried on and tossed off on top of dozens of strappy sandals from the shoe department downstairs and pieces of lingerie—"the kind you will have when you are married, Julia"; all the people coming in and out, smoking cigarettes and drinking things regular people never drank, like iced coffee, and saying things like FABULOUS and TO DIE.
If you are lucky you learn about fashion from watching your mother. I cannot think of my mother without thinking of her clothes and the exciting places she went in them and the stories she told me about the things that happened to her when she had them on. She took a suitcase full of minidresses to the Republican Convention in Miami in 1968 and brought back a pile of paper dresses, The Thing that summer. I still have a gold one, with a big ruffled collar, so shiny you can see yourself in it.
But I also see NIXON'S THE ONE and Bebe Rebozo and SPIRO IS MY HERO and my mother at a party on a yacht docked outside the Fontainebleau Hotel. Four years later I see her again in a cool white linen suit covered in paint thrown by antiwar protesters, and Abbie Hoffman wearing a dress that's really a flag, and this time the party's at an Italian restaurant and Kay Graham's there, and Kissinger just back from China, and Joe Alsop got drunk and ate spaghetti with his hands.
To Nixon's 1969 inauguration my mother wore snakeskin boots and a short, short fur coat made of blond mink paws with a ludicrous lynx collar that is still hanging around in her own closet. So is a black jersey halter dress with huge multicolored stars all over it that was my very favorite. It was from her jersey phase, those sexy seventies years of Scott Barrie and Stephen Burrows and Clovis Ruffin. When I see that dress, I see my mother at yet another party. Her hair is pulled back and she's dragging on a Salem. On her ears are gold hoops by Kenneth Jay Lane that came in a tall, round black box with a dozen interchangeable plastic hoops in every color that hooked on to the gold, and everybody had them, just like they had KJL's knockoff Cartier tank, and bras from John Kloss for all those jersey dresses.
Most of the clothes I've saved in my closet cannot be recycled physically; they hang there as aide-mémoire to a life.
In those days I was a fashion faddist only vicariously. It is tacky for a child to be fashionable, so I was made to wear Florence Eiseman dresses and thin white socks with Mary Janes, unless I was playing, in which case I was allowed to wear corduroy jumpers with white turtlenecks and close-toed sandals. All of these clothes were purchased by my grandmother, who bought my cousin and me identical outfits (we even had matching little girls' purses—wonderful organza-covered cubes held by a drawstring).
Then my cousin started wearing long-sleeved dresses without all those piqué flower appliqués, and she had a Peter Max scarf, and suddenly wearing all those short-sleeved dresses with round collars and thistles growing up the side started to make me cranky. Also the Duvall brothers were giving me a lot of grief on the school bus, so I asserted myself and made my first fashion choice: a hot pink culotte suit and a Day-Glo striped turtleneck I found in the Sears catalog, which had by that time adapted the "mod look" for the middle class.
After that I was unstoppable, a veritable timeline of fashion trends. My grandmother, having made an abrupt turnabout in her ideas about what children should wear, sent me brown corduroy gaucho pants, which I wore with crushed patent-leather boots and a snakeskin-print blouse. I was in the fifth grade and so proud, until in the drugstore one day I heard someone say: "Look at that little girl." Undaunted, I wore a plaid maxi with a poet's blouse to school in the sixth grade, along with: a powder blue angora pajama suit with silver metallic thread woven through it and a burgundy velvet pantsuit with epaulets and brass buttons.
My mother was mortified at my grandmother's and my collaboration, which also included an extremely sophisticated Franck Olivier pleated chiffon blouse cut like a man's shirt, but I was on a roll until I finally settled into an extended hippieish period of Mexican work shirts and Indian cotton dresses and turquoise jewelry and clogs and huaraches and lace-up espadrilles and natural leather sandals on four inch platforms—in short, all the things that were the rage this summer.
I couldn't imagine wearing all that stuff again, not after I had finally graduated to the Donald Brookses of my day—Bill and Oscar and Calvin and Ralph. But then I found myself working harder in a hotter climate, and all of a sudden wearing all those loose, sheer clothes and almost no makeup seemed like the only thing to do. It was the first time I had thought about clothes and their effect on my mood from the inside out. I was in fact cooler, looser, unadorned. Like my face and my clothes, my personality was subdued. I had stripped down to bare essentials.
Until then I had been used to thinking about how clothes made me feel in terms of their effect on other people. If I put on a suit that makes me look confident and pulled together, then other people have the illusion that I am, and I begin to believe their perception. Everybody knows that clothes are camouflage, a protective coating or a signal to others about how we wish to be perceived.
But they don't always hide our personalities so much as contribute to them. I once asked a man not ordinarily given to such extravagance or whim, a man who should have been lying low, why he had agreed on the spur of the moment to meet me in a certain restaurant, a highly visible, theater-like place. And he told me it was because he wanted to see me walk through the door in the black Chanel suit he knew I'd wear to such a place. He knew my walk in that suit—brisk, imposing, with the touch of attitude the clothes afforded me. He also knew that on that particular day I was not in the world's best shape, and the dichotomy between the pulled-together exterior and the discombobulated business going on inside is always interesting.
I like the clothes I wear to become part of me, like the people I love or the books I read or the places I always go back to.
That was before the pared-down summer, before another man, a musician too Zen-like to take his pleasures from a woman walking through the door of a famous restaurant, asked if I could imagine what it would be like to wear Issey Miyake every day and nothing else. It was sort of thrilling, in a way, to think of being inside those cocoons, free to be whatever you want, wafting around in flat shoes and black tights. I think, in the end, it would make me a bit neurotic. As a friend of mine said, Miyake is for the thinking woman, but the woman who is usually thinking too much.
Anyway, I knew what the musician meant. There are those clothes, like my waif dresses, that don't enhance but make you honest, that make it easier for you to be true to yourself when you play your bass or whatever. But I'm not sure I want to be driven that far inward all the time or forced to re-create myself underneath those gigantic Miyake kite-winged raincoats, which are fabulous but a little scary. I like the clothes I wear to become part of me, like the people I love or the books I read or the places I always go back to.
In a new book on the subject, a doctor says that "Prozac seemed to give confidence to the habitually timid, to make the sensitive brash, to lend the introvert the social skills of a salesman." Yeah, but some people say it can make you want to kill people, too. Isn't fashion so much safer?
Which is why I am so glad that this year's fashion fads involve tons of velvet and thigh-high boots, romantic blouses and coats to the floor. There are also skinny black evening gowns sexy as negligees, and, at the couture, the New Short is back according to Karl Lagerfeld, and thank God. They are all the things I wanted in the other years they were in style, and now that they are back, I will have them, the things lurking in my imagination for so long: a red damask evening coat to the floor, a black velvet cape, a white lace poet's blouse, a tiny skirt from Versace, a Manolo boot almost to my waist. This time I will wear them instead of dream about them, and years from now when I find them in my closet I will remember what havoc I will have wreaked and I, like my mother, will be able to tell their stories.
__________________________________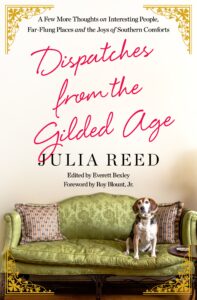 Excerpted from Dispatches from the Gilded Age: A Few More Thoughts on Interesting People, Far-Flung Places, and the Joys of Southern Comforts by Julia Reed. Copyright © 2022. Available from St. Martin's Press, an imprint of Macmillan.
---