Joan Silber on Writing Double Maneuvers and Deception
The Author of Secrets of Happiness Talks to Jane Ciabattari
When I wrote about Joan Silber's Improvement for my BBC Culture piece on the best books of 2017, I noted her much celebrated and artful approach to structuring a novel: "stories of a multitude of characters ricochet in cunning ways, crossing generations and continents." (Improvement went on to win the National Book Critics Circle fiction award and the PEN/Faulkner award.) Her new novel, Secrets of Happiness, continues in that vein, as Silber burrows into each character's awareness, splicing perceptions into a reader's own stream of consciousness in an uncanny way. Reading Secrets of Happiness means getting to know a cast of characters whose lives intertwine in ways even they don't know at the beginning of the book. After a year of near-solitude, it's a refreshing, illuminating adventure.
During this lockdown year or so in Sonoma County, I've had many happy memories to fall back on, including introducing an incredible National Book Critics Circle event with Joan Silber and Paul Beatty, both recent NBCC fiction award winners, at the Association of Writers & Writing Programs conference in Portland with moderator Kate Tuttle. The two offered a master class in the art and craft of fiction to thousands of rapt listeners. Literary Arts executive director Andrew Proctor welcomed the featured speakers for dinner afterward, and we sat around a softly lit, long table, filled with laughter and delicious food. It was 2019, two years ago, but it seems like another century. It was a pleasure to catch up with Joan via email.
*
Jane Ciabattari: How has your life been during this past year or so? Where have you been living? Have you been writing? Teaching? Solitary? In a "pod?" Is the lockdown shifting now? How does that feel? And are you able to travel for your new book?
Joan Silber: The truth is, I've had a much easier year than a lot of people. I've stayed in my New York apartment on the Lower East Side, and like a lot of writers, I actually like staying home. The first months were the bleakest, but even at the onset, I was out with the dog, I was talking to neighbors. (I remember one neighbor offering me a slice of pizza in the hallway from a safe distance.) Two friends fell sick with what turned out to be relatively mild cases, early on, which may actually have made me less fearful.
I had to learn to teach online—why did I worry about that?—for half a semester at Sarah Lawrence and then in the summer at Warren Wilson. Zoom is a great thing.
I did very much mind not seeing friends in person. I had very long phone conversations, and it was a time that concentrated and intensified my closest friendships. Like everyone, I think it's been a year when what we were reminded of what was most important.
"My notebooks are full of the same false starts and reconsiderations—the process of writing was much the same."
In June two friends ventured out to the neighborhood for my birthday—we sat outside at a local restaurant and we kept saying how fabulous this was. By fall, my local streets were becoming packed with now-legal sidewalk cafes, mostly jerrybuilt out of plywood and plastic. In the winter I found myself drinking a Bellini while wearing ear muffs. Everyone I know is vaccinated now, but we all still meet outside.
My book tour will be entirely virtual. I think I'm actually going more places than I could have in person.
JC: When did you start writing Secrets of Happiness? Was it in the works when you were being honored by the NBCC and PEN/Faulker for Improvement? How did those awards affect its progress?
JS: I started writing Secrets of Happiness in 2016. I'm not very happy when I'm not writing, so I don't willingly take a long break between books.
I was well into it when the award nominations came, and I see from my journals that I decided around this time to write it as a novel instead of linked stories. The great award news did make me work more confidently, in a startled sort of way. When people congratulated me, they sometimes talked about how they liked "moving between worlds" in my work, and that gladdened me greatly about what I was again doing. I was pretty giddy through this time. But my notebooks are full of the same false starts and reconsiderations—the process of writing was much the same.
JC: You structure this novel as a polyphonic narrative, with dozens of characters interacting across generations and time zones. You begin with Ethan, who describes his father's business trips to Asia, and his first romance, with Robert, during his freshman year in college. Then there's Joe, who is washing dishes in a Thai restaurant in Queens in high school, raised by a single Thai mom, knowing his father is an American businessman (yes, he's Ethan's half brother). There's Maribel and Schuyler who's married to Joe's former girlfriend Veronica. And Rachel, whose former boyfriend Bud reaches out from Phnom Penh after nine years. She can't visit him because her brother Saul's boyfriend Kirk is leaving him for Ethan just as he gets his leukemia diagnosis. And so forth. Why do you use this way of structuring your story? What are the advantages? The disadvantages?
JS: I feel that I've done my best work in this form. Beginning with Ideas of Heaven (2004), these last five books feel like a kind of continuing project to me. Improvement and Secrets of Happiness are novels, but they build on what I learned to do in linked stories. I was so glad when I found this structure.
I always wanted to be both big and small. I love the intimacy of the close gaze, the intense interior moment, and I was always trying to find a way to expand that—to get larger—but in a way that felt mine.
"I've had to try to overcome the disadvantage of asking readers to keep shifting their attention. I think readers are more used to me now."
Thirty years ago, when I was in Rome, I remember looking at a what's called a predella —several painted panels depicting a story, set over an altar—and thinking, I wish I knew how to do that in prose. And there are those great Japanese woodblock prints—in Hokusai's Thirty-Six Views of Mount Fuji, sometimes Fuji takes up the whole frame and sometimes (as in "The Great Wave") it's a little shape in the far distance. I loved those visual examples. Fatih Akin, the Turkish director whose most famous movie is The Edge of Heaven, has also taught me.
One advantage of the form has been that it presses home the idea that the world has a lot of different stories going on at once. I always quote my mother saying, "You're not the only pebble on the beach," which seemed more unwelcome news then than it does now. The more eloquent form of that thought is John Berger's "Never again shall a single story be told as though it were the only one."
I've had to try to overcome the disadvantage of asking readers to keep shifting their attention. I think readers are more used to me now, which I'm grateful for.
JC: Do you have a sense of where to fit the pieces of your narrative puzzle at the beginning? Or does that come later? How does the story evolve?
JS: I make it up as I go along, a method that clearly has some drawbacks. Sometimes it goes well—I knew when I finished the first chapter that I wanted to move to the "other" family, the brothers with their Thai mom. And I did have some sense of how I wanted this book to end; I knew I was going to come back to Ethan and his excellent mother. But there were a number of discarded pieces along the way.
JC: The word "secret" comes up a lot in this new novel. Ethan's father, a businessman who makes regular trips to Asia, has a "secret marriage." Ethan's secret half-brother Joe gets secret Paypal payments he thinks are from his high school girlfriend Veronica, and has a "secret coupleship" with Mei. Then there's Maribel's secret fling with Veronica's husband Schuyler on a London film set where she's one of the runners and he's on the camera crew, and rumored to have "buckets of money." How and why does the idea of secrets fuel this story?
JS: I love the idea of multiple lives, so these sneaky double maneuvers naturally appeal to me. I think I took up the story of a secret family (a friend had told me about a woman she once knew) not because I felt strongly about infidelity but because I was really interested in a group splintering into different lines.
Of course, it's great for any plot when things are not as they seem. I got to invent the cleverness of a number of characters and its limits. I thought of the title when I finished the first chapter—I wanted it to point to both the father's secret family, which he's had for 17 years, and the mother's route (after her discovery) to finding a way to live. The last line of that chapter is the mother telling Ethan, "Tell your sister not to worry."
JC: Food has a part to play in many of your scenes. I think of the orchid cake from Veronica's Brooklyn bakery Joe brings to his mother in Queens to welcome his brother Jack and Thai girlfriend, who are visiting ("it had purple yam and coconut milk and maybe almond, was that almond?"). The buffet breakfast in the Leeds hotel where Maribel and the film crew are staying, with "sausages and bacon and eggs and grilled tomatoes and mushrooms. Bowls of melon balls." (Then Maribel learns about Schuyler's wife's "great" key lime pie and coconut sticky rice.) The mango smoothies and mint chip ice cream Saul eats after chemo. The Golden Treasure restaurant in Elmhurst pops up like a mirage at various points in the book. Do you think about the food as part of setting your scenes?
JS: You have correctly assumed that I am food-focused. I like to have conversations about food the way other people talk about sports. In fiction, I love to use food as an element of culture (Veronica's cakes have fairly Asian flavors) and class (it's an upscale business hotel that serves that full English breakfast) and character (Maribel, living on a low budget, likes to chow down). These are details that interest me in real life—I always want to know what people ate when they went somewhere.
JC: How did you arrive at your title, Secrets of Happiness? "Who knew where happiness came from?" muses Tara, a documentary filmmaker born in Kathmandu and spent the first nine years of her life in Nepal. 'Well actually, there are theories. In the Buddhism my father sometimes followed you heard arguments on the vanity of grasping for happiness."
JS: I was really pleased when I thought of the title after I finished the first chapter. Secrets were the big event of that part (and they kept recurring, as you've noted so well), and I was also thinking of Ethan's mother, who begins the story as a wronged wife caught by surprise, coming to a "secret" of happiness in the sense of a key to it. Her time in Thailand—along with her being sensible and generous by nature—brings her to a particular kind of skilled distance. I wanted the ending to show this, as she lights a memorial candle for the husband she divorced—"It was what a serious person did, took a longer view." I wanted the book to be Buddhist-influenced without direct labels.
Most of the characters land on their feet. My favorite image of happiness is Bud, who has a long and winding life—he runs away from ultra-right parents, has many hip adventures, is a union organizer, and winds up in his sixties working for an NGO in Cambodia, with a beloved girlfriend Skyping from New York—and he looks out at the river and thinks, I couldn't ask for more than I have.
JC: Your settings range from Thailand to Cambodia to Nepal to London and New York. How are these places important to the story you're telling? Did you have to travel for research, or did you already know them well?
JS: I'd been to pretty much all of the places, except Nepal, where I'd been planning to go this fall. I love to travel, and I also love to read and look up details. For me, it's another way of expanding the reach of the story. Most of all, I want the work to convey a strong feeling against parochialism, which I think of as the belief that the way you do it is the way it's done.
JC: Which writers inspire you now?
JS: My two favorite books of the past year are by friends—Margot Livesey's The Boy in the Field and Charles Baxter's The Sun Collective.
JC: What are you working on next? Are you continuing to use this structure?
JS: I'm working on a new novel that does indeed use this structure. The first chapter follows a man who betrayed a friend when they were young drug users in the 70s, and I'm just on the second chapter now.
__________________________________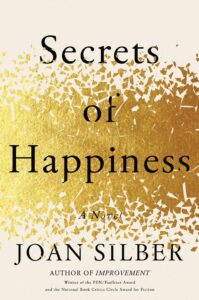 Secrets of Happiness by Joan Silber is available now via Counterpoint.
---