Jenny Zhang on Reading Little Women and Wanting to Be Like Jo March
Looking to Louisa May Alcott's Heroine for Inspiration
Growing up in Shanghai, I was a happy, extroverted, outgoing child. For the first four years of my life, I was the Amy March of my large, extended family. Everything I did was worthy of praise. Distant relatives and friends came from all over to see me, the golden child, the blessed baby. In the presence of company, I was serene and lovable. Once alone with my family, I was hyper. At nine months I was speaking in full sentences, by ten I was singing and dancing.
I loved to entertain, most of all by telling stories, and as with Jo, made-up stories were often more real to me than my actual lived life. Finding preschool to be a bore, I came home and told my family that our class had gone to the zoo and I had been chosen to ride on the back of an elephant. Like Jo, I loved to direct, putting on theatrical performances for my family filled with song and dance. I saw the world and everyone in it as a potential audience for my art. 
The blithe, unearned confidence that radiated from my little soul abruptly died when I immigrated to New York. Suddenly language was stripped from me, no one clapped for me anymore when I spoke. My lack of proficiency in English was at best pitiful, at worst annoying. I had been muted; there was no longer any evidence I could entertain or dazzle. I was not yet five, and I had already undergone an identity crisis. The sweetness I had always been praised for was losing ground to something that little girls were not supposed to feel—anger. 
By the end of my first year in America, I had passed out of ESL, but I hadn't passed out of feeling self-conscious every time I spoke. In this new phase of my life, if I wanted to speak, I wrote it down instead. That was where I was the least inhibited, the least clumsy, that was the only space where I was not treated as accented, or worse—broken. I decided to give up on my dream of being a world-renowned entertainer; instead I would be a writer.
To say nothing of my delusions of grandeur, there was an even less noble reason motivating my pivot to the written word—I wanted to exact vengeance on everyone who had ever wronged me, underestimated me, or decided on the basis of my face that I was uninteresting, unworthy, and unremarkable. What better I'll show you than to become a massively successful published author? What better revenge than to have the last word? Nothing lit a fire under my ass quite like wanting to prove my haters wrong. Nothing gave me a greater sense of power than to recast my life into fiction. Writing was a kind of alchemy; it had the power to turn the garbage of the past into gold. 
It has been well documented that much of Little Women drew on Louisa's actual family and upbringing. Meg, Jo, Beth, and Amy were modeled after Louisa and her three sisters, and the girls' mother, Marmee, was based on Abba, the overworked matriarch of the Alcott family who ran herself ragged to do what her husband, Bronson Alcott—an educator, writer, abolitionist, and reformer who started several progressive schools and a utopian agrarian community (all these enterprises foundered for one reason or another)—could not do: support the family and keep them afloat.
The family often went hungry and suffered through the brutal New England winters as a consequence of Bronson's idealism, which led to practices such as refusing to work for wages, observing a kind of veganism that proscribed the growing and eating of root vegetables in favor of the consumption of "aspiring vegetables" that grew up toward the sun, and no wearing of cotton, silk, or wool because they were products of slave labor and capitalism. The poverty that plagued Louisa's upbringing (in the first 25 years of her life, her family moved more than 30 times) was given a much rosier treatment on the page.
The suffering the March girls underwent while their father was away serving as a chaplain in the Civil War was honorable and bearable. In the first chapter they give up their Christmas breakfast to a poor, starving family of six and happily return to their home to bulk up on their own goodness in addition to some bread and milk. Our hearts are meant to be warmed by this anecdote of Christmas cheer, but in reality the Alcotts themselves often relied on handouts from others, and often went through long stretches with nothing to eat besides bread, water, and the occasional apple. 
Louisa herself was prone to frequent mood swings and an unpredictable temper. She was such a troublesome child that she was sent away to live with her grandfather for the final stretch of Abba's difficult pregnancy with Lizzie, the third daughter and the inspiration for Beth. By contrast, Jo's moods are depicted as charming, her emotional states never so violent that they alienate the reader. Her enthusiasm and excitability never reach the level of out-of-control mania.
The one time we are given the opportunity to dislike Jo comes after Amy, in a bratty fit, tosses Jo's writing in the fireplace. We are told it's a book Jo has been working on for years, so it is easy to understand why Jo would be devastated and refuse to talk to her sister. But when a thoroughly ashamed and contrite Amy tries to win Jo's forgiveness, following Jo and Laurie as they go ice-skating, Jo purposefully pretends not to see Amy tagging along behind them and doesn't convey Laurie's warning that the middle of the ice is unsafe for skating. Amy immediately plunges through the ice into the frozen river. Jo and Laurie pull Amy out and by nightfall, all is fine again. Amy is forgiven. Jo is forgiven. 
I wonder now, no longer the little girl I was back then, who would not stand for my mother's criticism of my father.
Nonetheless, after Amy's brush with death, Jo breaks down to Marmee and confesses her fear that she may never be able to cure her temper. "You don't know; you can't guess how bad it is! It seems as if I could do anything when I'm in a passion; I get so savage, I could hurt any one, and enjoy it. I'm afraid I shall do something dreadful some day, and spoil my life, and make everybody hate me. Oh, mother! help me, do help me!" 
Marmee reassures Jo that they are not unalike; that, in fact, her temper used to be just as bad. "I've been trying to cure it for forty years, and have only succeeded in controlling it. I am angry nearly every day of my life, Jo; but I have learned not to show it; and I still hope to learn not to feel it, though it may take me another forty years to do so." 
It reads like a passage from a different book and Jo, rightly so, reacts in utter surprise. Nothing in the chapters preceding suggests Marmee is anything but saintly in her patience and superhuman in her restraint with her children. And no matter how badly things go for the March family, Marmee is always looking out for others who are worse off. Has it all been a tightly managed façade? Is the beauty of womanhood learning to manage one's anger every day of one's life? How is not expressing anger different from repressing it?
We never learn exactly what Marmee is angry about, and because of it, as a child, I didn't buy it. I saw it as artifice, an authorial decision to make us think Marmee is the perfect woman—capable of passion and high tempers but never so much that it interferes with her goodness. Real anger is volcanic and active. There is no keeping it down. 
My own mother often flew into rages on account of our financial woes, which she sometimes attributed to my father (he was the one, after all, who made the decision to leave China in search of whatever hazy notion of a "better life" was available in America), and other times attributed to dumb, bad luck. Behind the closed doors of our home, my mother bemoaned the state of our lives some nights and other nights swung sharply in the other direction, bursting with unexplained optimism, reiterating to me how everything that had happened thus far in her life had been fortunate. How as a young girl she loved to sing and dance and act and even had producers knocking at her door with promises to make her the next "Chinese Shirley Temple," but my grandmother refused and sent all the producers and agents away, unwilling to let her daughter fall into the sleazy sex and drug den that was the entertainment world, and rather than feel resentful at my grandmother for denying her the chance to pursue her passions, she was grateful, truly grateful! Or so she said. 
Abba Alcott, the real-life matriarch of the Alcott family, was less even-keeled than her fictional counterpart, did not contain her anger as successfully, and was even more tireless and overworked as a result of her husband's repeated failures to provide for the family. While supporting her husband's experimental utopian commune, Fruitlands, which, like all his ventures, eventually failed, Abba wrote in her diary, "There was only one slave at Fruitlands . . . and that was a woman," evincing more than a hint of bitterness.
Louisa observed a similar unjust dynamic, that the men of Fruitlands "were so busy discussing and defining great duties that they forgot to perform the small ones." Staying true to one's ideals always comes at a cost, and in the case of the Alcotts, it was often Abba and her daughters who paid it. In another diary entry, Abba wrote, "a woman may live a whole life of sacrifice and at her death meekly say, 'I die a woman.' But a man passes with a few years in experiments in self-denial and simple life, and he says, 'Behold, I am a God.'" 
Perhaps Louisa didn't need to detail what Marmee is so angry about nearly every day of her life. To be a woman is to know anger. To be underestimated, treated as inferior, have one's concerns classified as minor, to do all the work and receive none of the glory—how could one not feel angry? And yet in order to be a good woman who stands a chance at being loved and accepted, back then and still very much so now, one has to learn, as Marmee advises Jo, not to show it, even better not to feel it. Anger in a woman runs the risk of being pathologized, penalized, criminalized. A woman is supposed to bear the violence of patriarchy—both the bloody and the bloodless forms—with unflappable cheeriness. 
Why must we learn to control it? I wonder now, no longer the little girl I was back then, who would not stand for my mother's criticism of my father, who considered my mother's capacity for rage an unforgivable defect, who only saw how tirelessly my father worked to give our family a good life, and who dismissed the sacrifices my mother had made, including leaving the only family, friends, and country she had known to move to a foreign land where she did not speak the language and where she would never have the opportunity to advance beyond being someone's assistant or someone's secretary, working full-time while also being a full-time wife and mother, and not only supporting my father in obvious ways but also supporting him emotionally, taking over the duties of staying in touch with family overseas (not just hers but his as well), welcoming my father's parents into her home not once, not twice, but five separate times, each time lasting over a year, all the while managing her own loneliness, isolation, culture shock, and depression.
How could I blame her for bouncing between having faith in the world and sinking into inconsolable despair? How could I blame her for lashing out? As an adult, I see now we are hardest on the people who mirror the shadowy parts of ourselves, the parts we don't want to see. 
_______________________________________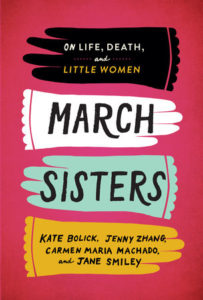 Excerpted from "Does Genius Burn, Jo?" by Jenny Zhang from March Sisters: On Life, Death, and Little Women by Kate Bolick, Jenny Zhang, Carmen Maria Machado, and Jane Smiley. Copyright © 2019 by Jenny Zhang. Published by Library of America. Used with permission of the author. All rights reserved.
---